Gearing Up in Germany
10 Jul 2017
In 2017, the city of Mannheim, Germany, kicked off a celebration to mark the 200th anniversary of the invention of the bicycle. Here's how to join the party.
By KATIE MCELVEEN » Photos by CHRIS CHRISTENSEN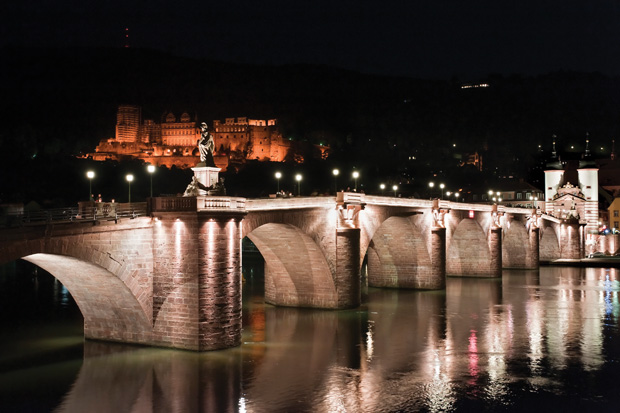 There's a bit of debate among bicycle historians about exactly when and where the modern bicycle came to be, but no one disputes the fact that on June 12, 1817, inventor and aristocrat Karl von Drais mounted the two-wheeled, self-propelled vehicle that he had invented and rode it from his home in Mannheim, Germany toward the town of Schwetzingen. He only made it 8 miles, about halfway, but his laufmaschine, which lacked pedals and a drive train, was clearly a first step toward what would come to be known as the bicycle.
For cycling enthusiasts more interested in history than miles covered, or anyone who wants to add a cycle component to a vacation, consider a trip to southwest Germany. Here, a trio of cities – Mannheim, Schwetzingen and Heidelberg – form a triangle filled with castles, history and culture that's easy to explore by bike (it takes an hour or so to cycle from one city to the next) and is linked by regular train service. Base yourself in Heidelberg, the largest of the three towns, specifically at Europaischer Hof Hotel, an elegant five-star property that's been run by the same family for more than 150 years. Service is warm and welcoming, the bar friendly and the spa just what you need after a day of biking.
Heidelberg
A distinctly magical sight greets visitors entering Heidelberg. It's a castle, or, more accurately, the ruins of a castle, presiding over the city's winding streets, half-timbered houses and cobbled squares from its mountainside perch. Four centuries in the making, it took two armies and, finally, a lighting storm in 1764 to render it uninhabitable; today, the castle's crumbled turrets, blown-out towers and piles of rubble are splendid yet haunting, preserved in their destruction as if in amber. Remarkably, many of the massive structure's courtyards, palace rooms, lookouts and facades remain intact enough for exploration. Our guide, Klaus Mombrei, who is dressed like Mark Twain (more on that later), tells us that the oldest sections of the surviving castle were constructed in the 1300's just before Rupert III transformed it into a grand residence. His descendants added wings and towers that expanded the castle's footprint and offer a glimpse into the architectural shift from Gothic to Renaissance to Baroque.
Descending the long twisty path from the castle to the Corn Market, an unfortunate but historically accurate name for an elegant square where a golden statue of Madonna tops a pretty fountain, Mombrei explains that Twain came to Heidelberg in the mid-1870's to overcome the writer's block that plagued him. Supposedly, the view of the Neckar River from his hotel was part of his inspiration for some of the scenes in Huckleberry Finn. Johann Wolfgang von Goethe, whose bust stands on the castle grounds, spent time here as well.
They're not alone. Spend any time Googling Heidelberg and you'll find a city beloved by pretty much anyone who has ever spent time there. It doesn't take long to see why. Compact and charming, the old town is an easygoing mix of history and, thanks to Heidelberg University's 30,000 students, vibrant energy in the form of lively pubs and coffeehouses, welcoming shops and small museums. Add to that the miles of hiking trails that weave through the mountains that rise like emerald pleats on either side of the city and you've got a destination that appeals to sporty types, culture lovers and history buffs. Even better, since the city follows a fairly narrow path along the Neckar River, it's nearly impossible to get completely lost.
Never one to miss out on a chance to get lost, that last part was particularly thrilling to me as I set out on my own from the Corn Market to explore the city. My first stop was the Alte Brucke, the 220-year old stone bridge that spans the Neckar. The covered bridge gate, with its cream-colored twin towers, are part of the original medieval fortifications that protected the early city. From there, I headed up a slight rise toward Hauptsrasse, the mile-long pedestrian-friendly main street that's lined with everything from boutiques and bakeries to the 14th century Church of the Holy Spirit; the Palatinate Museum, which tells the story of the region using everything from archeological treasures to art, and several pretty squares. I made it, but not before taking a circuitous journey that led past a staggering array of one-of-a-kind sites. The Heidelberg University student prison, for instance, incarcerated students for offenses like public drunkenness; in return the students decorated the walls and ceilings of the cells with poems, portraits and other graffiti. Then there's the Prinzhorn Collection, an assemblage of more than 17,000 paintings, sculptures, sketches and other works created during the first part of the 20th century by patients in psychiatric hospitals throughout Germany. There are also several historically significant churches.
Heidelberg isn't the only mid-sized city in the region with its own castle. Less than 10 miles away lies Schwetzingen, which is known as much for its spring bounty of ivory-white asparagus as it is for Schwetzingen Palace and Gardens. Constructed around 1350, it burned and was rebuilt many times until by the early 18th century, it had become a "pleasure palace" for the local nobility. But in 1749, Prince Carl Theodor inherited the palace and decided to transform the land that surrounded it into a garden inspired by the famous gardens of Versailles. Today, the 108-acre site is filled with beauty, from the massive lilac bushes that scent the spring air to a temple of Apollo built over a grotto, an aviary, outdoor theatres and more than 100 statues. Standing in the formal French garden surrounded by boxwoods clipped into ornate serpentines, shooting fountains and allees of plane trees, our guide, Martin Griffiths, tells us that the garden drew artists, musicians and authors into its depths, including Mozart, Voltaire, William Turner and Casanova. "Mozart first performed here at the age of seven," he says, leading us past a serpent-shaped fountain and a statue of the Greek god Pam. "We know that Voltaire wrote part of "Candide" here at the palace, it's hard not to believe that these sights didn't help Mozart create the Magic Flute."
Karl von Drais wasn't the only one who had a bit of trouble getting from Mannheim to Schwetzingen. In our case, a single wrong turn nearly doubled what was to be an hour-long ride between the two cities. My advice: grab a map and mark the route before you leave, instead of relying on signage. But don't skip Mannheim. Not only is it the site of the invention of the bike, but the city is a cultural hub filled with museums, music halls, historic churches and a palace, which was erected in 1720 and, after Versailles, is the largest palace complex in Europe. A recent downtown renovation has created a pedestrian shopping zone filled with local and national boutiques, outdoor restaurants and lively bars. Then there's Fontanella's, home of an odd looking but delicious tasting frozen treat called "spaghetti eis," a trompe l'oeil strawberry ice cream sundae that's become popular throughout Germany. The city's most iconic landmark, though, is its Art Nouveau water tower, which stands 213-feet tall and is surrounded by a park set with statues, fountains and blooming gardens. I spent my first night in the city enjoying the view from an open-air café set under the arches of an Art Nouveau breezeway that circles the park; the next day, in honor of Herr von Drais, I saddled up and explored the city by bike.
If You Go
Rent bikes through VRNnextbike (vrnnextbike.de) and you can pick them up in one city and drop them off in another. Bikes can be taken onto trains and trams throughout the region.
For information about Southwest Germany, visit tourism-bw.com; For information about Europaischer Hof Hotel, visit europaeischerhof.com; For photos visit amateurtraveler.com.