A Girl's Best Friend
17 Nov 2013
Star Sosa has developed a loyal following for her jewelry design, with a unique mix of award-winning fine jewelry, hand-picked diamonds and fine art
By LAUREN FRYE » Photos by SUSAN FRANCY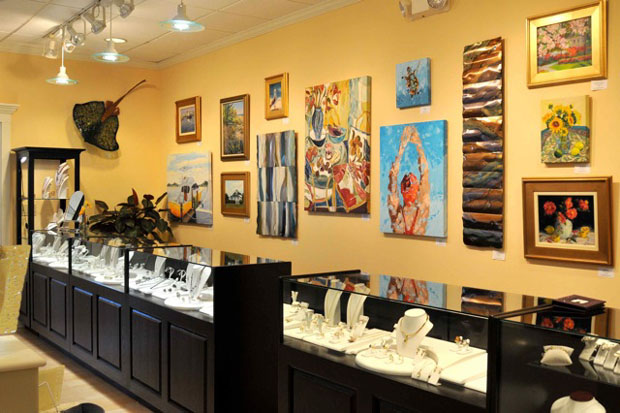 Spectrum Art & Jewelry first opened its doors in Wilmington 16 years ago, and though the location and focus of the gallery has evolved and expanded over the years, the mission of the business remains the same―to offer the most exceptional fine jewelry and art to the greater coastal Carolinas.
With more than two and a half decades of experience under her belt, Spectrum owner Star Sosa certainly knows her way around both art and jewelry. She got involved in jewelry design and manufacturing in the 1980s while living in California and New Mexico, and her fine jewelry pieces were sold in exclusive boutiques and jewelry stores across the country.
In 1997, Sosa relocated to Wilmington and opened Spectrum. Now located in the Forum, the first incarnation of the gallery was downtown, in Chandler's Wharf. "Although my initial focus and passion was jewelry, the high ceiling and expansive wall space in that location really lent itself to showing fine art, so I added it to the mix," says Sosa. Her fine art offerings focus largely on oil and acrylic paintings by local and regional artists.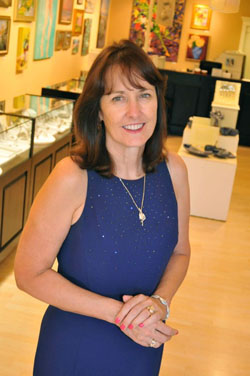 Today, Sosa continues to offer a unique mix of art and fine jewelry that makes shopping her store a creative and inspiring experience. And, according to Sosa, it gives her customers a reason to keep coming back. "Some customers walk in and immediately fixate on the jewelry cases. They're surprised when they look up and notice there's art on the walls," she says with a smile. "Others go straight to the art, then get a pleasant treat when they look down and notice the jewelry."
Custom Bling
About five years ago, Sosa added an in-house goldsmith and jewelry studio to her store, dramatically increasing the emphasis on fine and custom jewelry services. She also expanded her offerings to include hand-picked diamonds and exceptional colored gems. Full-time designer, Susan Drake, completed the package, transforming Spectrum into an award-winning fine jewelry design studio with a loyal following of clients both locally and regionally. "Our clients love that they can come into the gallery and meet face to face with a skilled designer to talk about their projects," she says.
Sosa describes the custom jewelry design process as addictive. "No one ever does just one piece. They get hooked on the creative process and look forward to planning their next project," she explains. "Jewelry is emotionally charged—we use it to seal relationships, to celebrate accomplishments, to show our status. It's tied deeply to our emotional lives."
Emotion You Can Wear
Custom jewelry projects at Spectrum run the gamut from simple jobs like remounting a stone, to the more complex task of creating a piece from scratch. Whatever the scope, the process is always collaborative.
"Every jewelry project we do is a joint effort between the customer and the artist," says Sosa. "The customer supplies the vision and we supply the design and technical knowledge to bring it to life."
Sosa says a lot of her customers bring in older jewelry pieces, asking to have them remade into something with a little more "oomph. "So that's what we do. We build conversation starters."
Sosa believes that every piece of jewelry has a story connected with it, an emotional and factual history that becomes part of the character of the piece. When that story no longer carries a happy connotation, or stops working for the wearer, its Spectrum's job to write the next chapter.
Through restyling, Sosa believes that any piece of jewelry can be reclaimed. "Breaking a ring or necklace down to its raw materials and restyling it to create an entirely new piece changes it. It's more than just a physical change—it also changes its story."
Spectrum's tagline, "We create emotion you can wear, everything else is just jewelry," speaks directly to this idea. "Women are looking for more than something sparkly in a box," says Sosa. "They're looking for a story to connect with and to share."
Color You Beautiful
Spectrum is known for having one of the most extensive collections of colored gemstone jewelry and loose colored stones in the region. A trip through the store reveals everything from cool, clear aquamarine to deep red garnet to iridescent opals. Sosa and company have a wide range of experience working with colored stones, and the gallery has a large range of availability of exotic and collectable gems offering endless options.
Although color rules at Spectrum, Sosa has expanded her offerings to include exceptional diamonds, many hand picked on trips to Antwerp, Belgium. In addition to loose stones, the gallery offers gorgeous designer mountings like engagement rings by Mark Schneider or Elma Gil.
Whether you're looking to invest in an exquisite, custom designed diamond ring or just some fun earrings to wear to an upcoming party, Sosa believes all her customers are searching for the same thing. "Whether you're spending $50 or $5,000, every customer is looking for a way to express themselves, to tell their story through a beautiful piece of jewelry." 910-256-2323, spectrumartandjewelry.com