All in a Day's Work
20 May 2014
Wilmington Magazine talks with Ken Dull, owner of McKinley Building Corporation, about fostering the friendship between preservation and growth
By JENNIFER GLATT Photo by Salt Studio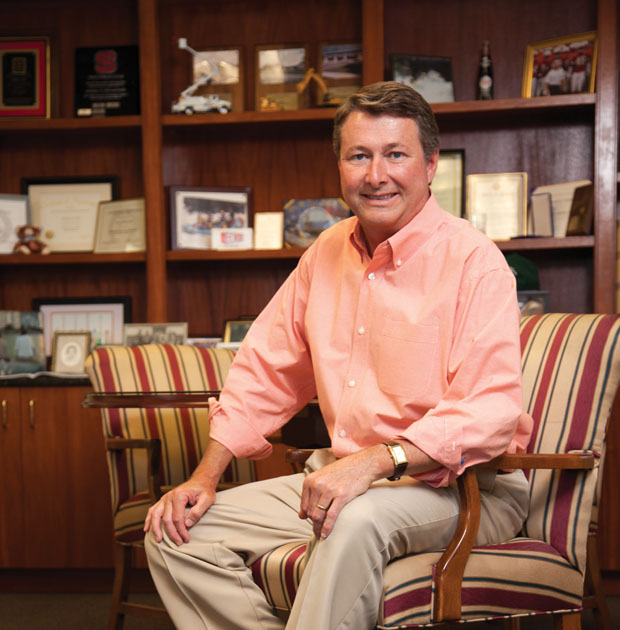 You can see evidence of his handiwork all over Wilmington, yet Ken Dull and his company, McKinley Building Corporation, occupy a business location that is wholly unassuming and modest. You might expect a prolific commercial builder with millions of dollars in annual sales to monopolize a landmark building downtown, or perhaps hold court in a contemporary conflux of brand new construction, but no. His second-floor office is tucked away off quiet Peachtree Avenue, amid the live oaks and the pine trees and the crape myrtles that are lazily waking up after the long, cold winter.
Constructing a Builder's Foundation
Quiet and unassuming himself, Dull has lived in Wilmington long enough to call himself a local (27 years to be precise), but grew up in High Point, NC. His namesake grandfather grew up west of there in Farmington, NC, and built houses for a living. "He worked with his hands his whole life," Dull recalls. "He told his kids if he could do anything, he didn't want them to labor like he had to do, and he had the foresight to send all five of his children to college." One of those children, Dull's father, became a professional educator—really, just a builder of a different sort (of minds, rather than materials). When it came time for Dull to attend college at NC State, he blended his grandfather's building heritage with his father's focus on learning, and chose to pursue a degree in civil engineering.
"I would think of something in my head and had this need to make it happen, so I followed the path of engineering," he explains, noting, "it's good to have a skill." Dull's first job out of college was with Landmark Builders of Winston Salem,a design/build firm that employed their own architects and engineers. Working there, "I had the best of both worlds," he says with a laugh. "I was able to be involved in the design process and the construction process, which was perfect. I enjoyed that."
He says that wanderlust got the better of him for a while, but what drew him to Wilmington was nothing more than a want ad "with my name on it," answered on a whim on a Sunday afternoon while he was in town visiting. He took a job as the construction manager for Leader Construction, then realized his dream of forming his own commercial construction firm in 1992.
"We started the company during the Gulf War; times were not good," he acknowledged. "In hindsight, starting during a poor economy is actually a good thing. It allows you to get your foundation established properly before good times happen. It gives you a better chance for success." And success has surely come.
As a company, "our philosophy is not to be the biggest, but to be the best," he explains. "We want to have the ability to have the expertise to be like the biggest firms, but big isn't a goal. Being technically good at what we're doing is the goal." With 41 total employees, one way McKinley Building has achieved technical expertise is by hiring well.
The company's staff includes a registered engineer, a professional land use planner, a team of LEED construction managers, and an army of others. "We have what I call a high-performance culture. High performance people expect other people to be high performance. When you build a culture around expecting excellence, mediocrity can't exist there," Dull explains. Then, he continues, "If you build your culture around people that expect the best, it takes root."
He adds that you have to lead by action. "If you lead by action, everyday you get up and you try to treat people fairly—not just the client, but the people that work for you." Dull also notes that because of the company's culture of respect, accountability and performance, they have virtually no employee turnover.
"Its what you do every day that defines you," he states simply. "It's not the accolades or the ribbon cuttings or any of that stuff (although that stuff is fun). Your reputation is all you have—you're only as good as you are right now. It's not what you did 10 years ago, it's not what you did last year, it's what you're doing today."
And today, Dull is doing plenty. Take a look around town for his trademark McKinley Building Corporation sign; you'll find it mounted at worksites that include Atlantic Marine, US Cellular, Derm One, Wells Fargo Wealth Management, Corning Credit Union, Cambridge Village, Lake Park Village, Hamlet and Assoc., and more. Other recent builds include The Offices at Mayfaire (multiple phases), the new Bank of America building downtown, Bannerman Station, Carolina Cove Apartments, Regions Financial Center, First Baptist Church Activity Center, Thunder Alley Bowling Center, Walgreens, Wilmington Animal Healthcare, and even the recent renovation of the WECT studio.
The company has a well-earned reputation for quality on diverse projects, from office buildings to warehouses, freestanding retail stores to entire shopping centers, clubhouses to medical centers, restaurants to schools. They build from the ground up and also perform upfits and renovations.
Nod to the Past, Eye on the Future
Watching the city as it grows, Dull acknowledges that his company is changing the landscape of Wilmington. He takes a decidedly proactive role, however. "Decisions will be made. You can either sit on the sidelines and watch them happen or you can be part of the solution," he says. He spent six years on the New Hanover County Planning Board (serving as chairman for two years) and has served on the City of Wilmington Planning Commission since 2005, chairing that commission since 2007. He maintains positions in many other civic, professional and religious organizations, including the Cape Fear Rotary Club, of which he has been a member since 1989. "I've got core commitments—to my family, to my church, and to my business," Dull notes. "And, I believe you should be civic-minded and do things to help others."
Preserving Wilmington's classic culture is important to Dull, even as he is part of the change that the Port City is undergoing. The key, he says, is good planning. "The only thing constant is change. If you're conscious about what you're doing then you can have good growth." With Wilmington, we don't want to create a museum, he remarked, we want to create a vibrant community. "If your objective is to stop growth and make things frozen in time—if the city fathers believed that 100 years ago, where would we be now? You always have to have positive transition. There's a place for the historic foundation, and there's a place for the guy that wants to build the new waterfront marina. They should complement each other. I believe that preservation and growth can be friends."
"I think a lot of times people think that because you're in the building business that you're anti-environment or anti-preservation, but it's really the opposite. We're the people that have the most impact on getting things done right. That's my goal: to do the things I can in this community not just with my business, but with helping people and doing things for the city that would make this a better place." 910-395-6036, mckinleybuilding.com