An Empowering Advocate
06 Sep 2020
Velva Jenkins takes on the pivotal role of Chief Executive Officer of the YWCA

By TERESA McLAMB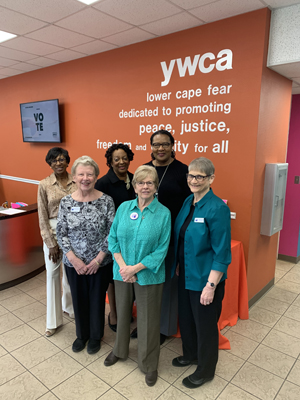 For more than three decades, Velva Jenkins guided the work force development efforts of Brunswick Community College. Beginning in 1986 as the first director and creator of the college's new Small Business Center, she grew in various positions, expanding the college's entrepreneurial and development outreach along the way.

It was the perfect preparation for the role she recently took on as chief executive officer of the YWCA where helping women to take care of themselves and their families is one of their top priorities.

Jenkins describes herself as "the proud product of the late Oliver and Mary Bellamy," the 10th child and third girl in a family where her seven brothers and two sisters were much older than her. "I grew up on a farm with cows, pigs, a mule, tobacco, corn, vegetable garden. That was my life as a child," she says. The farm was her playground. "I was the baby, so I got a chance to use the farm as entertainment; the animals were my playmates. I had a pet pig by the name of Susie. I had a really good life as a child."

She also had parents who insisted that education was paramount. Stating that all of her siblings achieved a level of education, she said her mother insisted that she must learn to take care of herself, not to rely on anyone else. She took college prep courses at South Brunswick High School and entered college prepared to study art. "I went to UNCW and had Claude Howell who was difficult, but wonderful," Jenkins says.

Her course changed, however, when she heeded the advice of a physician who steered her toward business. "I wanted to be a fashion illustrator which meant moving to New York and doing big city things. I didn't know if that was possible at the time, so I changed to business," she says. Sometimes Jenkins regrets not studying art, but she knew the art would always be there and the study of business would serve her in any profession.

In her first job out of college, she was able to combine the interest in fashion with business as a regional buyer for a major department store company, then she moved into beauty supply, traveling the region to set up new stores and market them.

In 1986, she was hired by Brunswick Community College when the state provided $50,000 to create a small business center to support grass roots entrepreneurship in rural Brunswick County. "My office was in a mobile unit that leaked, but it was an amazing startup program. I worked with all the community leaders in Brunswick County and created an advisory council that helped to identify needs," Jenkins says.

When Dr. Jesse Clemmons, vice president of continuing education, became ill, he began mentoring Jenkins. "I would go to his house and sit on the porch and talk. Exide Electronics was being recruited. He would tell me how to work with them, what to say and what the college could and could not do," she says.

Over the next three decades and several positions, Jenkins' work became integral to economic development in the county. Her department established two business incubators, co-working space, started the machine technology program and authored more than $1.5 million in grants to support the efforts of BCC. "Economic and workforce development has been my passion and my life," Jenkins says.

When she retired in 2019 as vice president of Continuing Education, Economic and Workforce Development for BCC, her goal was to spend more time assisting nonprofits as a consultant.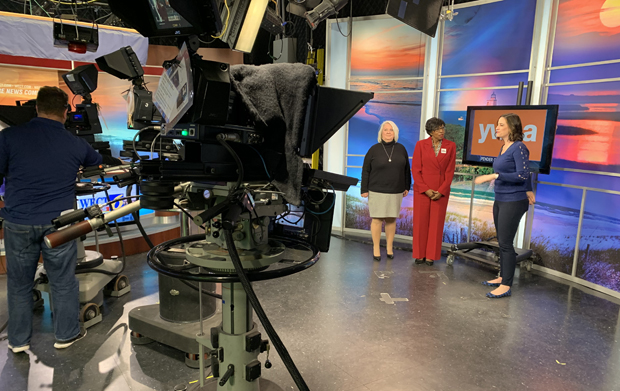 The YWCA was a client. They requested she serve as interim director and then director.

While the organization has many levels of outreach, their long stated primary mission is the elimination of racism. "One thing that has inspired me during this time of racial unrest is knowing I'm with an organization that had identified there is a serious problem in our society. This didn't start with George Floyd. It started many years ago," she says. "The YWCA realized in the 1960s that they were going to take that step forward and work toward eliminating racism."

Jenkins believes her background in education points to one of the most important ways to work toward this goal. "There's a quote that says, 'Education is moving from the dark to the light.' I really believe that," Jenkins says.

Jenkins sees the YWCA's role as focusing on humanity, teaching young people to see others as people like themselves and to look at other people based on their hearts. "We have to start young," she says. The YWCA has launched a 21-day challenge to educate and examine the way in which people interact with people of different races and backgrounds and how this interaction has informed our history.

Empowerment of abused and disenfranchised women is also central to the YWCA's mission. This includes women who have lost jobs or who want to improve their employment position. "The center's day care program is critical to reaching these objectives. So is tutoring on financial matters, setting a budget, working with the healthcare system," she explains.

Another program works with survivors of breast cancer to increase their muscle strength on land and in the YWCA's pool at their College Road headquarters. That same pool houses lessons for hundreds of local children, making them safer in the coastal environment in which we live.

Grandparents who have the unenviable job of raising their grandchildren due to a myriad of causes – military service, death, drug issues - are supported by a program that assists with all manner of issues. "This is a different struggle," Jenkins says. "They don't know how to deal with the school lessons and homework assignments. One of the largest challenges is technology; even the communication between the school and the grandparents is based on texting or some other technology." The YWCA serves as an advocate for the children at school when the grandparents aren't able. They also get involved with healthcare and food availability. "We're an advocate for the underserved and the most vulnerable community," Jenkins says.

While the YWCA has a broad spectrum of programs, Jenkins wants to see more success in the elimination of racism as well as other issues. "We're doing a monthly talk on race where we're dealing with some tough issues," she says. Participation is through Facebook Live and Zoom at noon on the first Tuesday of every month. There's more information on the YWCA's website.

The organization's building was constructed in the 1970s and has had little renovation in the past forty years. A capital campaign is needed but is on hold due to the pandemic. "We need more space for our workshops," she says.

Jenkins would like to see space made available for co-working for women who are getting on their feet with their business and can't yet afford their own office. "They could do some of their job functions at the YWCA," says Jenkins.

She's also hopeful to someday provide badly needed transition housing for women who have lost their home or their job. "Two or three apartments we can manage; it would be great. For a couple of months while they get back on their feet," says Jenkins.

There's much to be done, but Jenkins is grateful to have the opportunity. In one of her daily walks, Jenkins came to the realization that she needed to focus on nonprofits and helping others. She's well on the way.