Arts Council Planning for 2015 Designer Showhouse
12 Jul 2014
Arts Council Planning for 2015 Designer Showhouse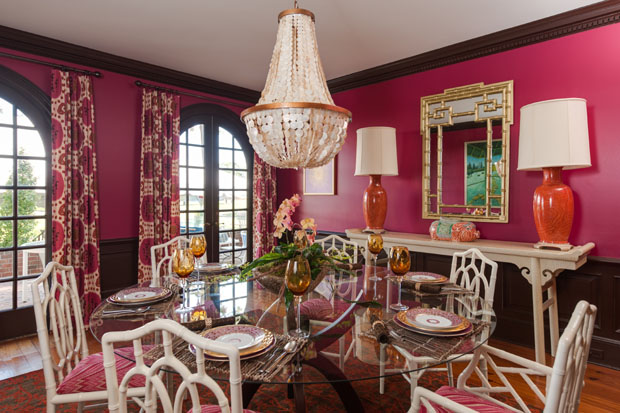 Coming off the success of its first Designer Showhouse, the Arts Council of Wilmington & NHC is already planning for next year. Local designers transformed the interior and exterior spaces of 1909 Gillette Drive. Located in one of Wilmington's premiere communities, the stately 5,000 square foot Georgian designed by late architect Charlie Boney drew more than 1,000 visitors May 2-18, 2014.
Meg Caswell, season six winner of HGTV's "Design Star" and host of "Meg's Great Rooms", was Celebrity Chair of the 2014 Designer Showhouse. Participating design firms included Birds of a Feather Design, Blue Hand Home, Classic Designs of Wilmington, Coastal Designs, Ethan Allen, Manifest Design, Mckenzie-Baker Interiors, Meg Caswell, Nest Fine Gifts & Interiors, Paysage, Red Door Designs, Shipman Design Group, and Teal Interior Design.
A portion of the proceeds of furnishings and accessories purchased from the Designer Showhouse also benefitted the Arts Council of Wilmington.
"We are thrilled with the support from the local design community and the dozens of docents who helped create wonderful experiences for our visitors," said Rhonda Bellamy, executive director of the Arts Council of Wilmington & NHC.
Sponsors included Benjamin Moore Paint, Custom Colors Paint & Decorating, Wilmington Magazine, Star News Media, Atlantic Appliance & Hardware, J.L. Powell & Co., Sellers Custom Counters, Murchison, Taylor & Gibson Attorneys at Law, Clancy & Theys Construction Company, Intracoastal Realty, and Schaeffer BMW.
The Arts Council of Wilmington & NHC is the lead agency on the arts in southeastern North Carolina. Our core functions are to establish the region as an arts destination, to promote arts-driven economic development, to support artists and arts organizations, and to facilitate communication and collaboration in the arts community.
For more information on the 2015 Arts Council Designer Showhouse, call 910-343-0998