Better Drinking Through Chemistry
15 Mar 2015
Thanks to Next Glass, the scientific method has never been so tasty
By TERESA A. MCLAMB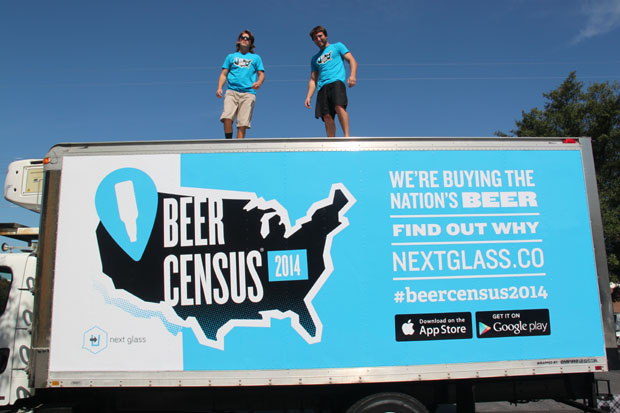 It seems like such a simple idea. Go out to eat with a good friend, share a bottle of wine and a good meal. Simple, that is, until you start looking at the wine list and attempting to determine which bottle will please both of you.
That's exactly what happened a couple of years ago when Wilmingtonian Kurt Taylor and his father went to dinner. "We were flipping through one of those novel-sized wine lists. We asked the waiter for help," Taylor said. As good servers do, he asked lots of questions about their personal tastes, then made a recommendation. Neither man liked the resulting selection. That's when it occurred to them that technology could present a solution to bring objectivity to such a subjective thing as one's taste buds.
They recognized that there's no universal way to describe taste, and just because a wine tasted like oak or had certain tannins, describing that to someone didn't guarantee that they would like or dislike the product. "We wanted to objectively define the compounds in beer or wine," he said. The duo assembled a team, including investors, and Next Glass was born.
Taylor, 26, was working at a bank in Charlotte at the time, having graduated from UNC-CH in 2011 with a degree in Business Administration concentrating in finance. He teamed with a laboratory outside of Charlotte to test wine and beer, and a software company to write the algorithms that would objectively define the chemistry in each bottle.
"We thought that through software, we should be able to find out what was driving taste. The software is smart enough to go through and pick what is important to each person. We get thousands of data points that objectively 'define' each bottle. The software can pinpoint what you like in that bottle and select characteristics in other bottles that you would enjoy," he explained.
They brought in people to do tastings and report their subjective findings, then used those findings to test the success of the software. "We saw we could actually use chemistry to predict individual tastes," Taylor says. Convinced that the concept would work, they raised money through angel investors and others.
Taylor moved back to Wilmington to launch the product. Not only did he want to return to his home, he saw a burgeoning entrepreneurial spirit that he wanted to join and support. "To be able to come back and be part of that was attractive," he says. Incubated at UNCW's Center for Innovation and Entrepreneurship, Next Glass is a successful startup whose star is on the rise. Recent accolades include 2014 Entrepreneur of the Year by the North Carolina Technology Association, a Top Global Startup by the Wall Street Journal, and Taylor himself was just named one of the 2015 Top 30 Under 30 by Forbes.
Teaming with a New York City-based PR company, Next Glass launched with placement in more than 100 leading media outlets. "We were also listed as one of Apple's best new apps in the App Store, and that was helpful in gaining traction," he said. "People like the idea. There's a lot of confusion in the wine and beer world. To provide consumers with a scientific approach was interesting to people."
The app, which is patented to include beer, wine and spirits, combines chemistry and machine learning software to predict tastes, much like Pandora uses for music and Netflix uses for movie recommendations.
Social media also comes into play with the incorporation of Facebook, Twitter and contact lists to compare selections or to plan for purchases. "One of the components is that it's a very social thing," Taylor said. "People drink together, and we encourage people to connect with their friends to see what friends are drinking and enjoying, so people invite others to try the application. That helped us. We've been out a few months now and are closing in on about 300,000 users at this point." A version for iPad is in the works.
The Next Glass app itself is very interactive. Users scan bottles they like or dislike and rate them from one ("pouring this one out") to four ("wish I could drink it all day"). The algorithm uses those ratings to recommend other possible selections. The app's FAQ section explains that a variety of input from the user is necessary for accurate predictions. For example, if someone only rates IPAs, then scans a cider, the app can't make a recommendation. Users can go through the current inventory of many thousands of bottles and search for those they would like to rate to develop their taste profile. Each rated bottle also includes nutritional information such as calories, carbs and alcohol content. Next Glass is working on a filter that will scan for gluten-free products.
By connecting with friends through the app, one person can scan bottles in a store and see how those products rate among their friends so they can purchase the perfect bottle of wine to take to a party or dinner. If that bottle happens to be outside the desired price range, a lower price alternative can be found by tapping the Glass Match icon. Instructions for use are built into the app, and a short instructional video is available at http://vimeo.com/111073613.
While the app download is free, Next Glass sees revenues from its liaisons with the business community. "We help businesses connect with customers and curate inventories based on taste," Taylor said. "For example, small production wineries and breweries struggle to gain distribution. We can help find people all over the country that would love their product. We also help restaurants and merchants manage their inventories and menus based on trends and the preferences of users in their area. This helps them make sure they carry drinks their customers are going to love," he said.
To get to this point, Next Glass tests about ten milliliters of each bottle. That has resulted in a huge inventory of wine, which is re-corked with nitrogen and stored until it can be donated to a charity event or given to friends. They've tested all of the macro brews and have outfitted a truck for a Beer Census, which has scoured the U.S. for craft beers. "Beer is hyper-localized. We see they're very important, so we go out and collect beer. That's where the beer truck came about." After several trips, they've been to almost every state and collected about 10,000 local beers. They've also been on the news in every town they stopped, Taylor said, resulting in a lot of publicity and downloads. The latest trip is focused on the southeast.
The success of Next Glass has allowed the company to expand into a renovated building in Historic Downtown, where they'll occupy the second and third floors. Currently, they're divided between lab space and office space in different parts of town. "We're excited that we'll have everyone under one roof," he noted. The move will include relocation of their scientific instruments including a liquid chromatography mass spectrometer, which is critical for the process. It also gives them space for the large inventory. "We test about 800 bottles per week, so we always have several thousand in inventory to test."
Although the company is "laser-focused" on beer and wine now, Taylor sees a lot of opportunity in other food and beverage products and predicts they'll expand into more products in a year or two. "We know through R&D that we can use our instruments to go into different products." Right now, however, the company is paying close attention to feedback from consumers to make regular tweaks to their app. They actively encourage users to submit ideas as well as to request that certain bottles be tested.
"I think the opportunity to own and define a market around taste is really exciting," Taylor remarks. To give a small company the chance to market through taste rather than cost serves to level the competition between small companies, like small production wineries, and large ones, he said. He's also happy to be back in Wilmington, where increasing attention to technology businesses is helping with the recruitment of top talent. "There's exciting momentum in Wilmington. We're really happy to be a part of it."