Celebrate Valentine's in Delicious Fashion
04 Jan 2022
Wilmington and its beaches has the range of restaurants to reel in some romance

By RAY LINVILLE » Photos by G. Frank Hart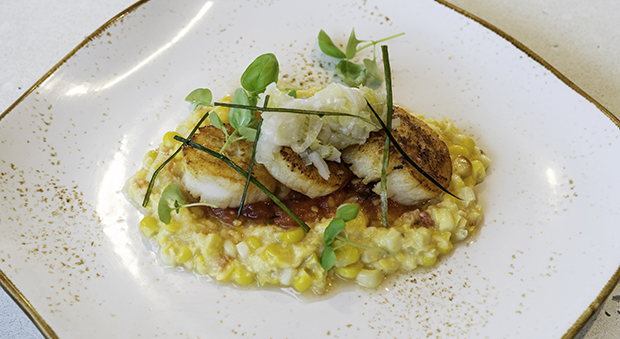 A Valentine's date doesn't have to be fancy or over-the-top glam to rate five stars. The secret ingredient is for the evening to be well-thought-out so the celebration comes together in a sensational way. From oceanside to riverside, exotic to a perfectly grilled steak, vegan to the last luscious bite of a shared chocolate dessert, Wilmington and its beaches have the restaurants to reel in some heart-throbbing romance! Here are Wilmington Magazine's suggestions to reel in some romantic allure in 2022.


Bluewater Waterfront Grill
910-256-8500, bluewaterdining.com

Sunset happens every day, but can it be watched at any place better than at Bluewater? The breathtaking views at Bluewater offer a romantic setting for you and your date as you watch the day melt into dusk and the sky turn into golden and orange hues over the Intercoastal Waterway. Unwind from your busy lives as boats and kayakers drift by. North Carolina's bountiful fishing waters continually provide fresh, local favorites at Bluewater, where you can enjoy quality seafood as well as an amazing selection of traditional American fare artfully combined in a mix of classic and modern dishes.

Cape Fear Seafood Company
910-799-7077, capefearseafoodcompany.com

Known for specializing in regional American seafood, Cape Fear prides itself in using the freshest ingredients and preparing them with love. Its Bald Head Island Crab Cakes (that regulars have named "the best outside of Maryland") made it a winner in this magazine's Best of the Best contest. However, its extensive menu has an abundance of other tempting choices from the sea and the land. Seafood platters include shrimp, flounder, scallops, oysters, and clams. A 12-ounce hand-cut Sterling Silver beef ribeye is also a great choice for a special occasion. Don't forget dessert. The key lime pie is a classic.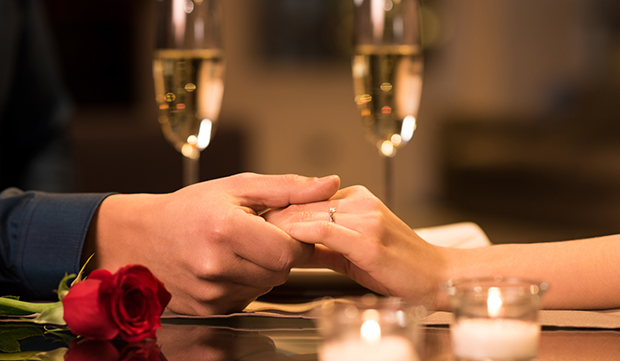 East Oceanfront Dining at Blockade Runner
877-684-8009, blockade-runner.com/dining-br/east-oceanfront-dining

Oceanfront dining doesn't get any more elegant than at this prominent restaurant in Wrightsville Beach where you enjoy creative fare that is served in a beautiful garden setting. Executive Chef Jessica Cabo and her talented culinary team have created a coastal food culture with fresh local seafood, produce from their own gardenscape, and other ingredients harvested by regional purveyors. The seafood and vegetarian dishes reflect influences from California, Mexico, Asia, and the Mediterranean. With a great selection of wines, spirits, and local craft beers to choose from, your dining experience will be amazing.


Elijah's
910-343-1448, elijahs.com

A winner in this magazine's Best of the Best in the categories of outdoor dining and specialty drinks, this casual American grill and oyster bar has one of the most picturesque locations along the Cape Fear. Both indoor and outside seating with panoramic views along the waterfront are the ideal spots to enjoy the superb creations of this seafood-centric restaurant that was once a maritime museum. Several unique paintings, ship models, and nautical artifacts remain on display. Save room for one of the specialty desserts such as the layered lemon cake with lemon mousseline and Meyer lemon curd.


The Fortunate Glass
910-399-4292, fortunateglass.com

Wilmington's premier wine bar for both quality and service, The Fortunate Glass offers a superior selection of tapas inspired by different world cuisines. Its selection of global cheeses includes Danish Havarti, French brie, Holland smoked gouda, Irish porter cheddar, and Spanish Manchego. A charcuterie of Italian prosciutto, Iberico pork salami, Toscana pork sausage, duck saucisson, or other cured meats awaits your order. Come for just a delicious dessert such as chocolate torte or seasonal cheesecake and pair it with a curated dessert wine from France, Germany, Italy, or Spain. What a great way to cap a romantic day.


Havana's Restaurant
910-458-2822, havanasrestaurant.com

A special place for Sunday brunch and winner in this magazine's Best of the Best contest, this Carolina Beach restaurant knows how to make a Valentine date special. Its superb seafood selection is best enjoyed inside the elegant dining room, but plan time to have a drink before dinner on the tropical, open-air patio where you can observe the street scene of North Carolina's favorite beach town. Owner Peter Donat has created an island restaurant that is a "polished casual" destination where you can show up in flip flops or dress to impress as you enjoy fantastic food and friendly service.

Indochine
910-251-9229, indochinewilmington.com

Wilmington's most acclaimed Thai and Vietnamese Asian restaurant is ready to make your Valentine dinner a special occasion. A winner in this magazine's Best of the Best contest, dining there transports you to the Orient through food, scenery, service, and ambiance in a beautifully decorated environment. At Indochine, you enjoy a holistic dining experience with "nutriceutical" Thai-Vietnamese cuisine that emphasizes the nutritional and pharmaceutical benefits of well-balanced meals that are high in fiber and essential minerals and complemented by abundant fresh vegetables and herbs. Don't miss the lotus pond and Thai huts outside and the newly renovated Saigon Sushi Room.

The Melting Pot
910-256-1187, meltingpot.com/wilmington-nc

A dining experience like no other, The Melting Pot beckons you to enjoy more than a meal. From the time the first piece of bread is dipped until the last bite of dessert is savored, it invites conversation, laughter, and coming together over artisan cheeses, creative salads, savory entrees, and decadent desserts. Enjoy an interactive dining experience with several fondue cooking styles and create memorable moments with your significant other. Book a table for you and your Valentine, or invite a few close friends to join you and share a special occasion.


Nori Asian Fusion & Sushi Bar
910-765-1808, norisushinc.com

Is your special Valentine a sushi lover? With more than 30 specialty rolls and many traditional hand rolls, Nori has something that everyone enjoys. The husband-and-wife team of Jing Chen and Yun Zhao focus on Omakase-style sushi, meaning "chef's choice." They create each order individually, using the freshest ingredients that include imported Japanese seafood shipped fresh overnight. A winner in this magazine's Best of the Best contest, Nori offers items such as horse mackerel, snow crab, big eye tuna, bluefin fatty tuna, and live scallops that are not easy to find elsewhere in Wilmington.


Panacea Brewing Company
910-769 5591, panaceabrewingcompany.com

Is your special someone a vegan? No worries. Our readers voted Panacea as the best vegetarian restaurant in our Best of the Best contest. In 2020, it opened a new plant-based kitchen and taproom that features the area's most loved kombucha, local beers, and scratch-made foods. The creative and inspiring menu is a hoot to read, and even they proclaim: "We know it's hard to believe, but everything is vegan." With starters, soups, and burgers that feature plant- and grain-based ingredients, your vegan friend will beg you to return. Don't miss the smoked tofu collard wrap that will make the most recent northern transplant wish that they had been born in the South.


Port City Chop House
910-256-4955, chophousesofnc.com

Savor a time-tested tradition in a relaxed atmosphere with your Valentine. Serving the best cuts without taking shortcuts, Port City has a legendary menu that matches its legendary service. Signature steaks, chops, and seafood are served with Yukon gold mashed potatoes and grilled asparagus as well as a choice of a house or Caesar salad or a cup of soup. Think how a six- or 10-ounce center cut tenderloin filet mignon can be the best dinner of the year. Little details such as inspecting every plate twice guarantees a truly extraordinary experience at the area's best steakhouse, a winner in this magazine's Best of the Best contest.


Roko Italian Cuisine
910-679-4783, rokoitalian.com

The winner in the romantic atmosphere category of this magazine's Best of the Best contest, Roko Italian is the place to go for the young at heart. Because atmosphere is so important, Roko's casual-upscale ambiance makes it the perfect choice for a date night. With an array of seafood, steaks, pasta, and salads, Roko has exactly what your love will want to order for a Valentine's dinner in this comfortable and quaint restaurant. With more than 30 years of cooking experience, Executive Chef Jadran Peros uses old family recipes to personally prepare each dish infused with fresh local ingredients.


Ruth's Chris Steak House
910-343-1818, ruthschris.com/restaurant-locations/wilmington

Nothing characterizes fine dining more than an experience at our local Ruth's Chris, a winner in this magazine's Best of the Best contest. In the category of fine dining, it was the clear first-place winner. Premium USDA Prime custom-aged meat (delivered on sizzling 500-degree plates) and the award-winning wine list at this upscale restaurant are the perfect pairing for a romantic adventure. Ruth serves only the finest cuts that are marbled and hand-selected for thickness and tenderness. The superior service adds to an unforgettable dining experience. Enjoy the scenic Riverwalk locale with a slow stroll before or after dinner.


The Sailfish at Marsh Creek Marine
910-406-1055, thesailfish.net

For romantic waterfront dining, you cannot beat the dining experience alongside an Intracoastal background. Located at the beautiful Marsh Creek at Scots Hill Marina, The Sailfish features several amazing entrees such as parmesan-crusted grouper and shrimp etouffee. A local favorite is seafood mac and cheese with bay scallops and shrimp. The winner in this magazine's Best of the Best contest in the category of waterfront dining, The Sailfish also has several tempting appetizers, such as steamed shrimp, scallop and shrimp ceviche, grouper bytes, and tuna won-tons.


Tarantelli's
910-763-3806, tarantellis.com

This family-owned Italian restaurant, a repeat winner in this magazine's Best of the Best contest in the category of authentic Italian food, draws its inspiration from the grandparents of the current owners who were amazing cooks and handed down their legendary family recipes so that you can appreciate Italian cuisine at its purest. Every time you walk through the door at Tarantelli's, you will feel at home. The finest ingredients from various regions in Italy are paired with the most celebrated Italian wines. At Tarantelli's, you'll learn that life is better when you spend quality time with someone special as you enjoy great food.