Connecting Providers and Patients
09 Nov 2014
By TERESA A. MCLAMB
Photos by JENNIFER SIMPSON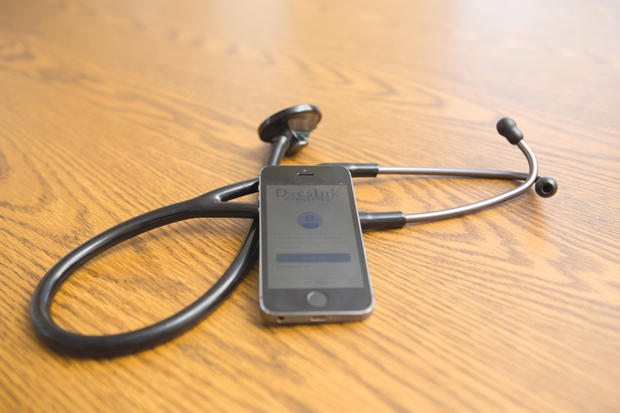 Local company's innovative app provides billing and workflow solutions to health care professionals while providing a platform for superior patient care
For more than two decades, Julie Thomas has worked in various areas of the healthcare industry, including managing billing offices and practices in the inpatient and outpatient settings. "I became an expert on revenue cycle and clinical workflow management," she says. Streamlining processes enabled her to "save [the practice and physicians] time and make them money," but never quite solved the greater problem of continuity of care among disparate providers. Lessons she learned along the way, however, laid the foundation for a solution called DocsInk—a growing company with big plans for the future. The playful name–ink for doctors, or a way to sync doctors, she explains—alludes to the elaborate interlacing of health care management details organized into one clever application.
Salmonella poisoning isn't usually the key to someone's success, but it gave then 19-year-old Thomas the jumpstart into business that helped launch her career. She had barely begun studying business at Coastal Carolina University (while working full time as a marketing director) when she contracted the disease and was bedridden for two months, requiring her not only to stay out of work but to drop out of school, as well. When she recovered, her employer offered her a substantial promotion and salary increase if she decided not to return to school. "I ended up managing 35 people on my marketing team, and we helped the company set record-breaking sales goals," she says, and she never looked back. After a three-year stint at Carolina's Medical Center in Charlotte, she heard of a position that had opened at New Hanover Regional Medical Center, and jumped at the chance to relocate to Wilmington. About 15 years ago, Julie and her family took up residence in the house where her husband grew up, where they continue to raise their two sons.
Six years ago, she and Brad Hinely, DocsInk co-founder and CTO, founded a consulting firm along with other partners to concentrate on providing client support for the implementation of electronic health care records that replaced the ubiquitous paper patient chart. In each of these cases, patients' information is often static, not shared with other caregivers simply because the technology is not set up to do so. Electronic health records, or "EHRs" house the data, said Thomas, "but they don't address continuity and transition of care like the transfer of a patient from inpatient to outpatient setting. Post-discharge time periods are critical for patients in order to ensure they get the follow-up care needed to avoid unnecessary readmissions and optimum health outcomes." Thomas and Hinely's experience with their consulting firm convinced them that physicians needed a way to better integrate EHRs with total patient care. They knew they could incorporate this functionality in a way that would help physicians maximize their revenue and workflow efficiencies.
The first big step toward that goal came four years ago when a large cardiology practice in Philadelphia hired Thomas and Hinely to implement their EHR and manage their billing office. "Like so many others, they were losing charges right and left for services they rendered outside the walls of their primary office," said Thomas. "They would go to the hospital to do a pacemaker implant or the surgery center to do a procedure. They visited patients in nursing homes. These charges were not being billed in a timely fashion and sometimes not at all. That drove me crazy." The pair recognized that there was not a good way for physicians to communicate with their office staff or other physicians in their own practice, and certainly not with doctors in another practice. Finding the solution, with the Philly group as the research base, became their goal.
Recognizing that applications were available that did bits and pieces of what needed to be done (but not everything), they set out to find a solution that was easy and affordable, and that met specific criteria: It had to be simple to adopt and to use, and it had to integrate with systems physicians and practices—some of which cost millions of dollars—already had in place. Unable to find a solution, Thomas and her partner decided to design it themselves. Built with physicians for physicians, DocsInk was born.
While some companies have secure texting or mobile charge capture, DocsInk combines an enterprise-level communication system with an interactive, real-time provider directory with the ability to make it a care coordination platform because everything is patient-centric, Thomas explained. The hardest part was making it simple to use with little or no training. "We had to make sure it wasn't just one more piece of technology that didn't work in their work flow, then put a price tag on it that would provide an almost immediate return on investment," she said.
As she and Hinely developed DocsInk, they worked hand-in-hand with the Philadelphia group. "They would pilot it and make suggestions, and we would go back to the drawing board to make it better," she said. When they released the beta version a year later, the group's revenue went up 17% in fewer than 30 days, she said. That dramatic increase continues to be the norm. "It's real-time and so simple that providers can use it at point of care. We're really proud of that."
One of the early Wilmington adopters was Dr. Josh Dobstaff of Wilmington Health Associates. A hospitalist who works at New Hanover Regional Medical Center, he was so impressed with the results he achieved that he asked to become more involved with the fledgling company. Now DocsInk's Chief Medical Officer, he provides the unique clinical perspective critical to continuing development and testing. "He holds us to our mission of making sure we maintain our dedication to the ease and support of the clinical workplace," Thomas explained.
Customers and potential customers are anyone and everyone who may need to share in the care of a patient and should have the ability to communicate with others who share in that care, and/or render care outside their primary office location. A good example is the Medical Center at Ocean Reef off Key Largo, which has not only implemented DocsInk inside the practice, but has also tied in the local EMTs and the area's hospitalists so that everybody is tied into the same platform. Dosher Memorial Hospital in Southport has signed up for their hospitalist group and are in the process of providing the app for the primary care physicians in the area so they'll know when their patients have been admitted or discharged from the hospital—something frequently overlooked when a person goes to the ER on their own. Medical providers and staff from a one-doc-shop to the largest academic hospital facility would benefit greatly from the DocsInk platform.
The DocsInk app is not an EHR replacement, but rather an EHR supplement. It is a secure mobile billing and communication tool, operating on a mobile device and on a web-based dashboard. It is also customizable to fit the exact needs of individual providers and to work with the providers' existing software. It connects primary care physicians with specialists who are part of a patient's care team, regardless of location or affiliation. "One hand always needs to know what the other hand is doing," Thomas said. "This has been almost impossible for so long because they [physicians] weren't part of the same group and don't have the same technology system, and they're busy trying to take care of business." DocsInk connects team members instantly.
The DocsInk app isn't hardware, Thomas continues, but software as a service solution. "It's kind of like Facebook for doctors. They can share data, images and files instantly. If they share a patient, they can request to connect with each other without the need of an expensive interface. In addition, physicians can set their own status so people know who's available, on-call, etc." Consult requests between offices take seconds and are trackable. Hospital admissions are seamless. Nurses needing to update or change patient instructions can check the physician's status and contact her immediately, and it's all documented so the next provider comes onto the shift with updated information.
"In less than 10 seconds one doctor can transfer the patient list to another with all the pertinent transition notes attached. I think that's so cool," Thomas said. "Can you imagine the benefits when everybody has access to what is going on with this patient right now? We can speed up the pace that health care is delivered to the patient while saving physicians time and making them money," she said.
The DocsInk team continues to add clients across the country and receive attention from the press. They garnered the 2014 Emerging Company Award from UNCW's Center for Innovation and Entrepreneurship and the Greater Wilmington Business Journal. In October, they learned they were selected as a 2014 Top 10 Startup to Watch for the NC Technology Association's awards.
"We're not doing this to be small," Thomas said. "We're currently have clients in six states and are working toward critical mass. Our vision is to have everybody operating and communicating on the same platform. We have really big plans for how we're going to further enhance the experience for them and to provide more functionality. We went into this with the mission of addressing the financial and the communication gaps that have plagued the health care industry for so many years to bring real reform to the industry."
At press time, Thomas was notified that DocsInk is also a 2014 finalist in the categories of Communications Technology Company and Health & Wellness for the NC Technology Association awards. Winners will be announced in early November.