Heather Millen followed her childhood passion of creating commercial interior design concepts, and is helping businesses locally and across the country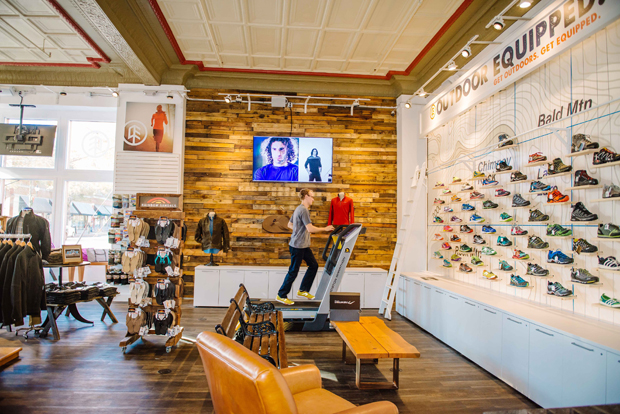 By TERESA A. MCLAMB
In second grade, when people asked Heather Millen "What do you want to be when you grow up?" her answer was "interior decorator." By third grade, she had redefined that answer to "interior designer" as her fascination with special planning and human interface began to form. "My father worked for the phone company which had a massive office building in downtown Detroit with architects, facility managers and designers on site. He took me to the building for Take Your Daughter to Work Day. I thought it was the coolest thing ever, so I went to college for it."
The four year program immersed her in space design and the science of how people interact with their work space. "I was the best student in AutoCAD, so my teacher referred me to the university for a job while I was in school." She worked in the university's facilities department designing campus buildings.
That experience led her to a series of jobs, gaining greater experience on a global level over several years. She worked for an architect, a Manhattan furniture manufacturer and others. Concentrating primarily on the automobile industry when it was at its height, she worked with several facility matrix groups. "The scale of the projects were huge: General Motors, OEM suppliers. It was different than working for the university where your client was yourself. There was great demand to meet client expectations." The job scope went beyond designing the interior spaces to creating documents and drawings and specifying all of the materials, procurement and installation management. Some projects were for new construction, some were reconfiguration of existing buildings into more human-friendly spaces.
Business was good, but the south was calling, so Heather and her new husband Brian began looking for a place to call home. Brian had friends in Wilmington who encouraged them to move here. "Business was so good in Detroit, we thought we could do it here," she said.
They found that Wilmington had nothing comparable to the breadth of work they were doing in Detroit. "Here in Wilmington, we had to create our own work, to create our own business," she said.
Operating Commercial Interior Solutions (CIS) from their home, they expanded to twelve employees in six months, moved to a downtown location and excelled until the downturn. By streamlining operations, and moving back to their home office, they weathered the down economy. Earlier this year, they opened their current location on Carolina Beach Road. Their work continues to be all over the country, and they regularly travel to clients. Brian leads the sales effort. They have a project manager and a designer working with them.
On a daily basis, Heather describes herself as "being into everything. I'm in the books. I'm ordering things, designing things. It's part of being a small business. I visit clients, go to job sites. I spend 10% of my time on design and 90% on everything else that you have to do like pricing and coordinating installs. I'm designing it, but it's not all fun and glamorous. It's a lot more back-end work."
The synergy with the group is key, she said. "We all have different interior design backgrounds. We really understand the interior space and flow. We delve into those details beyond the pretty building, and we focus on what will happen in that room. How do the technologies flow? How do people interact? It's more about the user. They're spending more time in the office than anywhere else in their waking hours." That means the team focuses on creating an environment that functions appropriately for the work to be done, and that creates a positive environment for the employee. Another concern is employee health. An often heard phrase in the industry is "Sitting is the new cancer," so designers look for ways for employees to move while working.
While they use many furniture and product manufacturers, they're strongly aligned with Kimball Office, an upper tier furniture manufacturer that works with internationally known designers to bring the latest work-space trends to clients.
Technology has made working with clients anywhere in the world possible. Millen produces an electric design board which is emailed to clients.
Relationships and referrals are key to their business model. "You don't just walk in and knock on the door. It's about who you know and who they know," she said. Recent projects have included Live Oak Bank, Vertex Rail and nCino in Wilmington, True Homes in Monroe and Dermamix in Jacksonville. A health care system in Mississippi is a long term client.
They recently contributed space planning and interior finish selection to the renovation of a structure on the Pearl Harbor military base that survived the bombing attack. "The renovation was to modernize the structure while preserving its historic importance,"
CIS assisted Terex Cranes in their move to the former PPD building at 17th and Independence. That move opened the door to assist Vertex renovate the old Terex space.
They were referred to Live Oak Bank, and after that job, spin-off nCino contacted them. "We were their first contact. We became like an owner's representative working with the architect, and the general contractor. I become an extension of their team and help them navigate the project and be sure everything is flowing." CIS did the interior design and furnishings of a space that included an install of floor-to-ceiling ten-foot glass walls and doors. The finished project includes 200 height adjustable desks and space design which allows employees to move around the building to multiple work spaces.
Their clients have included health care systems and individual doctors, retail and industrial. A recent project was Outdoor Equipped at Front and Grace. "That's a neat space," she said. "It's on the historic preservation list and it has 17 foot ceilings." They went for the look of a large chain flagship store sporting the latest technology, but at a budget price.
This project also involved them with logo development and branding on the interior and exterior. They brought in a video company to produce a segment which loops on a giant television inside the store. Branding includes a recreation of Chimney Rock as well as a back-lit topography map of the landmark as a backdrop for 130 pairs of shoes suspended from cables. Throughout the building stark white contrasts with river wood. "I think it's a great space," Heather said. "It was fun."
They're currently working with John Sawyer, Architect, on renovation of the county's 4th Street office complex. "The county has gutted it and is rebuilding the interior. We're doing space planning and furniture design."
A commercial real estate broker referred Dermamix to CIS. The relationship between CIS and commercial brokers has taken on increased importance in the business mix as CIS provides tools for brokers to use with prospective clients. "We've been doing a lot of thinking of what is next for Wilmington." Using the Garner Report's information on companies that could be recruited to Wilmington, CIS scouts out vacant property in the region and designs concepts for use of the space. "A prime space example is Bank of America [on Third Street] that's vacant and a gorgeous building." They input the spatial specs into AutoCAD and design for an imaginary tenant based on current trends. From there they do 3D computer renderings and an electronic design board which are given to commercial brokers or building owners to use in recruiting potential buyers or tenants. "A lot of people have a hard time visualizing what the space can be. We try to take the unknowns out so potential buyers can envision it. This helps to move property."
The concept has worked, and has resulted in many referrals to the business. "It's opened people's eyes to what things can be and how we work and think. It's been very positive for our business and for Wilmington in general. If we can all help each other, it's wonderful."
---
Heather Millen
Hometown
Grew up in metro Detroit
Education/Work
BS Interior Design, Eastern Michigan University
President, Commercial Interior Solutions
Co-Founder and past-president of CREW (Commercial Real Estate Women)
Hobbies
Paddle boarding, boating, yoga, and chilling with my five kiddos.