Lifelong Prevention
08 May 2016
Wilmington dentists weigh in on the importance of good oral health and overcoming dental anxiety
By CAROLINE GOBBLE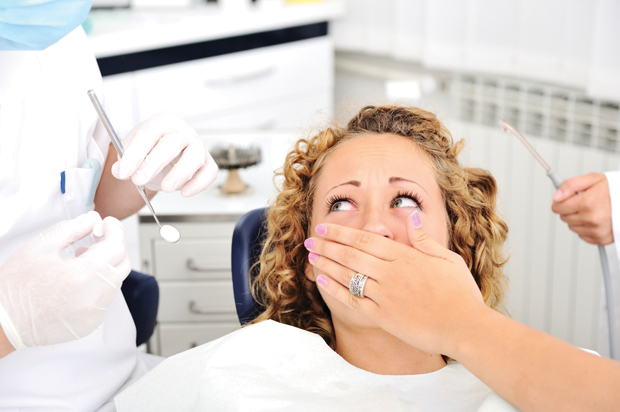 American satirical novelist Joseph Heller once said, "We do have a zeal for laughter in most situations, give or take a dentist." There is some truth behind his statement given the fact that "between 5% and 8% of Americans avoid dentists out of fear," estimates Peter Milgrom, DDS, director of the Dental Fears Research Clinic at the University of Washington in Seattle and author of Treating Fearful Dental Patients. A higher percentage, perhaps 20%, experience enough anxiety that they will go to the dentist only when absolutely necessary. However, avoiding or neglecting good dental health is no laughing matter.
A person's dental health can be a reflection of one's overall physical health, but Dr. Michael Kuzma of Kuzma Advanced Dentistry explains, "Dental problems are almost 100% preventable with the exception of trauma. By regular visits to the dentist we can take action to prevent disease or intervene early in a process to prevent further damage."
This year, 2016, marks 20 years of practice in Wilmington for Kuzma. "We offer all aspects of general dentistry services, however, we also offer advance services in cosmetic dentistry, TMJ therapy, sleep apnea and dental implants. Our years of advanced training and new technologies allow us to address all of our patients dental needs," he says. Kuzma provides services to help protect and maintain oral health such as cleanings, exams, root canals, and other dental restorations. He is also a cosmetic dentist who "recognizes that we call on our smile every day to represent us with its appearance. Therefore, a cosmetic dentist prioritizes the appearance of your smile along with other aspects of oral health."
Similarly, Salling & Tate General Dentistry recognizes that "a great smile is worth a thousand pictures and your teeth frame that image. At Salling & Tate, we bring you closer to that ideal vision of yourself. We recognize that when seeking out qualified cosmetic dentistry in Wilmington, you deserve the best care under the experience of professionals who know how seriously you take your smile."
Two cosmetic dentistry services offered by Salling & Tate include Invisalign, an invisible procedure to straighten teeth, and CEREC, "the latest in computerized dental technology that will save you time and more of your natural tooth structure, with convenience and comfort. We have two cutting-edge CEREC systems available, once again evidencing Salling & Tate as an industry leader in technological services."
Also offering an array of cosmetic dentistry, Kuzma says, "we are continually seeking out new technologies that improve our patients' care and experience. We use new digital scanners instead of taking impressions which allows us to make crowns in just one appointment. No temporaries and no mess. We use three-dimensional x-rays like CT scans to better diagnose and treat patients who need implants or have TMJ problems. We also offer Nucalm, which is a new technology that helps patients to relax without any drugs or side effects."
Bozart Family Dentistry in Wilmington strives "to provide comprehensive dentistry to all patients. This means explaining all available options to every individual and having the patient make an educated decision with regards to their treatment. Dr. Bozart understands that what the textbook recommends is not appropriate for every patient." He says, "the textbook does not take into account the patients situation. The textbook fails to recognize financial or time constraints, personal desires, fear, etc." Taking time to get to know each patient and understand his or her problems and needs is an important aspect to a successful dentistry practice. We are not a high-volume practice Kuzma explains. "We take time to get to know each patient and provide customized treatment options based on their treatment goals. We strive to eliminate the underlying problem so we don't have to continue to treat the symptoms. This allows us to create beautiful dentistry to last a lifetime."
Though the staffs of Bozart Family Dentistry, Kuzma Advanced Dentistry, and Salling & Tate General Dentistry all offer a multitude of services for all ages and types of needs, many patients have anxiety or fear when visiting the dentist. According to Kuzma, "Patients usually fear the dentist because they have had a bad experience in the past. Today there's no reason why dentistry can't be completely painless. We build trust with our patients to help them eliminate and overcome past fears. We also offer Nitrous oxide, Nucalm and sedation to help patients address those fears so they can be completely relaxed and comfortable during treatment."
According to a study by the University of Columbia's College of Dental Medicine, "it has been estimated that 9% to 15% of Americans avoid seeing the dentist because of anxiety and fear. That's about 30 to 40 million people." In a survey by the British Dental Health Foundation, 36% of those who didn't see a dentist regularly said that fear was the main reason. Consistently visiting the dentist can help ease anxiety. Seeking therapy with a mental health professional can treat more extreme phobias and anxiety.
The American Dental Association's consumer website provides countless resources and tips for all types of patients at different life stages from pregnancy to babies and kids to adults. To learn more about age-specific tips, visit www.ada.org/en/public-programs/mouthhealthy. They also have a website just for kids: MouthHealthyKids.org, which feature games and activities to help children learn about and practice good oral health care.
MouthHealthy also gives tips for helping maintain a healthy smile and easing general anxiety surrounding dentist visits:
Healthy habits. Brushing twice a day for two minutes and flossing daily are essential for everyone, no matter how unique your mouth is. It's the best way to fight tooth decay and gum disease.
Build a relationship. Continuity of care is an important part of any health plan and dental health is no exception. When your dentist sees you regularly, he or she is in a good position to catch oral problems early. For instance, catching gum disease when it's still reversible, or cavities when they are small and are more easily treated.
Maintain. Keeping your mouth healthy is an essential piece of your overall health. It's important to keep your dentist informed of any changes in your overall health as well.
Talk about it! Only your dentist can determine what the best treatment plan is for you. Have questions about your oral health or certain dental procedures? Start a conversation. Ask your dentist to explain step-by-step. Dentists love having satisfied, healthy patients.
Regular dentist visits and practicing good oral health is essential in maintaining overall good health. Wilmington is the home of many dental practices offering various general and cosmetic services, personal and individualized patient relationships, and the latest technologies.