Oh, the Places You'll Go
15 Mar 2015
Hit the road! We can't think of a better way to celebrate the arrival of spring.
By JENNIFER GLATT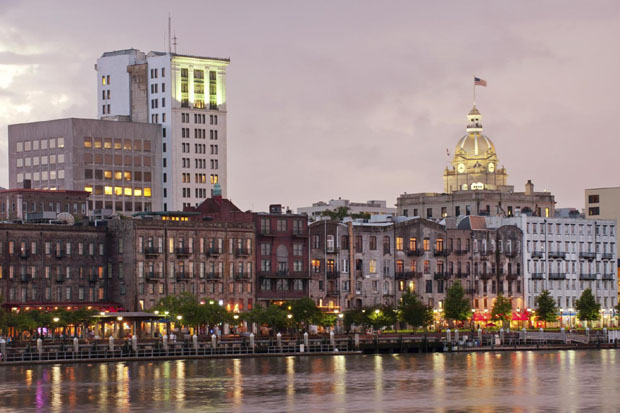 "I haven't been everywhere," Susan Sontag so famously said, "but it's on my list." With Spring Break right around the corner, we've put together a list of places not too far from home to tantalize the traveler in you.
Savannah, GA
A trip to Savannah is a captivating and genuine Southern experience. Whether it's the ancient oaks draped with Spanish moss, the history, the waterfront, or the coastal cuisine, the Savannah experience is truly multi-dimensional. Savannah's city plan incorporates 22 scenic, park-like squares placed in a grid throughout the city, making it extremely walkable and pedestrian-friendly. (In fact, Walking Magazine recently named Savannah one of America's best walking cities. But we encourage you to forego fancy shoes for your excursions, as many of the streets are cobblestone.)
What to do:From historic home tours to art museums, riverside restaurants to brew pubs, it's easy to find lots to do in Savannah. Don't miss River Street, with its eclectic collection of cotton warehouses turned antique shops, boutiques, galleries and restaurants. Sit a spell in one of the Historic District's manicured gardens and when you get a little tired, hop on an Old Town Trolley Tour to continue sightseeing.
Where to eat: The Olde Pink House, in Reynolds Square, is a perennial Savannah favorite. Dine in this elegant 18th century Colonial mansion or enjoy live music in the cellar tavern (or both!). The appetizer list is as long as your arm, and the entrée list is even longer. Our choice? Blue crab beignets with creamy Old Bay and a lemon dipping sauce to start, then the "legendary" crispy scored flounder with apricot shallot sauce, creamy grits and collards.
Where to stay: Aptly nicknamed the "Hostess City of the South," Savannah offers a bountiful choice of accommodations. We recommend The Olde Savannah Inn, just one block from Forsyth Park. Built in 1877 and restored in 2005, the inn is decorated with a nod toward the French Renaissance to include gilded mirrors and 18th century French antiques. Best of all, it is imbued with timeless southern hospitality.
Banner Elk, NC
It's known as the Christmas Tree Capital of the World, but in Spring, this beautiful small town is just as appealing as when it's filled with snow bunnies. Hiking and cycling are popular and a number of clubs welcome visitors to join in their excursions. Maps are available from the chambers of commerce. Rhododendron and mountain laurel begin to blossom. With some of the highest mountains east of the Rockies, the views are nothing short of spectacular.
Blue Ridge Village Resort offers super accommodations, with and indoor pool and amazing vistas. Canoeing and kayaking are close by, along with great sightseeing options and unique shopping. Accommodations can include private decks and mountain views, as well as whirlpools to help you unwind after a day of hiking along the Appalachian Trail, or perhaps around the resort area. All amenities in place assure visitors of the perfect getaway. Nature lovers will delight in being so close to Pisgah National Forest, as well as Linville Falls and Grandfather Mountain – one of the most amazing areas to be found – anywhere. Of course, lounging by the pool while enjoying majestic scenes may be excitement enough. Just ask the knowledgeable staff to help you and yours plan events that will guarantee good times, in a beautiful resort.
Shoppers, be sure to make a stop at WingN'it, a beautiful little eclectic shop located downtown inside the "The Little Red Caboose." You'll find charming home décor items, and perfect gifts for you and your friends. Think garden ornaments and flags, eclectic decorations and all things to feed and invite your feathered friends to stop at your deck or yard and enjoy a gourmet snack, or perhaps a new home. A huge selection of bird feeders guarantees that you'll find the perfect fit as a gift, or to take back home. As for squirrels, they have feeders, as well as bird feeders which discourage the little rascals from pilfering all the seed. Green friendly, with many items made in the U.S., it's a fun stop along your way. (If you visit Banner Elk in winter, visit the owners' other business, Snow Toys, a great ski shop that's a cut above most rental stores with great personal service.)
When it's time to dine, you can't go wrong at The Painted Fish Café and Beer Bar, where you'll find familiar dishes with a twist, including rabbit and waffles, or perhaps Southern style pecan-crusted trout. Chef Tom Jankovich, is an exquisitely experienced food-artist who believes in the simple concept of truly good food—always with a twist.
It's an upscale experience, in a casual, inviting atmosphere. Wash it down with artisanal beer or you may prefer a glass of wine from a boutique winery known to just a few. Children will enjoy a crème vanilla soda or a Boylen root beer. If you're in town on a Sunday, don't miss their brunch. For a very unique and fantastic taste experience, we recommend the sweet potato waffles foster or perhaps their salmon Hasherole, covered in Hollandaise sauce, of course. Hint: if there remains a chill in the air, you can still enjoy dinner al fresco with their heated outdoor dining area.
Another strong option is Jackalope's View Restaurant at Archer's Mountain Inn, where you can enjoy spectacular views with your tantalizingly delicious cuisine and superb wine list. Perched near the top of Beech Mountain, and once the mountain retreat of legendary football coach Paul Dietzel, it's now a superb restaurant and lodge. Plan a night of it and begin with a Jackalope's Juice Martini, followed by their oven-roasted escargot. Delicious! Entrees are creative and include Hoisin Short Ribs, Scottish Salmon, Crispy Duck Breast and Beef Tenderloin. Save room for their blueberry bread pudding with vanilla bean sauce – devine!
Banner Elk: 828.898.5398, townofbannerelk.org; The Painted Fish: 828.898.6800, paintedfishcafe.com; WingN'it: 828.898.5008, wingnitnc.com; Blue Ridge Village Resort: 828-898-9737, festiva-blueridge.com; Jackalope's View: 828.898.9004, archersinn.com/restaurant
Lake Lure, NC
You'll have the time of your life in Lake Lure. Of course, it's where Dirty Dancing was filmed, but the allure isn't limited to cinema kitsch. Just east of Asheville and Hendersonville, this small town is tucked into the Blue Ridge Mountains and offers easy access to all sorts of family-friendly recreational activities, alongside immersion in the pristine mountain air and the opportunity to digitally detox for as long as you can stand it.
What to do: Take a hike, climb Chimney Rock, zip line, water ski, motorboat or go tubing—nature is king here and we're happy to be its playful subjects. The Lake Lure Adventure Company is a great one-stop shop for your equipment needs as well as scheduling adventures. Boat rentals, stand-up paddleboards and guided fishing tours are just a few ways to enjoy the water, voted one of the top 10 most beautiful man-made lakes by National Geographic.
Where to eat: Larkin's on the Lake serves an impressive menu, including slow-cooked BBQ baby back ribs, filet mignon, and local Blue Mountain trout.
Where to stay: Book a room at the 1927 Lake Lure Inn and Spa or one of the Dirty Dancing cabins. Baby's Bungalow features a Jacuzzi, a king bed, a kitchenette, and is pet-friendly.
Grandfather Mountain State Park, NC
The highest peak in the Blue Ridge Mountains, Grandfather Mountain is a globally recognized nature preserve. Spring is the perfect time to visit, when wildflowers begin to bloom and weather conditions are ideal for hiking and camping. Nearby, driving the Blue Ridge Parkway is a must, and Asheville is just over an hour away. If you're not quite finished with winter yet, spring skiing may be a possibility at nearby Beech Mountain.
What to do: Don your hiking boots and trek across the Mile-High Swinging Bridge (the highest swinging footbridge in the country), and pack your camera and your binoculars for a visual feast along the trails. At the base of the mountain lies the Grandfather Mountain Golf and Country Club, featuring two Ellis Maples-designed 18-hole courses.
Where to eat: The Grandview Restaurant has been "servin' up breakfast and lunch since '77." We'd opt for the loaded biscuit for breakfast and the homemade chili for lunch.
Where to stay: If a pup tent isn't your thing, head for Blue Ridge Village, a nearby resort offering 1, 2, and 3-bedroom villas as well as an indoor pool and tennis courts.
Greenville, SC
Located in the foothills of the Appalachian Mountains midway between Atlanta and Charlotte, Greenville has been named one of the South's Tastiest Towns (Southern Living Magazine), and a "Favorite Unexpected Vacation Destination" (O, The Oprah Magazine). The city offers a gorgeous revitalized downtown area, a delectable food scene that blends southern comfort with international flair, and enough attractions to ensure you won't soon run out of things to do.
What to do: For visitors who wish to lend a hand to the local community while in the area, HandsOn Greenville lists volunteer opportunities, which are available almost every weekend (and many other days, as well). Screen the opportunities by your interests at handsongreenville.org. Also, there are more than 300 "event" days each year in Greenville, so there is always something going on, from a Saturday morning Farmer's Market to one of the city's signature festivals. The Children's Museum and the Greenville Zoo are family favorites. Don't miss a walk on Liberty Bridge, the suspension bridge overlooking the Reedy River Falls.
Where to eat: Foodies rejoice: Greenville's collections of restaurants is pretty tantalizing (600 and counting). Take a seat at farm-to-table favorite Roost, a new "soil-to-city restaurant" that features local, organic and seasonal foods. Our pick: the crispy pulled-pork sandwich with a side of Darn Good collard greens.
Where to stay: Skip the chain hotels and opt instead for a stay at the Pettigru Place Bed and Breakfast. Located in the heart of the Pettigru Historic District, you'll have your choice of any of the six beautifully appointed guest rooms and access to the property's gorgeous English garden (not to mention the innkeepers' impeccable personal attention).
Charleston, SC
Oh Charleston, we just can't get enough of you. The Holy City is fabulous in any season, but springtime imparts a special sparkle. Full of Antebellum charm, Charleston is known as much for its genteel culture as its gorgeous gardens and historical buildings. Voted the #1 city in the U.S. by readers of Conde Nast Traveler and Travel+Leisure, Charleston is perfect for couples, families, girlfriend getaways or any other reason you can dream up to escape.
What to do: Visit historic home and plantations, the maritime museum and Civil War-era cemeteries. Play golf, antique shop, take a Lowcountry walking tour and visit Fort Sumter. Don't miss the East Battery Promenade or the Old City Market. The 68th Annual Festival of Houses and Gardens runs from March 19 through April 19, 2015, showcasing the city's distinctive architecture, history, gardens and culture.
Where to eat: Hands down: Husk. James Beard Award-winning Chef Sean Brock simultaneously transforms southern food into an art form and a religion. Our supper selection: slow-cooked VA heritage pork with charred sweet potato and mustard greens and apple cider jus with toasted pecans. We suggest making your reservation now.
Where to stay: The Restoration on King is grand and central, placing you within walking distance of all that downtown Charleston has to offer. The city's first boutique hotel is a gem, offering exposed brick hallways that lead to 18 fully furnished suites, as well as a rooftop terrace and silver service breakfasts delivered to your doorstep.
Boone, NC
There's so much to see and do around Boone in all seasons. Although ski season has wound down, March Madness offers end of the season low rates for skiing at Ski Beech, Ski Sugar and Appalachian Ski Mountain. Hawks Nest offers snow tubing and also features the longest zipline in the region, open year-round (weather permitting).
Once Spring officially arrives, Tweetsie Railroad opens on April 11, giving the entire family a fun way to experience the wild, wild west.
A springtime visit would have to include a trip to Grandfather Mountain, with its magnificent views and occasionally surprising weather. Bring a warm jacket and camera, just in case you spot black bears, deer, river otters, cougars, or perhaps, predatory birds.
At Grandfather, you can take behind-the-scenes tours of animal habitats, as well as naturalist guided tours of trails and forest area. At 11am each day, members of the naturalist staff take weather and climate observations in front of the Fudge Shop (and enjoy a piece of chocolate heaven). For hikers, consider the tough, three-mile hike up the mountain, or the 13-mile Tanawha Trail. Try entering from the parking area at popular Rough Ridge Overlook on the Parkway (milepost 302).
Linville Caverns is a great attraction in any weather! It's all underground. An easier walk is the trail around Bass Lake, which also offers access to the Moses Cone Estate. The trail also connects to the entire 26-miles of former carriage trails at the estate (for adventurers with more endurance).
During your stay, a must-visit is the Gamekeeper Restaurant, where owners Ken and Wendy are known for interesting and delicious interpretations of Southern classics. The menu changes seasonally blending the traditional with the exotic, satisfying both meat and veggie lovers. With a menu that offers unexpected delights, such as ostrich, grilled bison hanger steak, grilled elk rack chops, rabbit and mountain trout. And save room for Wendy's Bread Pudding, a local favorite. Need accommodations? Mast Farm Inn in Valle Crucis is famous for luxurious hospitality and gourmet dinners. In Boone, consider the Lovill House Inn, a consistent AAA Four Diamond Award winner.
Boone:exploreboonearea.com; The Gamekeeper: 828.963.7400, gamekeeper-nc.com; Mast Farm Inn: themastfarminn.com
Athens, GA
"The Classic City" of Athens is home to the University of Georgia and a host of historical gems, including Antebellum homes, the Georgia Theatre, and Civil War sites that stretch for miles. Just 70 miles east of Atlanta along the Oconee River, Athens is a vibrant college town known for its creative energy. The downtown Athens area is eminently walkable. (College towns are great choices for visitors seeking affordable dining and entertainment options.)
What to do: Food, city, and heritage tours are three options for exploring. Most of the city's attractions charge no admission fee, and many ticketed live music acts perform at very accessible prices.Family-friendly attractions such as the Bear Hollow Wildlife Trail, Sandy Creek Nature Center, the Tony Hawk-designed Skate Park of Athens (all free of charge) are enticing reasons to plan a family getaway.
Where to eat: If you're a "House of Cards" fan and your mouth waters at the sight of Frank Underwood eating at Freddy's, you're in luck in Athens. While Freddy's may be fictional, White Tiger Gourmet most certainly is not. This BBQ joint in the Boulevard district is the real deal: a crispy-soft bun piled high with pulled pork (complete with blackened ends), and a veggie side of grilled collards. We'll have seconds, and maybe another for the road.
Where to stay: We're intrigued by The Graduate Athens, located on the edge of downtown and a short walk from the UGA campus. Colorful and hipster-ish, this boutique hotel also offers a spa and a multi-tiered music venue/bar and mill, offering every local beer imaginable.
Beech Mountain Resort, NC
Beech Mountain Resort's trails cover a wide range of skill levels, challenging ATV riders from novice to pro. The trails, scenic lift rides, the Beech Tree Bar and Grille, and the new 5506 Skybar will be open this summer every Friday, Saturday and Sunday, from June through September. Scenic lift rides to the Skybar are also available to patrons.
The Skybar is the highest in the East. It's a glass roundhouse named for Beech Mountain's superlative elevation and offers food and beverage service in comfort. A new observation deck is ideal for relaxing with friends.
Beech Mountain Resort's newly constructed disc golf course offers a challenging and unique design. Play nine holes with one lift ride, or play a full eighteen, requiring three lift rides.
A great craft brewery in Western North Carolina is delighting those who love beer. Located in the Alpine Village, Beech Mountain Brewing Co. has the capacity to brew up to 100 gallons per day and will be open year round to serve skiers, snowboarders, mountain bikers and other resort visitors.
The brewery features three distinct ales created on-site, with consulting from award-winning brewer Will Young of Blind Squirrel in nearby Plumtree. Heading the list of beers is the 5506 Pale Ale, followed by the Cream and Scotch Ales available by the pint or the growler. Flight tastings are also available, along with brewery tours, which include a pint and a keepsake glass. Beech Mountain Brewing Co. is open Thursday through Sunday. beechmountainresort.com