On this Caribbean island paradise, no passport is required. English is spoken, and the U.S. dollar is the currency. This may be the best getaway ever!
By Robert Sweeney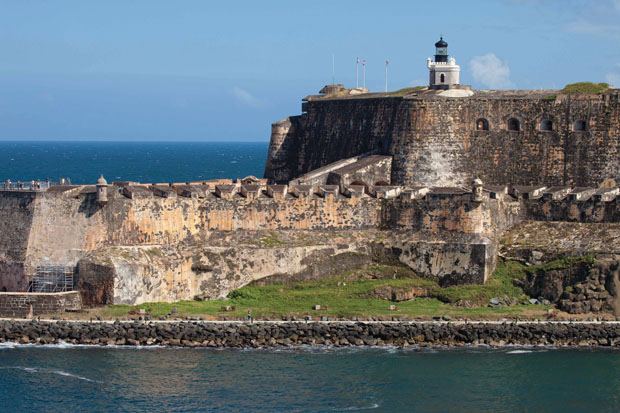 I never thought we'd be diving with sharks when we planned a family getaway to travel around Puerto Rico. In fact, that was one of many amenities and attractions we discovered that made this a great vacation for all of us.
We touched down at San Juan International Airport on Thursday, rented our car and headed to the San Juan Marriott Resort, a top-tier resort on Condado Beach. Our balcony looked out over the ocean, but the pool beckoned us all for a couple of hours. We answered the call.
The Resort offered professional, accommodating staff, beautiful surroundings, a true Caribbean feel, and lots of high energy options for fun. But that would come in due time. For the first day, we relaxed and wandered through the casino, down along the beach, and around the pool area. I made a mental note that any of my non-diving friends would enjoy this resort as much as we were. In fact, there was a lot to see before I headed out on a dive, later in the trip.
First, we wanted to get our bearings. The best way is a tour of Old San Juan. At the western edge of the Caribbean, the area has amazing forts and city walls. The streets are quaint and narrow, lined with excellent shops and great restaurants. Castillo San Felipe del Morro fort was the family favorite. My teens liked the tunnels which led to hidden observation posts. My wife and I enjoyed the views of the ocean that came with our 17th Century history lesson. Photographers will love it, as it offers expansive views of the city. There's lots of walking, so wear very comfortable shoes.
We didn't have time to visit San Cristobel, a second smaller fort. Old San Juan could be explored for hours and we were glad we started here. For lunch, we chose El Meson Sandwich Shop to try its famous sweet and sour sauce. Think fast food with a fresh, healthy Puerto Rican twist. With more than 30 shops in Puerto Rico, the chain is a favorite with both locals and tourists. It's not fancy, but we all enjoyed the sandwiches.
Afterwards, we explored the old town and played typical tourists – shopping, photos, attractions. Dinner was at Il Postino restaurant, which was a short walk from the San Juan Marriott. Why Italian food in the middle of Puerto Rico? Because they do it really well. Even Italians rave about the lasagna and the seafood. During our stay, we also sampled the resort's dining options – drinks at the Red Coral Lounge, snacks at the beach bar, and a delicious lunch at La Vista Latin Grill and Bar. Very close to the hotel is Budatai, an upscale, popular restaurant featuring Nuevo Latino and Asian fusion cuisine and requiring reservations. Perhaps next time.
On Sunday, we headed for El Conquistador Resort, 300 feet above the city, and considered a peaceful retreat. That's not why we chose it however. Our plan was to visit Palomino Island, the resort's 100-acre private oasis. We hopped on the hotel's catamaran and spent several hours snorkeling and paddleboarding. My wife enjoyed a Mimosa while our teens perfected their paddleboard skills and I snorkeled to get a glimpse of what scuba diving was going to be like the next day.
Our meals were at the resort. El Conquistador Café Caribe offered great lunches while Chops Steakhouse presented an upscale dining experience. Both were excellent and I would highly recommend. In addition to the private island adventure, the resort arranged for me and my son to go diving with Casa del Mar Diving. My wife and daughter stayed behind to enjoy the resort.
The staff at Casa del Mar was a cut above. Professional and friendly, they were accommodating and knew the area very well. For those who haven't enjoyed the sport, diving in waters like these offers a peaceful way to explore. I saw strange and colorful fish and one amazing turtle. It was a great morning.
We could have stayed longer in this beautiful spot, but it was time to move on to the CopaMarina Beach Resort & Spa in Gaunica. Located Southwest and about 90 miles from San Juan, the resort is on the ocean, in the historic town of Gaunica. I was there specifically for diving The Wall, but first, we all decided to go zip lining. It couldn't be too tough, right? It was awesome.
ToroVerde is a new Ecological Adventure Park with more miles of zip-line cables here than any other park in the world. (Travel+Leisure named it the 23rd Coolest New Attraction in the World to visit.) We were several thousand feet up – very scary but such an adrenalin rush. As if that weren't enough, we also walked across suspension bridges and rode La Bestia – one of the world's longest single run zip-lines. A special harness places you facing down and they say you hit speeds of up to 60 mph. It was my second favorite experience of the trip.
There was no need to eat outside the resort. The food was creative and delicious. At Las Palmas, the teens could order sandwiches, while my wife and I enjoyed their famous Key Lime Garlic Grouper and Crab turnovers.
At night, Alexandra offered us Puerto Rican Nouvelle Cuisine prepared by internationally-acclaimed chefs, as well as a complete wine list. I had Caribbean Seafood Paella, while my wife enjoyed Filet Mignon with Burgundy Sauce over Spinach. Everyone was happy.
The next morning, it was time for another dive. I booked through Island Scuba. Nayla and Pedro are a husband/wife team and they know their stuff. (Top attraction in the area on Trip Advisor, 5/5, Certificate of Excellence, 2014). I wanted to dive "The Wall," a vertical reef that inspires a bit of anxiety the first time you lean over the edge (think hanging out of a high-rise window), but for many, the first experience creates an attraction for wall diving all over the world. It was a magical adventure. And that's where I saw the sharks. I can now check diving with sharks off of my bucket list. However, the dive leaders were calm and self-assured, which helped me relax and enjoy the show. I highly recommend the Wall dive, with or without the sharks!
Afterward, we stopped at Lluvia Deli Bar and Artefacto. Part art gallery, part casual restaurant, part neighborhood bar, Lluvia (which means rain), was a great way to people watch and check out the local artists. It is, frankly, a bit of a surprise. The food is creative and very fresh. The feeling was almost zen-like, and their coffee was some of the best on the island. Well worth the stop.
Our trip was beginning to wind down but there were more places to explore, so we moved on to the Courtyard Marriott Isla Verde Beach Resort. Located on a beach that's Blue Flag certified as one of the best beaches in the world, this resort has great service (think oceanfront massage for you and yours), plus a 24-hour fitness center when it's time to move from that beach chair. The Resort is a bit business like, so for business travelers this is the place to stay.
Want to sway in a hammock as you watch the waves? No problem. Pick up your towel from the desk and order a Caribbean cocktail from the attentive wait staff. The Sirena oceanfront restaurant served excellent cuisine in a picture-perfect setting under the stars.
On our radar for the next day was horseback riding through the rain forest. Carabali Rainforest Park offers a really pleasant way for the family to immerse itself into the nature experience. The horses are gentle and well trained, and the guides are very informative. The scenery is beautiful. There were no adrenalin-pumping moments, but the experience rated an A from all four of us. A different way to see a beautiful area that is unlike anything we have on the southern east coast.
La Concha Resort was the last accommodations stop on our trip. Back at Condado Beach, we found a great resort, on the beach, with a casino, pool and lots of great ambience. The views were spectacular and the staff very professional and friendly.
Next on our list was El Yunque National Forest, in the Rio Grande. It's the only tropical rainforest in the U.S. National Forest system. Think exotic with all the comforts of home. We parked our car and walked along the trails, heading toward La Coca Falls. Almost 1,500 feet high, the water drops into a large rock formation. We couldn't resist a dip in the water. Beautiful and very cool. In fact, the whole national forest is a fascinating area. A great walk with family.
We were told we had to see the Parque de las Cavernas Rio Camuy Caves and we're glad we did. You'll have a guide and that's a good thing, or else you'd miss a lot. Different from most caves, these are large and well-lit. You can see the river that runs through it at times. It was a very different experience. (Wear good shoes because the path can be slippery. If you have asthma, check with the guide.) The tour last about an hour, but get there early to assure yourself a spot. They sell out most days and space is limited.
Dinner was at Cielito Restaurant. Fresh margaritas, good fajitas and mofongo (practically Puerto Rico's national dish – mashed green plantains with garlic and olive oil, plus some kind of pork. Once we found it, we kept ordering it). A nice, low-key place.
Our last day was spent shopping and sightseeing some more. We bought a Coqui Frog on driftwood at Puerto Rican Art & Crafts. The Coqui is tiny and indigenous to Puerto Rico, and it makes a sound like a chirping bird. We visited Casa Bacardi and took their tour. Although it was introduced in Cuba in 1862, Bacardi rum is extremely popular in Puerto Rico. There must be 50 drinks you can make with it.
Lunch was at Mojitos Restaurant where the mofongo was the best. And then it was a final push to take it all in before heading out to dinner at Restaurante Raices – a place famous with tourists. The food is definitely Puerto Rican. It was a good way to end the trip.
Would we return? Definitely. Would we stay at the same resorts? Without a doubt. Each one was unique in location but all had excellent amenities and professional, attractive surroundings. Would I go back and try La Bestia again, and dive the wall? Sign me up tomorrow!
Accommodations:
San Juan Marriott Resort: www.marriottsanjuan.com
El Conquistador Resort: www.elconresort.com
CopaMarina Beach Resort & Spa: www.copamarina.com
Courtyard Marriott Isla Verde Beach Resort: www.sjcourtyard.com
La Concha Resort: www.laconcharesort.com
Attractions:
Casa del Mar Diving: www.scubapuertorico.net
Toro Verde Park: www.toroverdepr.com/en
Island Scuba: www.sanjuandiver.com
Carabali Rain Forest: www.carabalirainforestpark.com
El Yunque National Forest: www.fs.usda.gov/elyunque