Restaurant Romance
06 Jan 2021
A Valentine's Day Dining Guide for Neophytes

By FANNY SLATER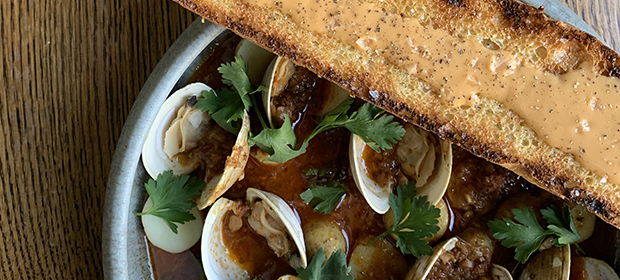 From the dozens of pre-fixed menus and three-course lineups that romantic restaurants roll out for February 14th, it can be nearly impossible to pick the perfect place for this pressure-packed date. Whether you've been married for decades or just swiped right and are meeting face-to-face for the very first time, ditch the heart-shaped candies and leave the Valentine's Day dinner decisions to us.

Read on for our round up of delicious ways to wine and dine your special someone like a boss.


Tarantelli's
910-763-3806, tarantellis.com

When this upscale, family-owned Italian restaurant opened its Second Street doors several years back, it was love as first sight. Tarantelli's has been a staple for celebratory meals ever since and their Valentine's Day dinner is no exception. What's better than a bold bottle of red paired with their signature Spaghetti al Formaggio Parmigiana (pasta flambé perfection showcased tableside in a wheel of 24-month aged Parmigiano Reggiano)? Well, maybe splurging on the Wagyu aged filet with mushrooms and melted gorgonzola. Either way, you're in for an epic Tuscan treat.


Port City Chop House
910-256-4955, chophousesofnc.com

Once you snuggle up to the Seared Cab® Tenderloin Tips around Port City Chop House's patio firepit—you'll be like, Valentine's Day date, who? Widely praised for their superior steaks and specially aged bone-in pork (married with a spiced apple mango chutney so good it'll knock your socks off), Chop House is a classic when it comes to pulling out all the stops for a special evening. Dining partner a pescatarian? No problem. Between the sesame ginger sashimi tuna, buttery Chilean seabass, and supremely satisfying pan-roasted lump crab cakes—there's something for every appetite.


Havana's Restaurant
910-458-2822, havanasrestaurant.com

If your crush is crushing on hot crab dip and sunsets over the shore, Havana's will happily take you in, tuck a napkin in your shirt, and show you a good time. This tropical-themed Carolina Beach clam chowder haven boasts a locally-sourced menu flowing with memorable mouthfuls like pecan-crusted grouper, freshly fried North Carolina catfish, and a hearty seafood lasagna swimming with shrimp and scallops. The Hot Rum Bananas Foster is specifically made for two, so don't end your dinner without clinking spoons over that decadent, caramel-drizzled dessert.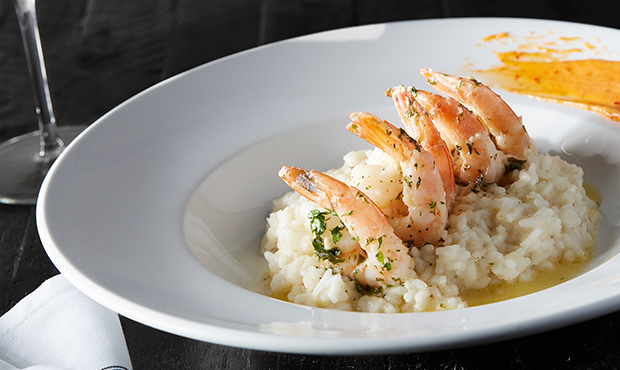 East Oceanfront Dining
910-344-2513, blockade-runner.com/dining-br/east-oceanfront-dining

Located in Wrightsville Beach's Blockade Runner hotel, the eclectic East Oceanfront is a shoe-in for a spectacular night on the town. Executive Chef Jess Cabo brought her funky flair for flavor (try saying that three times fast) into this kitchen and sparked the menu to life with globally-influenced seafood and vegetarian dishes like scallops and roasted mushrooms with tangy persimmon over silky parsnip purée. In addition to the visionary cuisine, this polished, though unpretentious, restaurant is famed for their gorgeous canopied garden deck that, hence the name, overlooks the ocean.


Cape Fear Seafood Company
910-799-7077, capefearseafoodcompany.com

With four sites stretching all the way to North Raleigh, this land-and-sea grill slings downhome southern favorites all over the Carolinas. From Lowcountry classics with an elevated twist (see: crab-stuffed baked flounder with beurre blanc) to killer cocktails like the dangerously addictive Good, Bad, Ugly cucumber jalapeno margarita—everything at CFSC is creatively executed and served with love. Pucker up for the penne with house smoked salmon cakes, mushrooms, asparagus, and dreamy roasted garlic alfredo and you won't be disappointed.

Indochine
910-251-9229, indochinewilmington.com

If Indochine's all-encompassing menu doesn't strike your fancy as first glance, you haven't looked hard enough. This enchanting Asian eatery is known throughout Wilmington and beyond for making bellies happy and date nights beautiful. If the weather doesn't accommodate for enjoying Indochine's exquisite outdoor garden seating area, you'll be just as pleased settling into a booth in their ornate dining room. The rich, creamy coconut-based curries are heaven on a plate, and trademark creations like the Vietnamese Wraps with pickled veggies and dipping sauces are excellent for sharing.


Kornerstone Bistro
910-686-2296, kornerstonebistro.com

This magnificent Mediterranean hideaway regularly makes an appearance on our lists, and it's no wonder why. From the expertly charred wood fired pizzas to the showstopping seafood-enhanced pastas, Kornerstone blows most other Italian bistros out of the water. They'll be sure to whip out some specialty courses come V-day, but longstanding items like the Maine lobster knuckle mac and cheese and espresso-infused Tiramisu are always available seven days a week. Off the five-dollar bar menu (rolled out daily from 4 – 6 PM), the hand rolled, brick oven-baked meatballs are a complete game changer.


Quanto Basta Italian Eatery & Wine Bar
910-395-6120, quantobastanc.com

"Gather, Taste, Enjoy" is the catchy slogan at this sultry Second Street wine bar, and don't worry—we will. QB's lavish, high-end Italian fare, well-informed wine pairings, and stunning ambiance are just a few of this new hot spot's draws. Despite opening during a pandemic, this restaurant rose to the top of locals' lists and isn't coming down anytime soon. Crowd pleasers include the Beef Short Ribs Barbaresco with gnocchi fontina fonduta (puffy dough dumplings floating in velvety cheese sauce) and hand-stretched, thin crust pizzas.


Pinpoint
910-769-2972, pinpointrestaurant.com

Praised throughout the Port City for its modern, yet homey vibe and diverse assortment of contemporary southern dishes—Pinpoint is a no brainer for momentous occasions. The Lowcountry hub is rooted in regionally-harvested, sustainably-farmed fare and classy cocktails. Nothing says romance like raw oysters and theirs are easily some of the freshest around (and coupled with a delightfully tart mignonette). Other ultimate shareables include the 1855 Prime Beef Tartare with confit egg yolk and sweet potato chips, but keep the Changin' Ways Fried Chicken and collards all to yourself.

Caprice Bistro
910-815-0810, capricebistro.com

It would be a shame to not note Caprice's achievement of being dubbed one of OpenTable's top romantic restaurants in the country. You'll fall head over heels for their French delights the minute you step foot off of Market Street and enter the cozy, refined bistro. I'm a sucker for swapping bites of parmesan-dusted calamari and garlicky Roquefort cream-bathed escargot on the chic second floor cocktail lounge, but when it comes to must-have mains—the Waterzooi is clutch. Somewhere between the abundant Belgian fish and seafood stew and the mouthwatering chocolate mousse, you'll forget you're not in Europe.


Dram Yard
910-782-2400, dramyard.com

Fresh off of a temporary pandemic closure, Dram Yard is officially back in business and ready to rock Wilmington's world once again. Whether you're tempted towards the southern coastal cuisine, fittingly-named cocktails (like the Blushing Nun with strawberry and lemon), or modish island décor—you won't regret deciding on Dram Yard to make all your Valentine's Day dreams come true. They will be offering a five-course tasting menu on February 14th, featuring bubbles, caviar, a seasonal salad, fennel sausage tagliatelle, roasted duck, and a red beet tart, all for $65 per guest. Check Dram Yard's website for additional details.


Jerry's Food Wine and Spirits
910-256-8847, jerrysfoodandwine.com

Swing into the strip mall just before the Wrightsville Beach bridge and thank me later for turning you onto one of the best culinary experiences in eastern North Carolina. Despite its humble surroundings, Jerry's is one of those outstanding hometown gems with a mainly word-of-mouth reputation, farm-to-table approach, and five-star staff (who has, BTW, served its share of celebs). Go splitsies with the Jumbo Lump Crab Cocktail starter featuring white wine, creamed corn, and duck fat toast. For entrées, the local Fried Shrimp with sweet potato hash is a homerun.


Steam Restaurant
910-726-9226, steamrestaurantilm.com

Tucked neatly inside downtown's Embassy Suites and smack dab on the Cape Fear River sits one of Wilmington's most sublime eateries. Steam is well-versed when it comes to familiar, yet sophisticated plates and astutely balanced adult beverages. Fresh, out-of-the-water fare like fried Carolina oysters with creamed leeks and béarnaise are nearly impossible to pass up as an appetizer, and if your dinner companion is after a meat-free main course—they'll dig the Vegetarian Basil Pesto Cavatappi.


Floriana
910-504-0160, florianarestaurant.com

Now housed in the historic three-story building (and once home to Henry's Riverboat Landing), is Floriana—one of Wilmington's newest players in the downtown dining scene. The intimate, two-person wrought-iron balconies towering over the river simply scream Valentine's Day, and did I mention almost everything is made from scratch? If Floriana's charming ambiance doesn't make you swoon, one bite of their meat lasagna layered with smooth béchamel and milky house-made mozzarella (an over one-hundred-year recipe passed down from the family of the original owner) certainly will.