Rounds Golf & Ledo Pizza
04 Mar 2020
6801 Parker Farm Dr. Wilmington, NC 28403
910-839-3006
RoundsGolf.com
Enticing eats and nonstop fun all-in-one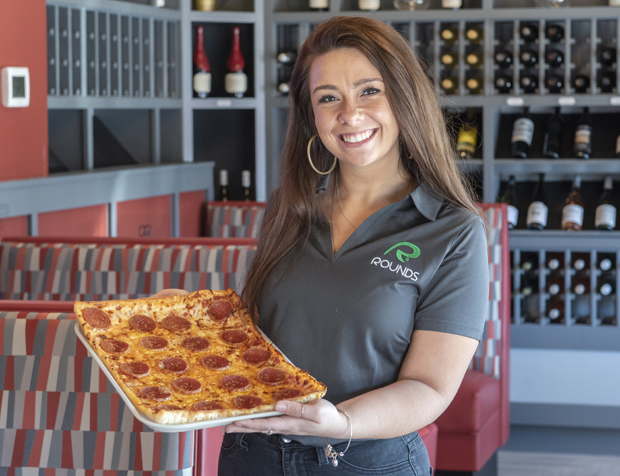 There's exciting news for any Maryland transplants living in Wilmington: North Carolina has its first Ledo Pizza, and it's right here in town.

The iconic pizza chain, beloved by University of Maryland alum around the country, has teamed up with Rounds Golf in Mayfaire to bring their famous square pies to the beach. For owners Denis Ing and John Spencer, it's the perfect marriage of smart management and nostalgia.

"John went to the University of Maryland, and he has always talked about wanting Ledo Pizza. After this first year, we talked about changing the menu, and we really got behind bringing them in and introducing to Wilmington out of our kitchen," Ing says.

Though the change to the menu became official in February, they've been holding off advertising the new pie in town because the transplants have already sniffed them out. A customer even came in and hugged general manager Tyler Quinn, thanking him for making his retirement here complete.

"He took that first bite, and he's like, "Come here, you brought a little slice of home here,"" Quinn says.

And what makes Ledo Pizza so unique? Started in 1955, the Annapolis favorite comes square, with their motto being "Ledo Pizza is Square Because Ledo Pizza Never Cuts Corners." Ledo Pizza fans love the thin, flaky crust, famous sweet sauce, and smoky provolone. They love it so much, the restaurant now has over 108 franchise locations across the East Coast. But keeping their brand family owned and locally operated is important to Ledo, and one of the reasons locally owned and independent Rounds Golf was eager to become partners.

"We're excited to introduce it to the people down here because their pizza is really good," Quinn says. "The past six or seven years they've won best wings in Maryland too, so I think we'll have the best wings in town. And it goes hand in hand with what we do here, pizza and wings are the perfect mesh with our games."

The new Ledo Pizza menu offers much more than just pizza and wings, such as cheesesteaks, gyros, salads, and calzones. They offer a gluten free pizza crust which gets rave reviews, and a cauliflower crust for the carb conscious. Everyone can grab a slice, pair it with a top shelf bourbon or wine selection at the Rounds Golf bar, and have a blast hitting some balls, virtually.

Rounds recently celebrated their own one year anniversary this January. The luxury indoor golf facility has become the go-to destination for private parties, corporate events, and friend's night out.

"We've got something for everyone," Quinn says, "A lot of people think it's just indoor golf, but we've got football, baseball, soccer, lacrosse, zombie dodge ball. So, we get all sorts of demographics in here, from five-year olds' birthday parties to sixty five year olds' birthday parties. It's upscale, with a friendly environment. Once someone comes in the doors here, they're almost always coming back."

Golf is Quinn's personal favorite, but he admits it hasn't made his game on the actual course any better. There are over 85 golf courses to try playing, and he's made his way through about fifty. But if not everyone in your party is excited about golf, each simulator is rented by the hour with complete game freedom, so everyone has a chance to play what they like.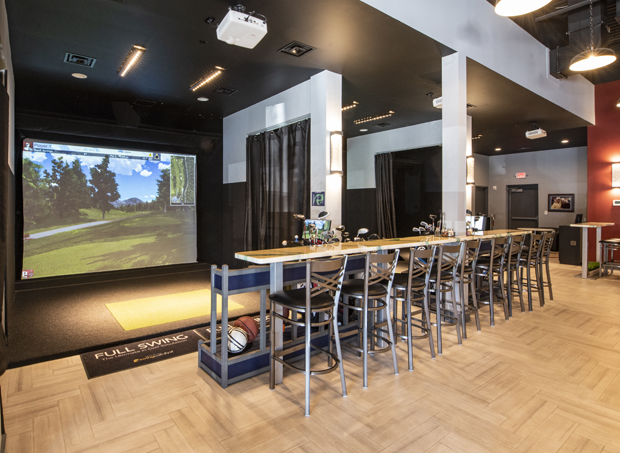 Between Quinn and bar manager Erin Gough, the bar is stocked with a well curated wine selection that is also available for retail. Gough also maintains a great selection of top shelf whiskey that can be purchased in flights, classic cocktails, and local North Carolina beers on tap. So Dave & Busters this is not. The weekend crowds will also find good drink specials, including five-dollar drafts, mimosas, and bloody marys.

If you haven't had a chance to check out Rounds Golf yet, skip the axe throwing and escape rooms for some good old-fashioned video game playing fun. There are four simulators available in their 3700 sq. ft. space which can all be rented by the hour. The standard simulators seat 4-6 people in their lounge area and are $45/hour for unlimited game play. The VIP lounge can seat 10-15, and costs $60/hour, making it perfect for birthdays or bachelor parties. And, if you're just looking to practice your swing, on Monday's the simulators are all half price. Since the games are so wildly popular for parties and corporate events, if you plan on coming with a large party, it's always best to call ahead and check availability. After all, they are located right next to NCINO, and those folks love their team building.

Ledo Pizza will not be available for delivery, but to try this cult classic for yourself stop in at the beautiful Rounds Golf bar, order a cold beer, and see what all the fuss is about. Or try those award-winning wings. Ing is excited about the new menu and looking forward to 2020.

"I think it'll be a good change for the city and a nice introduction for the restaurant to Wilmington," Ing says. "We're going to work on growing what we are because a lot of people still don't know what we do yet. A lot of people thought at first, we were a golf pro shop. If all goes well and people like Ledo Pizza, we might start looking at where else we can bring them to town."

But consider this your heads up: if Rounds Golf and Ledo Pizza is a bit of a secret now, it won't be for long.