Vet Referrals
12 Sep 2014
By TERESA A. MCLAMB Photos by KELLY STARBUCK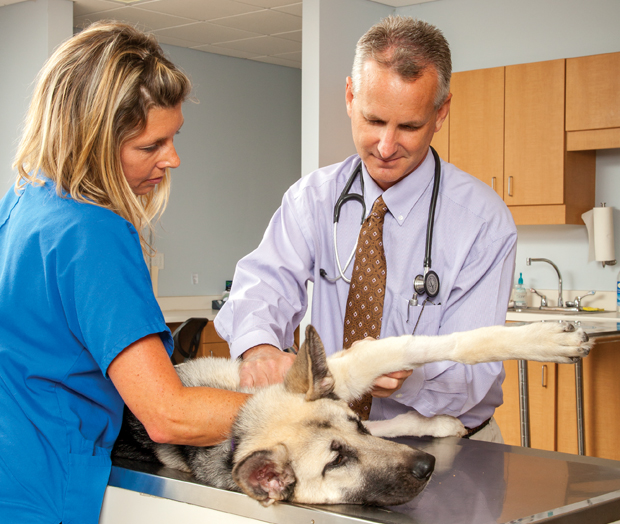 Phineas is a friendly, big-personality tuxedo cat. At a PetSmart adoption fair two years ago, he captured Erica Reynolds' heart quickly. So when he ate enough rubber bands to endanger his life, Reynolds factored the surgery into her single-mom budget. Things went well for a few months until Reynolds noticed that Phineas was walking strangely. "He stopped jumping," she said.
After three trips to her regular vet with no answers, her veterinarian suggested she take him to the NC State Veterinary Hospital. There, a radiologist determined that the cat had a fractured leg due to a failure of the growth plates to close properly. "That's not what I went for," Reynolds recalled. They had no space open to do the surgery, and recommended she find a local veterinarian who could be involved in his follow-up care and physical therapy.
Reynolds returned to Wilmington looking for a board-certified surgeon, and Sound Cat referred her to Eastern Carolina Veterinary Referral Animal Hospital. "I wasn't aware of the surgery available at EVCR," she said. "They were phenomenal."
Thunder met his human family when he was two days old, and went home with Kim Harrell and the rest of the family eight weeks later. "He is so gentle natured," said Harrell. "He loves everybody." Even repairmen who visit the Harrell home have been spotted walking around with six-pound Thunder in their arms. So when he began having difficulty walking four years ago, the Harrells took him to their regular vet who eventually referred them to ECVR, where he had surgery on his knee followed by two months of therapy.
What these animals and thousands of others have in common are the benefits they derive from a multi-discipline clinic located right here in Wilmington. It was started by board-certified surgeon Dr. Ned Williams and his wife Stacie, a board-certified therapist.
Dr. Williams' interest in veterinary medicine began in childhood. "As a kid, I knew I wanted to be a vet," he said. He worked in a vet's office during high school cleaning kennels and mopping floors for the chance to be exposed to the practice. As a college freshman, he accompanied upper classmen to observe surgeries. After graduating from Colorado State University and the University of Missouri, he did a residency rotating through all the specialties, then focused on surgery.
The couple ran a referral practice in Greensboro for a while before moving to the coast and teaming with an existing emergency clinic to open their referral practice here. They added therapy components beginning in 2004. Two years later, they purchased the emergency clinic and moved to their current location on Greenville Avenue, operating Animal Emergency & Trauma Hospital of Wilmington (AETH) and Eastern Carolina Veterinary Referral Animal Hospital, P.A. (ECVR) at the site.
When a canine rehab and sports medicine college began in 2012, Dr. Williams sat for the exam. He is one of fifty boarded sports medicine diplomates in the world. Stacie is certified as a canine rehabilitation practitioner. The third component of the business is Carolina Canine Sports Medicine and Rehabilitation Group. The three businesses have approximately 50 employees, including registered veterinary technicians. The additional veterinarians on staff are Dr. Melissa Stoll, DVM and Diplomate, American College of Veterinary Surgeons; Dr. Barrett Gift, DVM and Diplomate, American College of Veterinary Ophthalmologists; Dr. Sloan Turner, DVM and Diplomate, American College of Veterinary Radiology; and Dr. Barbara Atlee, DVM and Diplomate, American College of Veterinary Dermatology. While the referral and rehabilitation businesses are open during regular business hours, the emergency clinic is open 6 pm-8 am weekdays. They open at noon on Saturday and stay open until 8 am on Monday.
Animals brought to the emergency clinic, like those referred from other veterinarians, often see doctors associated with ECVR. "Like in human medicine, [the doctor] might send you to a specialist," Williams said. Specialists are available in dermatology, ophthalmology, radiology, internal medicine, and surgery. "If they came in through emergency then need further surgical care, the emergency vet will refer to the other services." The specialists maintain their own practices as well as cooperating with ECVR. The Wilmington group is the only one of its kind between Cary and Charleston, Williams pointed out.
It's the rehabilitation component of the business that operates under the direction of Stacie Williams, and is the side of the clinic that Thunder continues to visit. While performing Thunder's first surgery, Dr. Williams discovered the tiny dog had polyarthritis, so surgical therapy has graduated to quality-of-life therapy. Each Tuesday and Thursday, Thunder and Harrell visit the rehab center. "They do all sorts of therapies," Harrell said. "They have a big tank that has a treadmill at varying depths of water for resistance. Sometimes they fill the tank and he swims. He has the cutest life vest." At home, they do range of motion exercises and Thunder takes a low dosage of chemo specially compounded for his weight. Harrell says Thunder will likely always have arthritis, but the medication and the regimen have worked well for him.
Thunder might be one of the smallest patients in rehab. Many are athletes – agility dogs, hunting dogs, dock diving dogs. She sees numerous sporting injuries, which may or may not require surgery.
"A lot of dogs come in who have had knee or back surgery. Most of them will need strengthening, range of motion. We're doing anything with them that we can do with humans. We get them standing." The underwater treadmill allows them to exercise without putting their full weight on the injury. Dancing exercises force the dog to put full weight on his back legs, strengthening them.
"Proprioceptive is your ability to know where your joints are without seeing them. It's the feedback your joints send back to your brain. That's often impaired in many injuries," said Williams. To regain that ability, weight-bearing and weight-shifting activities are employed, as are exercises to step over things so that the animal has to plan limb placement.
Many of the animals stay at the clinic through their recovery, especially if they live far away. "Our biggest factor for going home is the owners' ability to take care of them at home." A typical back patient stays inpatient for two weeks.
Phineas stayed at the clinic almost two weeks following his surgeries. "Dr. Williams said his case was bad, and he didn't want to do both legs at the same time," Reynolds said. "Two days later they did the other side. It's probably going to take a year for him to be back to what he was, but he's back to his personality. He's back to being my cat again," Reynolds said.
Animal Emergency & Trauma Hospital of Wilmington, 910-791-7387
Eastern Carolina Veterinary Referral Animal Hospital, P.A., 910-790-1070
Carolina Canine Sports Medicine and Rehabilitation Group, 910-790-1070
www.ecvrwilmingtonnc.com