'Boutique' Home Care
01 Nov 2023
At HomeWerks Home Care, LLC, it is all about delivering customized care with continuity and compassion
By JOE JANCSURAK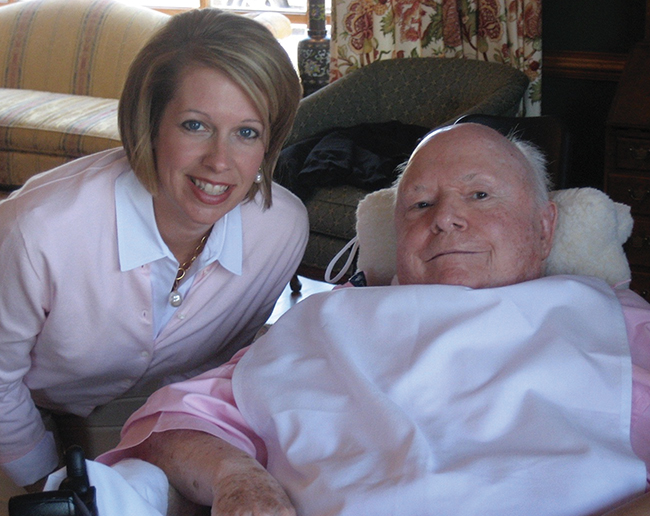 The Port City and surrounding area are blessed to have myriad senior housing and care options that strive to allow clients to age with grace and dignity in comfortable surroundings. For many, the most comfortable environment is home sweet home. It is that reality that drives Paula and Tom Werk, co-owners of HomeWerks Home Care, LLC, a family-owned provider of personalized home care services since 2010.
The Wilmington couple brings to the table professional and life experiences that serve them well. For starters, several years ago they had a distant relative for whom Paula became health care power of attorney, a role that lasted 10 years. That experience revealed to them the need for a different type of home care agency, one that not only assesses the client's needs and tailors care accordingly, but also makes every effort to match the caregivers to the clients when it comes to personality traits and interests.
"Perhaps the client is an extrovert that enjoys talking and loves dogs—we'll try to match those traits when pairing the client with a caregiver," says Tom, who previously held marketing and business development positions with pharmaceutical, medical diagnostic, and clinical research organizations.
"Ours is truly more of a boutique-type agency because we work at tailoring the care to clients' needs and offer services that the average agency does not offer," explains Paula, who ran Residential Resources of the Triangle, LLC in Raleigh, which once existed to assist clients with relocating from their homes to assisted living centers.
What's more, if the client needs home care several days a week, "the client will have the same caregiver(s) throughout the week, week after week, month after month," says Paula. "That continuity of care is very important since it fosters much more meaningful relationships between the client and caregiver. Some of our caregivers have been with the same clients for six or seven years, which is unheard of. That's possible here because our staff turnover is very low."
There's a good reason for that. The HomeWerks culture encourages constant feedback and suggestions from staff and rewards individuals with items such as gift cards for exemplary performance, and hourly rates that are believed to be significantly above the industry average. That's led to great employee referrals for new hires.
Staff includes caregivers that provide companionship to clients able to perform activities of daily living (ADLs), such as bathing, dressing, eating, toileting, etc.; licensed certified nursing assistants (CNAs) that provide higher-level, hands-on care for clients with more demanding needs; two nurses; and hands-on owners, with Tom providing financial management while Paula supervises client services.
"We are constantly evaluating and assessing client needs as those needs change and we are always communicating with family members," says Paula. "As client needs change, care plans are updated, which instruct caregivers as to what tasks need to be performed for each client. Also, when a client starts with us, I accompany the CNA to the client's home, where the CNA gets an orientation and becomes familiar with the home and the client. It's more personal that way."
For Tom and Paula, and the HomeWerks staff, that's what it's about: the personal touch.
"As a local family-owned agency, we truly care about providing the highest quality and most customized care service for clients in Wilmington and the surrounding area," says Tom, who encourages everyone 50 and older to complete advanced care planning before needing to evaluate home care options. Such planning includes the completion of a do-not-resuscitate form, a living will, and a healthcare power of attorney form.
As for the selection process, Tom says it's important to ask a lot of questions of potential home care providers. "We provide potential clients with a list of questions to ask agencies."
These include:
- Are you licensed by the State of North Carolina to ensure proper standards of care?
- Do you carry Worker's Compensation and General Liability Insurance coverage?
- How do you match caregivers to clients?
- How do you screen and hire your caregivers, and does the screening process include complete background checks and employment referrals?
- How do you maintain quality standards as needs change?
- How do you keep family members informed?
- Are you certified and approved by long-term care insurance companies?
You might also be wondering how Paula and Tom care for their own emotional and mental health as hands-on owners of a potentially stressful business.
"Yes, this work can take an emotional toll as we sincerely care for our clients," admits Paula. "To recharge, we love spending time at the beach and playing with our grandchildren. But at the end of the day, knowing that we're doing the best we can to help our clients age in place at home provides us with a sense of peace and fulfillment."
To schedule a free initial consultation, call 910-386-4555 or email paula@homewerks-homecare.com