Completely Custom
11 Sep 2023
Realtor couple puts years of insights into creating their dream home
By Lori Wilson » Photos by G. Frank Hart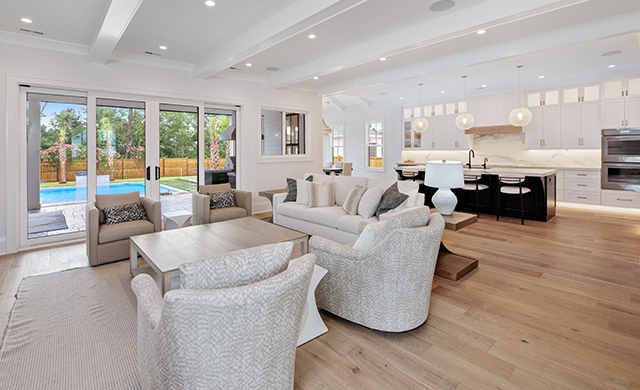 Throughout their careers, realtors tour an abundance of homes. They hunt for their clients' perfect space, no matter how many listings it takes. They've probably seen it all—from modern industrial houses to Southern-style cottages. But what happens when realtors take the time to think about what's perfect for their new house?
Between the two of them, husband-and-wife team Sherwood and Diane Strickland have a combined 40 years of real estate experience. Just to give you an idea: one home per week would equate to touring 2,080 houses in their lifetimes thus far. They've seen all kinds of styles and features, and, along the way, they developed likes, dislikes, and must-haves of their own.
The Stricklands knew for years that they wanted to build their own custom house, but they patiently waited for the right lot. On the must-have list: a three-car garage for him and a pool for her. Larger lots for this sort of build are in short supply within Wilmington city limits. So, when a 0.51-acre listing close to their office and former neighborhood became available, they jumped on the opportunity.
Next, the Stricklands sought a flexible designer with high-end custom home experience to help bring their vision to life. Sherwood, a Wilmington native, already knew custom-home builder Marty Vahue through their related fields.
"We probably walked four or five homes to get a feel for space and size first," Marty says. "We went through a dozen primarily first-floor sketches before we hit what they wanted."
They settled on a plan with two floors, four bedrooms, four bathrooms, a large upstairs bonus area, and some room to add an at-home gym. Both Marty Vahue and Marty Rowe of Causeway Designs worked on the architectural design. Marty's wife, Norlette Vahue, collaborated with the two on interior selections.
"We spent a lot of time in the design process," Marty explains.
Though, this process is not uncommon for Vahue Custom Homes.
"Very rarely do we build the same plan twice," Marty says, "and if we do, we make modifications."
Marty started in the industry as a carpenter in 1977and then as a high-end residential trim contractor for 24 years in Raleigh. He relocated here in 2014 to focus on custom home building.
"Being a high-end contractor for so long in the Raleigh market," Marty explains, "I really paid attention to the custom builders I worked for, who did it right and who was successful and who wasn't, and I tried to cherry-pick a half a dozen of them to make my own business model."
As a result, his model strives to meet clients where they are, both figuratively and literally, and provide that
custom experience.
"We always design a home that fits that buyer's wants and needs," he says. "Some just may have more wants and needs than others."
The Stricklands requested extra-wide hallways and doors, an upstairs getaway for Diane's daughter and grandchildren, as well as his and her offices. The large foyer, featuring a funky, yet modern, statement wallpaper ceiling, separates their at-home workspaces. As a husband-and-wife real-estate power couple, they can just roll a chair into the foyer for a conference call, or politely close the door for more privacy.
Each Strickland gave their spaces a special touch. Sherwood, a lover of creative arts and warmer styles, chose an acoustic paneling, while Diane (with the help of designer friend Leisha Cascadden) picked a contemporary corkboard wall with a contemporary metallic feel.
Sherwood jokes that their joint style blends the tastes of a country boy and a city girl. Diane spent several years in Los Angeles, where homes often feature more open, minimalist styles. With clean, crisp lines throughout the home, such as the master bedroom tray ceilings, and primarily black and white finishes with tasteful gold accents, their home feels classy, calm, cool, and simple.
However, they intentionally balanced the modern design and finishes with pops of warm texture, such as Diane's corkboard accent wall (also featured in the hallway powder room) or the saw-cut hardwood floors and boho-esque light fixtures.
While their design tastes differ, the couple agreed completely on an essential item: lighting.
"Lighting really is the jewelry of the home," Sherwood says.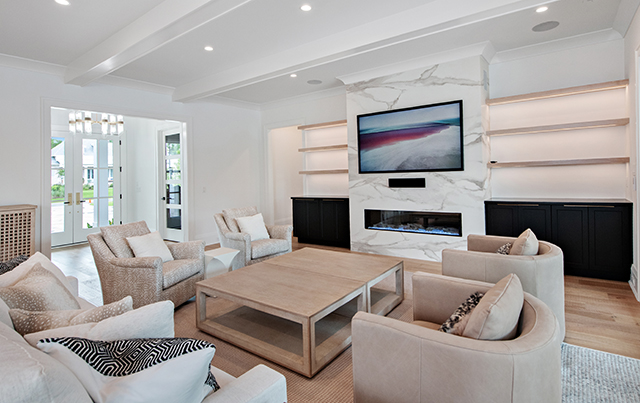 The vaulted A-frame ceilings of the dining area allow for natural light to carry through the kitchen and living rooms. Likewise, indoor lighting features transform the space, with underlit and backlit cabinets, which were made custom for their space by FFT Cabinetry. All lights in the home, including for the cabinets, can be controlled via phone thanks to impressive smart-home features.
"The home is smarter than we are," Sherwood says with a laugh.
As realtors, the couple have developed their vendor contacts—something that homeowners often rely on from their builder. For example, AcoustiCreations designed the audio-visual tech-driven components of the home.
Not only is the home "smart" from a technology perspective, but the couple also designed smartly for their lifestyle and their family.
Diane loves to cook, and her grandchildren often visit, so they selected an induction cooktop that isn't hot to the touch, for when the kids may want to help her in the kitchen. Similarly, their modern 60-inch gas fireplace is not only a "wow" factor for their main living space, but its modern glass cover protects it from overheating the overhead television.
Speaking of the fireplace, let's talk about the consistent showstopper throughout the Strickland home: porcelain finishes.
Instead of stone or shiplap, the couple opted for a modern, elegant porcelain fireplace feature, with streams of black and white that pick up on the other accents of the space. Porcelain is a newer type of ceramic tile quickly gaining popularity in luxury homes. Made from finer clay and fired at higher temperatures, porcelain is meant to be more durable and easier to clean.
The Stricklands chose porcelain for many surfaces: for their kitchen countertops, in their impressive extra-large ensuite bathroom shower, and even small details such as a cabinet top in their master closet. All pieces came from Francini, an importer and distributor of high-end stone products. The porcelain pieces for the Stricklands' home came all the way to them from Italy.
Though, importing and acquiring the porcelain is only the first step. Unlike standard tile, the large pieces must be fabricated for a cohesive, uninterrupted design. For this special job, TriLake Granite and Stone stepped in.
"It really is like a work of art," Sherwood says. "It almost looks like there is no seam in the design."
These special porcelain finishes speak to the modern vibe of the home. The Stricklands designed their house projecting styles and general homeowner needs for the next ten-plus years.
"A realtor is always thinking about resale value," Diane says, but that makes it hard when you want to make your home custom."
To navigate this balance, Michael Vahue operated as project manager once the general design was completed by his father, Marty.
"Michael really stepped up to finish those custom and detailed items, like helping navigate the exposed beams in the ceiling," Sherwood says.
He also recommended baseboard and trim finishes that elevate the home to feel like a luxury space. The windows, for example, use two different styles of trim together to create a distinguished picture-frame-like appearance.
"It's a very detailed project," Michael explains. "We put a lot of time into making sure everything was perfect in a not-so-perfect world."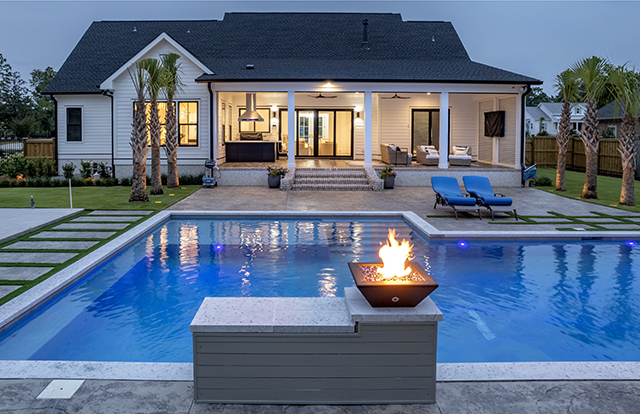 While the interior details, finishes, and considerations are clearly vital to the success of this home's design, all parties agree that the signature of the Strickland home is the outdoor living.
"We live outdoors most of the time," Sherwood explains, "almost 11 out of 12 months in the year."
As a former contractor himself, Sherwood managed and/or oversaw many of the exterior design projects. He worked with Tracy McCullen of Signature Gardens and Pools to create an outdoor oasis with mixtures of turf (sourced from Beach Bumm Turf), grass, and concrete, as well as several fire features by the pool.
"We work such long hours and usually only get to take one vacation a year," Diane explains, "so we wanted it to feel like we're on vacation when we're at home."
Their patio area allows for a seamless transition from indoor to outdoor living. With phantom screens installed by Azalea Coast Screened Enclosures, the Stricklands will enjoy their fabulous landscaping in many different climates. And with a complete outdoor kitchen, the couple can host family and friends for dinners prepared steps away from the pool.
While construction is not yet complete, the Stricklands will soon have a pool house, complete with a bathroom and shower, to amplify their outdoor living space and match their coastal modern vibe.
The overall exterior of the home reflects the indoor living style. Black window trim and black gutters give the home a modern contrast against the crisp white siding. Wrightsville Beach Landscaping, which the Stricklands describe as "top-level" in the business, installed black mulch around the greenery and plants to continue the theme. For a nod to the coastal region, the raised crawl space exterior is covered in oyster tabby stucco, adding texture to the modern look.
"We took a lot of what they saw and blended it all together," says Marty. "I guess what it boils down to is the design-build process and taking the time to listen to what clients want and need most." vahuebuilding.com