1900 Restaurant Lounge
17 Nov 2013
By JASON FRYE » Photos by JAMES STEFIUK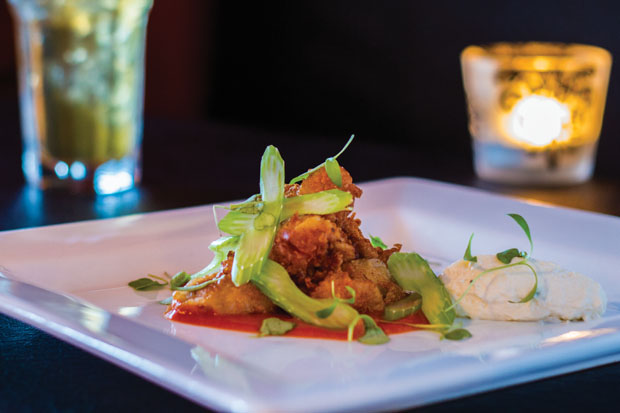 When people think of tapas, they picture tiny plates of Spanish food and a table stacked high with dishes and surrounded by diners whose hunger has barely been satiated; thanks to 1900 Restaurant Lounge, you can forget all that and rethink your idea of tapas. Though the menu at this upscale-casual restaurant is tapas inspired, it's not tapas in the traditional sense, a distinction Executive Chef Kirsten Mitchell makes clear on the plate.
"Traditional tapas is small, too small for what we want to do," she says, standing in her kitchen. "1900 is about small plates, but a sort of New American revision of tapas."
Originating in Spain, tapas comes from the word tapar, meaning a lid or cover. Stories about the first tapas vary, but they all agree that some snack – bread, cheese or cured meat – was used to cover wine or sherry to keep impurities out of the drink. The most popular story says bread was used as a lid for sherry and a savvy tavern owner topped his bread with cheese and other salty snacks to the delight of his patrons. Others followed suit and tapas was born.
At 1900, the dishes are much more substantial than their culinary ancestors. Every plate here is appetizer-sized or better, allowing diners to create their own meal or have a wide-ranging dining experience by ordering multiple dishes with their party.
"We want to encourage conversation, allow our guests to forget the outside world and savor the moment in here," Mitchell says. "We want people to feel like they're not just having a meal, they're having an experience."
The interior at 1900 goes a long way to helping diners feel transported. Dark wood paneling on the walls, elegant damask wallpaper, and twinkling, mica-flecked granite top bars and tables. Between seating areas, beaded curtains create a sense of intimacy without constricting the space. During the evenings, 1900 is filled with the sounds of jazz and electronic lounge, but on Thursday, live music fills the air as local jazz act Benny Hill performs a long, smooth set.
Owner Ken Oliver made it his goal to have the service match the refined atmosphere at 1900, and he's done that. How? By hiring a wait staff and bar staff who have "more world experience, who've lived in or visited exotic places or big, vibrant cities, who have been exposed to fine food and fine dining from either side of the table." This type of staff, he says, makes Chef Mitchell's job easier as the front of house experience can properly parallel the dishes prepared in the kitchen.
"Food knowledge is a big emphasis here," says Oliver. "Our servers have good palates and understand how the food tastes and how it pairs with wine or cocktails. They share our chef's passion for using local veggies and seafood, and they're able to articulate what diners will find in a dish if they ask. And when diners ask, our staff is confident in their knowledge of our food and bar menu that they can offer suggestions for plates or drinks that match the diner's tastes. That's big. And you don't find it everywhere."
Perhaps it was Mitchell's first foray into being a chef that informed Oliver's decision to have a staff with such an intimate knowledge of the food. She started her career by watching her father, an acclaimed French chef, cook in the family's bistro in Banner Elk, N.C. – "he was always shooing me out of the kitchen during dinner service, I'd just stand and watch," she says – but never took over cooking duties in a professional kitchen until several years later. She was working as a server when she got into an argument over soufflés with her friend, the chef. He left the kitchen, told her to go ahead and try her method and she did. And it worked. "That was my first taste and it made me say, 'This is something I could do.'" Now she does.
The menu at 1900 is New American Tapas, but the flavors are a melding of French (from her father), Southern (from growing up in the mountains of N.C.), Island (from frequent family vacations to the Bahamas) and Creole (from a passion for the food and flavors). Mitchell says she's inspired by "quirky renditions of favorites, flavorful things that walk the line between the heavy French flavors and the often too-delicate nuances of Italian food."
Mitchell changes her menu with the season, and as 1900 moves into fall and winter, she's bringing in heavier flavors, heartier sauces, more savory components to deliver that comfort we get from food. Crisp Chicken Skin Chips served with kale chips and a chipotle dip offer the crispy, umami delight of the skin and kale, then balances it out with the chipotle; the whole dish is a playful take on the best part of a roasted chicken or the Thanksgiving turkey – the skin.
Another distinctly fall dish is the Pumpkin Pasta with chorizo, shrimp and sage brown butter. The pasta's made fresh daily and the effect of a fork full with each ingredient is sweet, savory, meaty and herbaceous.
The Fried Okra Salad with black-eyed peas, corn, onions, mixed greens and a spicy vinaigrette speaks to the Southern influences, where the Popcorn-Style Sweetbreads with buffalo sauce, bleu cheese mousse and celery addresses the playful mixing of French and American flavors.
Mitchell's menu influences the seasonal cocktails and nightly specials at the bar, something that Oliver prides himself on. "We're one of the few places where you can get a cocktail, not just a mixed drink," he says. That fact, combined with the creative and flavorful menu, helps drive 1900's second life, as a lounge. At around 10 p.m., when the diners have finished their meals, the DJ arrives and 1900 converts into a lounge where late night crowds can enjoy themselves in a hip spot.
1900 Eastwood Road, Wilmington NC, 910-509-2026, 1900lounge.com