2020's Hungry Hot List
04 Mar 2020
Port City's new kids on the culinary block

By FANNY SLATER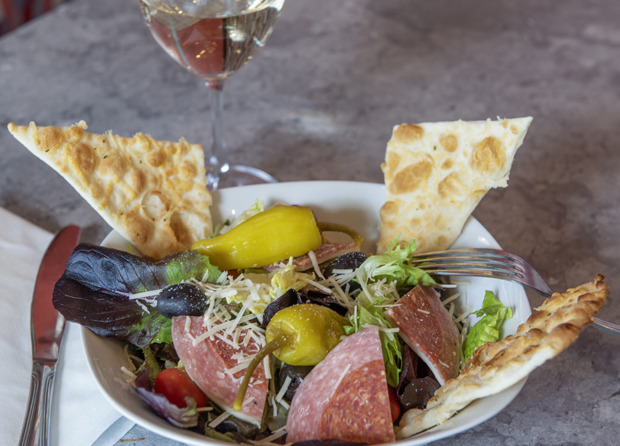 From a café specializing in distinctive dollops of chicken salad to an indoor golf-and-games venue slinging top-shelf spirits and foldable pizza squares—Wilmington has no shortage of newly-opened, alluring outlets to satisfy even the craziest of cravings.

But not everyone gracing our list is an unknown in the restaurant scene. We couldn't leave out the few local favorites whose auxiliary locations reminded us that their food was so nice, we had to eat it twice.

Read on for our most up-to-date chronicle of the Port City's freshest culinary highlights.

Brunches
(910) 679-4075, mimosasmademedoit.com
If the expression "mimosas made me do it" resonates with you, you'll be one of the many customers pulling up a mid-morning booth (and mimosa flight) at Brunches. This modern Mayfaire-situated breakfast and lunch eatery is quickly becoming known for all-thing eggs, bacon, and booze. The multifarious menu covers the basics (shrimp and grits, blueberry-lemon pancakes, and the like), while standouts include the veg-friendly Hippie Hash with riced cauliflower and guacamole and lucratively layered bowls like the Steakhouse loaded with braised short ribs, mushrooms, caramelized onions, and Swiss. Hitch a ride on Brunches' dinner train Thursdays and Fridays.

Casa Blanca Coffee & Tea
(910) 821-0639, casablancacoffee.com
Offering above and beyond mundane muffins and trendy lattes, Ogden-based Casa Blanca is a public playground for true coffee fanatics. You'll spot a few of the usual artisanal suspects like dirty chais and avocado toast (with pickled onions and sesame salt, I might add)—but three varieties of aromatic pour overs? Come on. Owner Marissa Ruehle has been beans deep in the biz since before she could legally drive, and her thoughtfully picked selections demonstrate exactly that. With an open roastery room and hands-on classes, you can even learn how your favorite bev goes from ground to cup. Hey Marissa, we're looking forward to coffee with you, too.

Chicken Salad Chick
(910) 613-6605, chickensaladchick.com
A restaurant devoted entirely to chicken salad? Now you're speaking my language. This popular chain outlet dropped anchor in the Forum in early November to a line wrapped around the building. Hungry sandwich enthusiasts practically swarmed the store in the wee hours of the morning awaiting the shop's opening, and I don't blame them. How many variations on chicken salad could there actually be, you ask? Great question. CSC conquers every category from traditional to fruity and nutty to spicy. Suckers for a classic will dig the Carol with celery and mayo while those who like it hot go for the Buffalo Barclay with buttery hot sauce.

Dram Yard
(910) 782-2400, dramyard.com
Eclectic tropical décor meets masterful expressions of global fare in this newer 2nd Street hot spot. Already branded for their beautifully crafted cocktails, contemporary design (ask your server for the tale of Topsy the Elephant), and undeniably epic eats—Dram Yard made a name for itself in downtown's dining scene in no time. For the table, the colossal za'atar-dusted focaccia is a show stopper you can't miss as a starter. For ultimate shareables between two, the caveman-style Pork Tomahawk Schnitzel on herby caper aioli and Seared Duck Breast with crispy breadcrumbs are binge-worthy.

Eggs Up Grille
(910) 398-8888, eggsupgrill.com/locations/wilmington-nc
If the sweet aroma of blueberry pancakes and the crunch of salty bacon makes you melt, Eggs Up Grille will be your new favorite place to start the day. Thanks to original roots in Pawleys Island, this diner franchise is no stranger to southern goodies like Shrimp & Grits omelets with andouille sausage, charred onions, and fire-roasted tomato and spinach grits. Not a morning person? You can grab their famous Cinnamon Swirl French Toast all the way up until 2 PM. Gluten-free friends and family will flip for the melt-in-your-mouth pancakes, while lunch lovers praise the Turkey Avocado BLT on griddled Tuscan bread.

Hungry Sparrow
(910) 782-2950, hungrysparrowunc.com
On the hunt for Wilmington's best Cuban sandwich? Yahtzee! It resides on Castle Street in a modest, bricked, teal-and-white café where the plantains are so crispy you'll want to cry and the Papa Rellenos are a meat-and-potato lover's appetizer-come-true. For a light, vegetarian delight, sample the spinach and cheese empanada (a savory, flaky pocket stuffed with oniony spinach). You'll come crawling back, however, for the Pièce de résistance—Hungry Sparrow's Cuban—an authentic handheld on buttery pressed bread with shredded pork, thin, salty ham, sharp yellow mustard, nutty Swiss cheese, and tangy pickles.

Mod Pizza
(910) 782-2899, modpizza.com/locations/ogden-marketplace
I don't know about you, but when I'm craving pizza, I want it immediately. MOD, now open in Ogden Marketplace, pioneered the concept of superfast pizza and nothing is slowing this friendly, fast-growing chain down anytime soon. Their hand-crafted, on-demand artisan pies are prepared with your choice of over thirty ingredients. The best part? No matter how many garnishes your gut tells you to go with, the price stays the same. Create your own work of art, or pick from one of MOD's chef-inspired pizzas like the Lucia with fluffy ricotta, pepperoni, and spicy Calabrian chili sauce.

Rounds Golf & Ledo Pizza
(910) 839-3006, roundsgolf.com
Get your swing on even if the weather isn't cooperating at Rounds Golf & Ledo Pizza—Wilmington's first luxury indoor golf and games facility. With four Full Swing simulators equipped with over eighty championship golf courses, extensive bar and food selections, and arcade games for the kids—this all-ages entertainment forum will be your new favorite weekend hangout. After honing your sports skills, hang in the attached Ledo Pizza (a Maryland-based, family-friendly mainstay with gluten-free options galore) and dive face-first into their famous square pies with smoky provolone and thick-sliced pepperoni. Other menu items include wings, cheese steaks, and chicken alfredo.

Second Glass
(910) 399-7486, secondglasswinebar.com
South Front District's newest urban eatery is far more than a memorably sophisticated, immaculately designed wine bar. It's a land where traditional southern fare (like deviled eggs with trout roe, smoked mullet, and pickled onion) get a makeover and start living its best life. For small plates you're supposed to pass around but won't want to, start with the sinfully succulent Pork Ragu with handmade handkerchief pasta and pistachio gremolata. To keep to yourself—pair the Joyce Farms Duck Wellington with the suggested Syrah (and try to save room for the vegan chocolate brownie).

Sideboard Café
(910) 444-4755, sideboardcafe.com
Think Candy Land is just for kids? Try distributing multi-colored gingerbread men pieces to thirty-somethings hopped up on Tropical Lightnings and toasted sandwiches and see how fast they fight over who will be the first to reach Candy Castle. Sideboard did exactly that—and they've received nothing but love since swinging back the doors of their board game café. No matter your age (yep, they're child-friendly), you'll have a blast sifting through their selection of entertainment and eats. Menu highlights include the housemade crispy, yet gooey, Waffled Mac & Cheese. The craft brew lineup screams Wilmington, and booze-free folks can get their buzz on with Counter Culture coffee.

Spoonfed Kitchen & Bakeshop
(910) 679-8881, spoonfedkitchen.com
The vision of Spoonfed's owners was to create a menu of "wholesome, delightful" food to sustain folks heading out for an active day at the shore. Mission accomplished. This Wrightsville Beach café (tucked into Lumina Station) has a harmonious menu of nourishing, delicious, and inventive ingredients. I'm a sucker for the Seasonal Granola and Yogurt bowl brimming with locally-sourced, grass-fed yogurt, honey, fresh berries, and Spoonfed's signature granola (big, chewy pieces of spiced oats infused with shaved coconut and nuts). On the savory side, the Chilaquiles covered in tomatillo salsa, queso fresco, and avocado are a fan favorite.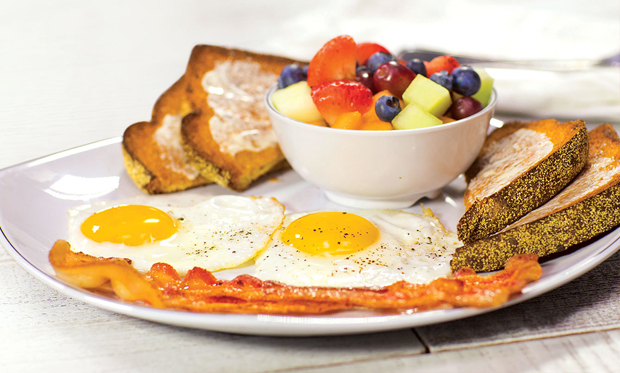 Stalk & Vine
(910) 769-0567, @stalkandvinenc
All of Wilmington cried when riverfront landmark Le Catalan closed their doors. Then we heard what was on deck and the tears transformed to hunger pains. At the helm of Stalk & Vine: former Waterman's Brewing head brewer Zac Brown (who snagged previous PinPoint executive chef and owner, Dean Neff, as a menu consultant). The concept centers on innovative pinchos (Spanish-style tapas like citrus-marinated seared tuna and grilled shrimp with pickled okra) and extraordinary large plates like the Hazy Cajun Boil with crab legs, shrimp, mint, and jalapeno. In addition to the modern gastro-fare, the full spectrum beverage program boasts an extensive list of wine, beer, and cocktails.

The Kitchen at Palate
(910) 399-1081, palatenc.com
Wildly inventive, stunningly plated, eco-friendly culinary creations coming out of a mobile truck parked at a bottle shop? Yeah, I didn't expect that either. Not only are chef Carson Jewell's masterpieces vibrant and prepared with unquestionably local ingredients—they're mostly elevated takes on familiar southern seafood classics. Jewell's impressive kitchen resume speaks for itself, and the food is even louder. The menu is built on seasonality, but try to catch the life-changing fried chicken with guajillo honey or anything in the form of fish. Also, the luscious Hickory Smoked BBQ sandwich with simple, creamy slaw. You know what? Just order one of everything.

Restaurant Expansions
Aromas of Peru
(910) 839-3030, facebook.com/Aromas-of-Peru-Wrightsville-Beach
If you were a fan of the Peruvian-based Golden Chicken that graced College Road in 2013, you've likely been back to that very same storefront to get your grub on at Aromas of Peru. Same location, same owners, new name. Now with a second spot at the sought-after Lumina Commons shopping center, Aromas is still dishing out bold bites—just in more upscale digs. Huge portions and bona fide Peruvian flavors are always a guarantee, and regulars rave about Chinese-fusion specialties like the Chaufa de Pollo (ginger-scented fried rice with chicken, eggs, and veggies).

Drift Coffee & Kitchen
(910) 679-4374, driftcoffee.kitchen
One of Wilmington's hippest coffee houses has officially multiplied and landed in Mayfaire. Matcha maniacs rejoice! This bright, airy brand has been serving up fresh, holistic food and bevs at Autumn Hall for the past few years. The social storefront drives to engage customers with each other as well as coffee in its purest form. Treat your body inside and out with the Golden Latte (a blend of turmeric and ginger with foamy almond milk) and get your Greek fix with the Tahini Brussel Bowl featuring sautéed kale, sweet potato spared, quinoa, and a lemon tahini drizzle.

Gulfstream Restaurant
(910) 679-4150 (WB), (910) 458-8774 (CB), gulfstreamrestaurantnc.com
Though my love runs deep for Gulfstream's former resident, Causeway Café, any restaurant with beer battered fish tacos and eggplant parmesan on the menu is a place after my own heart. But Gulfstream isn't new to the game. Their original Carolina Beach site has been around for four decades. For sunrise selections, the Flounder & Grits is a familiar Carolina classic. When lunch rolls around—the Calabash-style seafood basket and pork souvlaki with cucumber sauce are hard to pass up. For dinner, the crab cakes with creamy garlic sauce are where it's at.

Mr. Bagel Meister
(910) 833-5120, mrbagelmeister.com
After popping up at the Pointe at Barclay shopping center, this legit neighborhood bagel, breakfast and lunch café has now shuffled its way across the bridge to Leland. Mr. Bagel Meister is celebrated for freshly baked bagels piled high with premium Boar's Head meats and cheeses (as well as expert customer service served with a smile). Can't-miss handhelds include the bagel and lox with the works and the fearlessly fiery Cesar with eggs, bacon, sausage, provolone, cream cheese, hot sauce, and jalapenos.

Taqueria Los Portales
(910) 769-6067, taquerialosportales.com
Those loyal to Los Portales' OG venue on Kerr Avenue are probably already aware that the owners expanded to Van Campen Boulevard. Those not in-the-know better haul tail over to Taqueria No. 2 before the rest of Wilmington finds out. We're talking real-deal roadside-stand Mexican provisions like divine beef cheek tacos on homemade corn tortillas and righteous Menudo—a traditional red chili pepper soup simmered with tripe. For the less adventurous: the spicy chorizo tacos dotted with onions and cilantro. Never skip the salsa bar, and show up early on soccer game days.