6 Outdoor Adventures for Fall
07 Sep 2017
Summer's over and the holidays are months away—get over the hump with a fall trip.
By KATIE MCELVEEN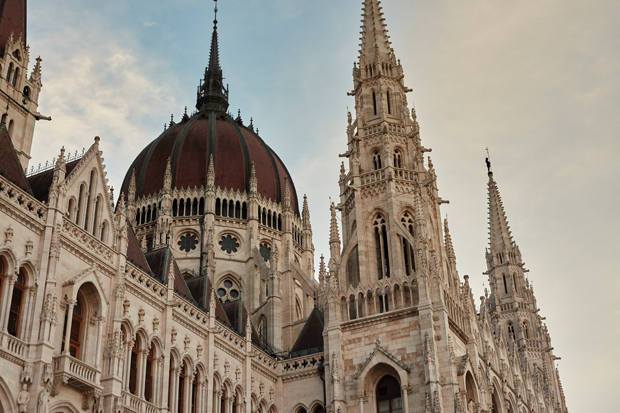 Budapest, Hungary
Some former Soviet-bloc cities seem intriguing, but, for many travelers, aren't quite ready for their close-up. Not Budapest. A spate of new luxury hotels, terrific restaurants and convenient local shopping make it easy to get comfortable; unfamiliar tastes, fascinating history and a language nobody outside of Hungary can figure out add just the right sense of discovery.
What to do
Hire a guide and tour the city.
It's easy to stroll the streets of Budapest and take in its many monuments, museums and palaces, but there's a good chance you'd miss the stories, and the emotion, that makes Budapest such a fascinating destination. Who knew, for instance, that in 1882, Austria-Hungarian Emperor Franz Joseph agreed to allow the city to build an ornate Neo-Renaissance opera house, only if the completed structure would be smaller than Vienna's State Opera House? Or that the McDonald's just a few blocks from the river was, in 1988, the first to be built in a Warsaw Pact city? Guides, when coaxed, will also share tales of life under Communist rule—families were strictly limited in how much cash they could carry on vacation—as well as how to drink Palinka, Hungary's fiery fruit brandy. (Turns out Hungarians sip the elixir prior to dinner, not after.)
What to Eat
Whether you think you love goulash or despise it, be sure to taste it in Budapest, where the richly flavored dish—it can be served as soup or stew—will change how you feel about paprika. Goulash is so important to Hungarians that it's only served with csipetke, a pinched, dumpling-like noodle. Try goulash and other Hungarian specialties at Rezkakas, a pretty bistro that serves both modern and traditional Hungarian dishes alongside delicious Hungarian wines.
Where to Stay
Open since April of 2016, the modernist Ritz Carlton Budapest brings fresh energy to the city with a light-filled lobby, sleek rooms and welcoming service. The location, just a block away from both of the city's main shopping areas, is also within easy striking distance of the covered market. If you can, book a room with access to the club lounge, where eager young staff members will encourage you to taste the local foods—cheeses, honeys, palinka, wine, pastries—that are available throughout the day. Breakfast, lunch, snacks, adult beverages and a dedicated concierge are all available to lounge guests.
Charlottesville, Virginia
Wine and history go hand-in-hand in Virginia. Thomas Jefferson planted vines at Monticello, his Charlottesville estate, in the 1770's and although the crop failed miserably, he was definitely on to something. Today, dozens of wineries are turning out sophisticated, drinkable wines that have earned national awards.
What to Do
Visit Monticello and wineries.
In this part of Virginia, where most of the wineries are located, the scenery is bucolic: Narrow roadways wind through hills carpeted in golf-course green perfection, past misty valleys and around picturesque horse farms. "There's a romance to the wine country that you just can't find elsewhere," says Luca Paschina, winemaker and general manager at Barboursville Vineyard, which is known for its Cabernet Francs and Nebbiolos.
Armchair historians of every ilk—the natural world, science, horticulture, décor, architecture, African-American, Southern, Revolutionary and Presidential—will discover something worth knowing at Monticello. Book early and consider upgrading to the Behind the Scenes tour, which takes guests further into Monticello, or the Hamilton Tour, which compares the policies of Thomas Jefferson and trendy rival Alexander Hamilton.
Where to Eat
It may not look like much from the outside, but C & O Restaurant has been turning out some of Charlottesville's most creative—and reliable—food for more than 40 years. Look for local lettuces, apples and beets on the fall menu; no matter what time of year, the roasted halibut and duck confit are winning dishes.
Where to Stay
Keswick Hall and Golf Club's grand Italianate villa was built as a private home in 1912; today, much of the art remains within the welcoming public areas and 48 gracious rooms. The resort is surrounded by 600 park-like acres that includes an award-winning, Pete Dye-designed golf course, miles of hiking trails, tennis courts and, overlooking it all, a stunning infinity pool.
Zion National Park, Utah
With summer temperatures often rising above 100 degrees, fall is the time to visit dramatic, deserty Zion, which was named for God's heavenly city by Mormon pioneers.
What to do
Hike.
Zion's scenic drives are legendary for their views of natural wonders like a 2,400-foot tall monolith called the Great White Throne, Zion Canyon and the 400-foot-tall Great Arch, but traffic tie-ups can turn a leisurely drive into a nightmare. Instead, DIY your way to spectacular landscapes and wildlife sightings (like gravity-defying desert bighorn sheep) via the park's vast network of trails. The Riverside Walk to the Narrows is a two-mile stroll that captures the spirit of Zion with towering canyon walls, a glorious stream, hanging gardens and cottonwood trees. Bring water-friendly shoes and, if you can, hit the trail on a weekday. More challenging are Angels Landing, a five-mile climb that will challenge those with a fear of heights, and the eight-mile trek to Observation Point.
Where to Eat
It's hard to know what's better at the Spotted Dog Café—the views of the canyon walls (which turn scarlet in the late afternoon sun) or the food, which ranges from grilled local trout to elk and bison meatloaf. Whatever you choose, don't skip the garlicky sautéed mushrooms.
Where to Stay
Red Mountain Resort may be an hour or so from Zion, but it's worth the trip. Set within a maze of russet-hued bluffs, the resort is a revitalizing oasis after a day of outdoorsy fun. Beyond typical resort amenities—a gorgeous pool, a pampering spa, an innovative restaurant—Red Mountain offers a full complement of wellness activities that include fitness classes, yoga, Pilates and workshops on everything from stress reduction to meditation. You can also register for guided hikes, cycling tours, kayak explorations and other adventures in Zion, Bryce Canyon National Park or on the vast network of trails that surround the resort.
Charlotte, North Carolina
Charlotte may struggle with identity issues—it's got a lot to do but isn't known for one thing—but that doesn't make it a bore. Far from it. You can kayak at the National Whitewater Center, go to a Panthers game or visit a museum: Beyond a terrific collection of art and science museums, you'll find a remarkable variety of specialty museums that include the NASCAR Hall of Fame, Billy Graham Library and the Levine Museum of the New South.
What to Do
Explore the craft brewery scene.
Ok, maybe Charlotte is getting to be known for something. There are more than 40 craft breweries in and around the Queen City, and their brewing up a lot more than great beer. This creative community of artisans is creating flavor-packed ciders and saisons, one-of-a-kind ales and even historic brews based on traditional recipes. Try Free Range brewery for a taste of the unexpected—brothers Jason and Jeff Alexander rarely make the same thing twice, which is why they've produced more than a hundred different beers. Be sure to arrive hungry at Wooden Robot: the Belgian-style farmhouse brews were crafted to go with the offerings from the Twisted Eats food truck, which is conveniently parked next door. Or head to one of the city's distilleries, like Great Wagon or Muddy River: a new liquor law passed in July allows visitors to purchase five bottles of craft liquor each year.
Where to Eat
At the Asbury, chef Chris Coleman uses butter poached shrimp and homemade chorizo in his shrimp and grits; biscuits are freshly baked in an iron skillet.
Where to Stay
Besides serving as one of Charlotte's swankiest stays, the Ritz Carlton offers fun perks that include a pampering spa with a brand-new salt cave (it's said to help with detoxification); dessert cooking classes at the hotel's Cocoa Lab and, courtesy of that same liquor law, a Sunday Bloody Mary bar.
Door County, Wisconsin
Bordered by Green Bay on one side and Lake Michigan on the other, this skinny peninsula was settled by Scandinavians in the 1850's. Today, the area could be a stand-in for New England, thanks to a plethora of lighthouses, adorable fishing villages, salty characters, clapboard cottages, fall color and lack of pretension. There are plenty of regional attractions as well, including cherry and apple orchards, fall festivals, art galleries and waterfront bars and restaurant.
What to Do
Get cultured…Wisconsin style.
In Door County, it's already fall, so grab a sweater and get outside. Base yourself at Fish Creek, an upscale town overlooking Green Bay. After exploring the town's mix of mom-and-pop storefronts and galleries, get your scenery fix at Peninsula State Park, which crams all the high points of the region's stunning landscape—sandy beaches, the dramatic cliffs of the Niagara Escarpment, a lighthouse, fall color—into one gorgeous package. There are also towns like Sturgeon Bay and Egg Harbor to explore, wineries to visit and fall festivals to attend. Refuel with Wisconsin specialties like cherry pie made with local tart Montmorency cherries, fried cheese curds, frozen custard and Door County Fish Boil, a meal-in-a-cauldron of local white fish and potatoes cooked outside over a live fire. Fish Boils come with a free show, too: when the fish is just about done, Master Boilers send the flames sky-high with a good dousing of kerosene.
Where to Eat
Choose from dozens of varieties of pies at Sweetie Pies, but don't miss this cute bakery's version of classic sour cherry, which has just the right crust-to-filling ratio and is packed with cherries. Can't decide? Portable pies-for-one are available, too.
Where to Stay
Jan and Andy Coulson have welcomed guests to the White Gull Inn since 1972. Rooms are individually decorated with antiques and English country fabrics; many have private balconies, fireplaces and whirlpool tubs. The Inn's restaurant is one of the most popular in the region as are the Friday night fish boils.
Mackinac Island, Michigan
It's no wonder romantics flock to this tiny Michigan hideaway. For starters, the shoreline is dotted with clapboard New England-style summer resorts, complete with vast emerald-green lawns reaching all the way to the water, bright awnings and wraparound porches. Then there's the town, which has retained its Gilded Age charm with ornate streetlamps, restored 19th-century buildings and a ban on cars that's been in place since 1898. Locals and visitors rely on carriages pulled by Amish-trained horses, bikes and, during the winter, cross-country skis.
What to Do
Go beyond the norm.
Turns out there's a lot more to Mackinac—which is pronounced mackinaw--than adorableness. More than 80% of the island has been set aside as parkland, making it a haven for cyclists, hikers and horseback riders, who don't ever have to worry about traffic on the way to the trails. During the fall, participate in cool events like themed happy hour cruises (bourbon, craft beer) with an on-board band, art walks, and a surprisingly hip live music scene at places like the Pink Pony and Bistro on the Greens. Don't skip a tour of Ft. Mackinac, which was built by the British in 1780 and played a key role—along with the rest of the Great Lakes Region—in the War of 1812.
Where to Eat
Named for the owners' Portuguese Water Dog, Millie's on Main serves up classic Upper Peninsula Michigan fare including smoked whitefish dip, whitefish chowder, fried perch and a beef-filled turnover called a "Yooper Beef Pastie." For dessert, stop into one of the island's famous confectionaries for homemade fudge. It's so popular that vacationers are often referred to as "Fudgies" by the locals.
Where to Stay
Traditionalists will be drawn to the sprawling 1887 Grand Hotel, which was made famous by the movie "Somewhere in Time," and features what is said to be the world's longest front porch. For a decidedly different experience, book a west-facing room at The Inn at Stonecliffe, which is located in a turn-of-the-century Tudor mansion.