Decking Out Banyan Bay
03 Nov 2017
Logan Homes and Custom Home Staging and Design's collaboration proves "a staged home is a sold home"
By CHRISTINE HENNESSEY » Photos by UNIQUE MEDIA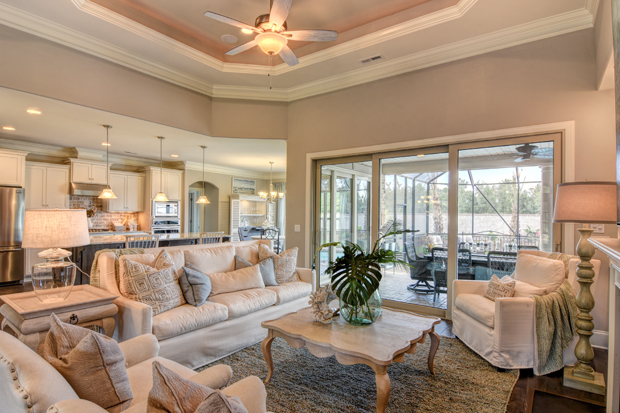 According to Julie Glew, staging a home is incredibly important when it comes to making a sale. She would know; as Director of Operations for Custom Home Staging & Design, she's seen firsthand the impact a staged home can make during the selling process.
Custom Home Staging & Design was built out of a local furniture retail store business, Custom Home Furniture Galleries, that continued to see an increasing interest in staging. Since then the company has grown in leaps and bounds, thanks in no small part to a bigger focus on staging. They now stage homes for builders, realtors, and sellers across southeastern North Carolina, as well as provide furniture and accessories for one-time events, such as film sets and weddings.
Recently, Custom Home Staging & Design became the first company to receive Paula Deen's latest line of furniture, the Bungalow Collection. As soon as Glew saw it, she knew it was the perfect fit for Banyan Bay, a gated community in Brunswick Forest that Logan Homes, a local builder, was preparing to debut.
A Match Made in Heaven
Logan Homes has been building luxury houses and estates along the southeastern Carolina coast since 1986, and they've partnered with Custom Home Staging & Design to help stage and sell those homes.
"We've had a great relationship with Logan Homes," Glew says. "They were one of the first companies we started staging with." When she shared the Bungalow Collection with PJ Kelly, Vice President of Logan Homes, he was also impressed.
"I could see right away why she thought it was a good fit," he says. "The look and feel of the furniture seemed coastal, but still very classy. Something about it just caught your eye, and you knew it would work well in Banyan Bay."
Rather than stick with strictly formal or casual pieces, the Bungalow Collection blends both. "Paula gave us a generous mix of formal and informal pieces," Glew says. "There's a lot of coastal influence, especially in the more casual pieces. Most of it is neutral and textured, without a lot of bright or bold colors." The one exception to this rule is a subtle sea foam accent, which only strengthens the coastal vibe.
Opening the Gates
For these reasons and more, Banyan Bay was a perfect fit for a line of furniture with coastal notes. The collection is unique, and so is the community.
"Banyan Bay is the first gated section within the community of Brunswick Forest," Kelly explains. "We decided early on that we wanted it to be special, to have that Floridian laid-back lifestyle. We designed it as a place where folks can go home and feel like they're on vacation all the time. A lot of the houses have pools or hot tubs or outdoor kitchens, and there's a big emphasis on outdoor spaces."
To keep up with its beach vacation vibe, the community also uses coastal landscaping, such as grasses and palm trees, which further set it apart from the rest of Brunswick Forest, as well as light-colored bricks. These details were part of the reason the Bungalow Collection was such a seamless fit.
"We staged the model home in Banyan Bay around the influence of the collection, in color and scale," Glew explains. "We basically created a showroom for Paula Deen's furniture line in Logan Home's new neighborhood." This was intentional, as the partnership was an opportunity to introduce two exciting debuts—the Bungalow Collection and the Banyan Bay neighborhood—during one exciting week in August.
A Day With Paula Deen
Staging isn't just about filling an empty house with furniture. It's also about design, which means finding the right pieces for a particular home so everything comes together in a cohesive manner. Ideally, the furniture and accents will work with a home's finishes and style, each one enhancing the other in a mutually beneficial way. This was the case with the Bungalow Collection and Banyan Bay, thanks to the unique partnership Custom Home Staging & Design enjoys with Logan Homes.
"We've been doing business with Custom Home for a long time," Kelly says. "Julie has a great eye and on this project, she worked closely with Cindy Blunt, our design studio manager, to make sure everything came together from the beginning."
Glew agrees that this collaboration was key to the project's success. "Cindy and I communicated about wall colors and some of the interior selections as the home was being designed," she says. "We tweaked a few things in the house so that it would blend well with the Bungalow Collection. It was great to collaborate with someone so talented on the selection side."
The result is that the home's finishes, such as the kitchen cabinets, quartz countertops, and hardwood floors, worked with the Bungalow Collection from top to bottom.
"The furniture line is focused on hard pieces, such as dining tables, chairs, bedroom groups, console tables," Glew says. When they needed upholstered pieces to finish a space, they used Universal Furniture, the same manufacturer that produces Paula Deen's furniture. This provided more consistency and helped ensure that everything down to the throw pillows contributed to the home's beauty and symmetry.
Once the house was built and the home was staged, there was one thing left to do: share it with the community.
A Debut to Remember
The owners of Custom Home Staging & Design have met Paula Deen several times, which is why they were able to get such early access to her new collection. During Banyan Bay's weeklong debut in early August, Paula Deen actually came to Brunswick Forest to attend the festivities and see the Bungalow Collection in action.
"Everyone who attended could meet Paula, have lunch, and mingle with her," Glew says. "It was a really organic, comfortable event. People could sit in the living room, eat some shrimp and grits, and Paula Deen was just in the middle of it. Later, she sat in the kitchen and signed cookbooks for people. It was a really warm and friendly thing for her to do."
Kelly was also impressed with Paula Deen's presence. "People lined up to get her autograph—it was crazy," he says, laughing.
Another perk of having Paula Deen in the house was the chance to show her what Custom Home Staging & Design had done with the Bungalow Collection. "We gave her a tour of the house and got her feedback, which was amazing," Glew says, smiling at the memory. "She seemed happy with what we'd done and that was important to us. Of course, the beautiful home around us helped, too!"
The Power of Imagination
The point of staging a home is to help potential buyers imagine themselves in it. When a home sells, the furniture—including the beautiful Bungalow Collection—goes back to Custom Home Staging & Design's storeroom until the next project. Each piece is, however, for sale, which is another benefit of staging. "The home is an extension of our showroom," Glew says. "We can send people there to see it in action." Often, the person who eventually buys the home also purchases some of the furniture, too—once they've seen it, it's hard to picture anything else taking its place.
"The funniest part of this whole collaboration," Kelly says, "is that the house actually sold the day before we debuted it. Then, during the event, I had three separate people ask if they could purchase the home."
This comes as no surprise to Glew, who knows firsthand how well a carefully and thoughtfully designed space can help sell a home. As Custom Home Staging & Design says, "a staged home is a sold home"—especially when Paula Deen makes an appearance.
Resources
Builder: Logan Homes, 800-761-4707, loganhomes.com
Interior Design: Custom Home Staging & Design, 910-399-4017, customhomestaginganddesign.com
Furniture: Custom Home Furniture Galleries, 910-799-4010, shopcustomhome.com