Sweater Weather
03 Nov 2017
A wintry roundup of a few cozy pieces to obsess over this season
Photos by MEAGAN FORBES.
Models Christie Doolittle, Directions USA, and Matthew Angell.
Hair and makeup, Michal Lauren, MUA.
Location: Downtown Wilmington.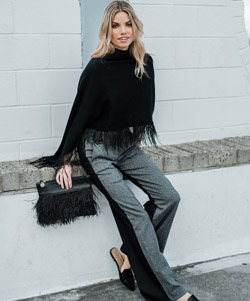 Feather Topper, $158, Black Modal sleeveless funnel neck top, $72, Tweed Front-Panel trousers, $198, Black leather and ostrich feather Clutch, $230, Zada Flower earrings, $124. All at Meadowlark.
---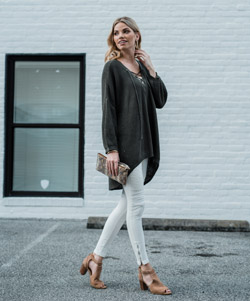 Jack Rogers Cameron suede bootie, $138, Hive & Honey Dawson's Creek sweater, $48, Hive & Honey Motorcross Skinnies, $44, Sheila Fajl round bangle, $35, Sheila Fajl flat bangle, $25, Sheila Fajl Karina necklace, $61, Sheila Fajl small Alba hoops, $73, HOBO Vida Harvest snake wristlet, $108, Hive & Honey beige seamless Cami, $15. All at Honeybee Fashion.
---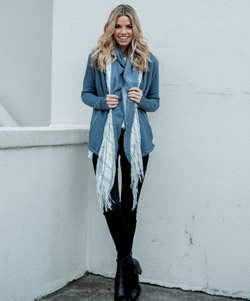 Hard Tail "Princess Hoodie", $125, Wilt long sleeve Tee, $123, Blue Pacific plaid scarf, AG "Farrah Skinny" Black Denim Jeans, $178. All at CoolSweats at the Beach.
---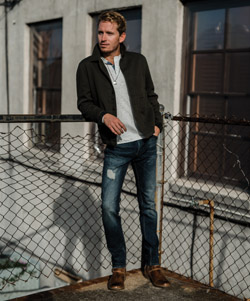 French Connection Field Jacket, $178, Original Penguin Henley, $79, French Connection Denim, $148, BedStu boots, $175, Komono watch, $180, Shelton metal Dos Toro necklace, $90, Shelton metal sterling silver Cuff, $93. All at Bloke.
---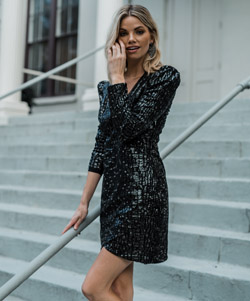 Saylor Sequin Mini dress, $242, Schutz Sock bootie, $260, Bauble Bar earrings, $52. All at Monkee's.
---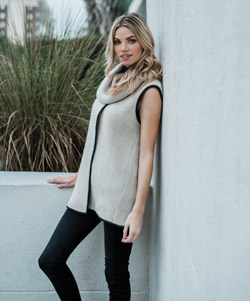 Camel pullover vest with vegan leather trim, $221, Black Modal sleeveless funnel neck top, $72, Black wash Skinny Jeans, $94. All at Meadowlark.