Culinary Chart Toppers
05 Nov 2017
The Port City eateries we just can't get enough of
By FANNY SLATER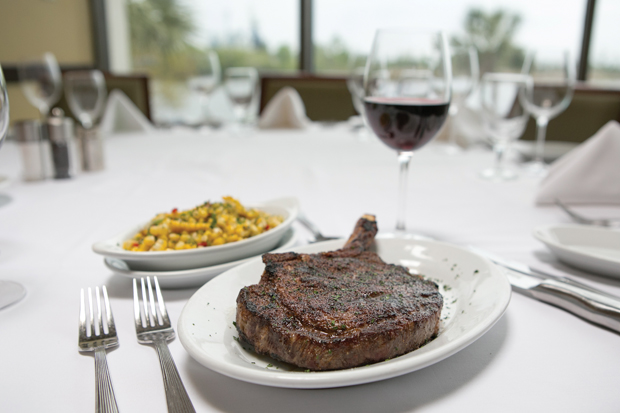 It's that time again. We've rounded up the best of the best (some you might not have even heard of) in an attempt to guide your palate through the finest dining in Wilmington. Don't worry—it's not all upscale bistros and white tablecloths. We've covered everything from beloved old school heroes—lookin' at you, Flaming Amy's—to pub-tastic newcomers like Tavern on 17th who are providing the Pointe at Barclay shopping center patrons all the craft beer and crab dip they can handle.
Wilmington has no shortage of imaginative eateries (and chefs cooking their hearts out), but we had to narrow it down so things wouldn't get out of hand. So here it is, for 2017, your picks for our town's culinary chart toppers.
1900 Restaurant Lounge
Start off with exotic craft cocktails (I dig the Southern Muay Thai: a bold blend of Bulleit bourbon and Thai basil black pepper shrub) at this swanky speakeasy-esque restaurant, and then dive straight into the vibrant Tuna Tartare. In addition to the classy, intimate vibe, 1900 offers expertly arranged small plates like delicate, crisp, Calamari with Spicy Citrus Mango Aioli. Don't forget the decadent mac and cheese featuring Fusilli Bucati noodles cloaked in sharp cheddar, goat cheese, and salty prosciutto. 1900lounge.com, 910-509-2026.
Black Sea Grill
A family-run operation since 2008, Black Sea Grill has mastered the art of Mediterranean cuisine in a cozy dining environment. This Front Street eatery is notorious for their wildly fresh fish combinations and unpredictable ingredients (like tangy sumac that stands out as the star on their tasty salads). For a true taste of authentic Middle Eastern fare, go for the Chicken Kebabs or Baby Lamb Chops (both marinated in a house sauce blend, char-grilled, and served alongside floral, long-grained jasmine rice.) blackseagrill.com, 910-254-9990.
Blue Surf Café
Between their all-day hours and inventive twists on coastal fare, Blue Surf Café has got your back for breakfast, lunch, and dinner. Well, technically—your stomach. Grab take-out or enjoy a leisurely eat-in breakfast when the morning hunger strikes and indulge in a plate of Buttermilk Waffles with caramelized bananas, yogurt, and granola. For more of a tropical bite, the Coconut Pesto—infused with basil, ginger, garlic, scallion, and peanut—over rice noodles with chicken, veggies, mahi, or shrimp is a winner (and a serious flavor bomb) at this chill café. bluesurf.com, 910-523-5362.
Boathouse
If it's Calabash-style grub with a side of nautical décor you're after—then come on in and stay awhile. Boathouse is a southern, family-friendly American joint serving up generous all-day meals with an emphasis on nautical eats. Regulars rave about their creamy Crab Cake Eggs Benedict for breakfast, their famous flash-fried seafood platters for lunch, and their Prime Rib special for weekend dinners. The Fried Green Tomato appetizer (paired with an unusual dipping partner: a chunky chutney of mangos, raisins, and spices) is a sweet and salty dream come true. 910-679-4224.
Boca Bay
What's better than a plate of scrambled eggs and hashbrowns? An entire table full of them. Wilmingtonians love getting their buffet on, and beachy Boca Bay tops the Sunday brunch list every weekend. You'll find delectable southern comfort classics like cheese grits and biscuits and gravy in a contemporary, sophisticated atmosphere. For dinner, their diverse seafood choices (like pleasantly priced sushi and zesty Oyster Shooters on the bar menu) are superbly fresh and the Prix Fix selections include something everyone can get down with. bocabayrestaurant.com, 910-256-1887.
Cast Iron Kitchen
Chef Josh Petty clearly knows his way around all things Sweet N Savory (his previous creative kitchen space), but his simple southern food at Cast Iron in Porters Neck speaks for itself. For lunch, wrap your hands around a top-notch burger, a Shrimp Salad Melt on griddled rye, or a Country Garden sandwich on whole grain with clever fillings like roasted cauliflower and pimiento cheese. For breakfast, you can't deny CIK's famous chicken and waffles with bacon-fig jam or their filling Shrimp & Grits (with smoked sausage, bacon, mushrooms, and duo of tomato cream and red eye gravy). castiron-kitchen.com, 910-821-8461.
Catch
A native of the Port City and an advocate for all ingredients our land and sea has to offer, Chef Keith Rhodes of Catch has made his mark as a leader in the community's food industry. Catch has been ruling Wilmington's restaurant seafood scene for over ten years and isn't slowing down anytime soon. Share the Dirty South Oysters on the Half Shell with bacon, spinach, pimento cheese, and butter crunch—but keep the Hong Kong Tempura Lobster Tail with crab fried rice and lobster sherry cream all to yourself. catchwilmington.com, 910-799-3847.
Dockside
For the freshest caught fish, an always-bustling social scene, live music, and epic Intracoastal views—anchor yourself at Dockside. This inviting tropical restaurant welcomes locals (and sandy-toed tourists) all year round. In the summer months, the outdoor deck is overflowing with sunburnt folks feasting on everything from bubbly crab dip to Dockside's signature Fish and Chips with seared ahi, Pico de gallo, and dreamy Baja sauce. Seafood not your thing? The smoky, flame-kissed burgers are always cooked to perfection. thedockside.com, 910-256-2752.
Flaming Amy's Burrito
Around here, Flaming Amy's is somewhat of a holy place. Their charmingly divey location, unique salsas, and loaded globally-inspired tortillas have had hungry crowds lining up for nearly twenty years. Voted one of the thirty-three best burritos in America by Thrillist, Flaming Amy's is no stranger to culinary accolades. Veg heads adore the Veggie Deluxe with marinated and grilled eggplant, portabellas, and sundried tomato dressing. The signature Flaming Amy with chipotle peppers, fresh jalapeños, green chiles, and your choice of grilled filling lights up even the boldest burrito eaters. flamingamysburritobarn.com.
Havanas
One taste of this enticing beach hut's island-centric cuisine and your palate will be whisked to paradise. Whether you're sporting your post-ocean attire or your finest threads—Havana's will welcome you in with open arms, superior seafood, hand-cut steaks, and outrageously delicious pasta dishes. Big appetites appreciate the Scallops Casino with Roasted Red Pepper Butter and Sweet Pea Risotto while lighter eaters love the Key West Chicken Salad with grilled chicken, candied pecans, fruit, and blue cheese crumbles. Don't pass up the signature Hot Rum Bananas Foster for Two. havanasrestaurant.com, 910-458-2822.
Indochine
This crowd-pleasing Asian oasis delivers consistently rewarding meals in an ornate space Take a heaping portion of tamarind-perfumed Pad Thai to-go and enjoy your comfort food on the couch, or dine-in for the full experience in the extravagant outdoor garden. Go big or go home with the Braised Vietnamese Catfish in a caramel chili-soy sauce with ginger, basil, Thai chilies, and onions. For a simpler bite, step over to the sushi corner and roll with the Fisherman's Roll featuring tuna, cream cheese, avocado, and scallions wrapped with a thin rice paper. indochinewilmington.com, 910-251-9229.
Italian Bistro Pizza & Pasta
Once known as Antonio's, this Porters Neck gem (now dubbed Italian Bistro) is cranking out crust like you've only seen in New York. But it ain't all pizza pies, calzones, and Chianti. Traditional dishes include everything from homemade meatballs to rolled and stuffed eggplant rollatini to hero sandwiches overflowing with meats and cheeses and vinaigrettes (oh my!). The restaurant's family-centric setting and reasonably priced menu invites every form of guest from date-nighters to big groups. Head online for a peek into their weeknight specials. italianbistronc.com, 910-686-7774.
K-38 Baja Grill
Beer by the pitcher and salsa for days is an accurate description of how the magic happens at live.eat.surf's original taco haven—K38 Baja Grill. The southwest flavors run wild at this beloved Mexican eatery. Since it's 1993 arrival onto Wilmington's soil, K38's Cali-fusion has been pleasing patrons near and far. Regulars never miss the Wednesday night taco specials and tourists typically get one taste of the housemade pico and end up with several containers to-go. You'll find at least one order of Mexican Street Corn—grilled and dusted with ancho chile power aioli, lime, and salty cojita cheese—at every table. liveeatsurf.com.
Brent's Bistro
Now past the hump of being the new kid on the block, this romantic, trendy restaurant has earned a loyal following. Thanks to fresh twists on southern-style land and sea-food, Brent's menu offers an exciting lineup of personalized creations that you can't get anywhere else. Begin with the gouda and white cheddar pimiento cheese-topped Fried Green Tomatoes with corn and cucumber relish. For tuna with a Tuscan spin, try it blackened over a white bean, Italian sausage and baby kale ragout with roasted garlic and plum tomato aioli. brentsbistro.com, 910-839-3131.
Michael's Seafood
Folks have loyally flocked to this Carolina Beach chowder house for nearly two decades. From the excellent ocean fare to the quirky seaside décor and sunlit outdoor patio, what's not love about Michael's? Sizeable steamer pots are the norm here, like the Admiral's Delight for Two with snow crab legs, mussels, clams, oysters and shrimp. For a specialty you'll keep all to yourself, go for the Seafood Mac & Cheese Bake—shrimp and blue fin crabmeat baked with penne pasta, smoky bacon, tossed with a four-cheese sauce and a parmesan breadcrumb crust. mikescfood.com, 910-458-7761.
Ogden Tap Room
Not all neighborhood brewpubs are quaint little watering holes with a kitchen. Ogden Tap Room prides itself on forty taps of craft beer and an extensive menu of southern-themed bar food. Yep, you've got everything you need in one place. The unique Scotts Hill Eggrolls are packed with pulled chicken, house collards, smoked ham and roasted corn and served with a fiery pepper jelly. Pair your favorite Pilsner with the Soft Shell Crab Sandwich—a fresh combo of lightly fried crab, lettuce, tomato, Bermuda onion, and creamy garlic remoulade. ogdentaproom.com, 910-821-8185.
Oceans
Hidden inside Wrightsville Beach's Holiday Inn resort, Oceans delivers vacation-style feasting at its finest. Beach bums and out-of-towners alike share equal adoration for this eatery's eccentricities from the outdoor terrace to the fruity drinks to the crashing waves in the background. Grab a casual lunch poolside like the Flounder Sandwich on a toasted mini French loaf with coleslaw and tartar sauce. Step up your dinner date game with the Heirloom Tomato Ravioli stuffed with gooey burrata in a fire-roasted tomato sauce and sautéed spinach. 910-256-2231.
Osteria Cicchetti
If it's a belly full of outrageous pizza you're after—look no further than Osteria Cicchetti. This Italian haven boasts two convenient locations—one at The Forum and the other in Monkey Junction—which are rarely without a crowd. Lovingly known to locals at "The OC," this restaurant gets rave reviews for their epic Antipasti, happy hour, immaculate customer service, and sinfully good spaghetti. Fan favorites include Veal and Chicken Marsala and the Pappardelle Bolognese—fresh wide pasta tossed in a rich, meaty sauce. osteria-cicchetti.com
PinPoint
When it comes to creating Lowcountry kitchen magic, chef and co-owner Dean Neff is the man behind the curtain. His golden touch turns everything on Pinpoint's menu (butterbean hummus, anyone?) into something otherworldly. The restaurant's interior is spacious and welcoming and the food—rooted in coastal southern cuisine—is a diverse collection of unique creations. You won't find a table without a platter of inexplicably fresh oysters, cucumber-yuzu granite, and anise hyssop-mignonette. The fish and grits (smoked local North Carolina cornmeal-crusted catfish and celery-creamed grits with green tomato slaw and lemon brown butter) is somewhat of a local celebrity. pinpointrestaurant.com, 910-769 2972.
Port City Chop House
Good luck finding a better cut of meat than what's sliced behind the scenes at PC Chop House. This restaurant proudly claims that "everything you've heard is true" and these are the kind of rumors you want being spread about you. Regulars come time and time again for the perfect steak and first-timers take one bite and never want to leave. Whether it's a romantic evening, celebratory occasion with the fam, or casual dinner with friends—guests come for the center cut, specially aged Angus Beef entrees but stay for unexpected seafood specialties like Sashimi Tuna and Grilled Chilean Seabass with jasmine rice and ponzu. chophousesofnc.com, 910-256-4955.
Platypus & Gnome
Kick things off with the infamous Candied Bacon appetizer and wash that goodness down with a Poblano Pepper Sour—a strong blend of Maker's Mark, smoky poblanos, and tart housemade sour mix. P&G is recognized for putting out esteemed dishes with an international spin like their meatball sandwich with lamb, spicy Harissa, and creamy Greek yogurt. For a light but uber satisfying meal, the Vegetarian Black Bean Chili (and about six pieces of the out-of-this-world cornbread) will treat you right in the cooler months. platypusandgnome.com, 910-769-9300.
Rucker Johns
Sure, you can find everything from burgers to nachos to tenders at this casual American eatery—but it's the salads you'll return for. Thanks to a generous selection of greens, veggies, and housemade dressings, your lunch never looked so good. Try RJ's spin on a traditional favorite, the Spinach Salad, with real crumbled bacon, eggs, Red Delicious apples, homemade croutons, and Bacon-Honey Mustard dressing. Bring the crew and get your seafood fix for dinner with RJ's Hickory Seared Tuna which spotlights yellowfin tuna dusted in a hickory molasses spice blend with a honey citrus dipping sauce. ruckerjohns.com, 910-452-1212.
Ruth's Chris
For award-winning wines, first-rate service, and the finest portions of sizzling, butter-topped USDA prime beef, look no further than our infamous Riverwalk. Tucked inside the downtown Hilton is Ruth's Chris—distinguished as one of the most elegant upmarket steakhouses you can find. For a price cut on a stellar cut of meat, make a visit during the Sizzle, Swizzle, and Swirl Happy Hour where you can get a Steak Sandwich (made with sliced filet and Béarnaise Sauce) for a steal. ruthschris.com, 910-343-1818.
Rx
There's no better prescription for satisfying your hunger than a southern, locally-inspired feast at 5th and Castle Street's RX Restaurant. Known for being one of the first eateries to bring genuine farm-to-table dining to the Wilmington food scene, RX stole our hearts years ago and still steadily wows regulars with their seasonally-changing menu. Many items are pork-tastic (like the wonderfully quirky Buffalo Pig Ears with funky Bleu cheese), but RX is equally praised for their craft cocktails and thoughtfully prepared seafood. Don't leave without a pint of the grits to-go. rxwilmington.com. 910-399-3080.
Savorez
Former home of North 4th Street's Flying Pi bakery, Savorez said "bye" to the pastry cases and "hola" to the tequila. The restaurant's colorful, cheeky vibe is a perfect partner for its name (Spanish for flavors) and embodies the cuisine well: a bold union of spicy Latin American fare and a twang of the south. Start with the Black Cadillac Margarita—loaded with fresh pineapple and lime juice and rimmed with zesty flecks of Sea Love Sea Salt—and savor every bite of the Langousta Y Coco (lobster ceviche marinated in a citrus coconut ginger sauce served with thick, housemade chips). savorez.com, 910-833-8894.
Shuckin Shack Oyster Bar
This lobster roll paradise is a one-stop-shop for oysters served by the pail and ice-cold beer that flows faster than the Intracoastal. Whether you're at the original Carolina Beach location or the Shuck's always-rowdy downtown hub—you're bound to see steam pots, seafood tacos, and piles of hushpuppies. Crack some Old Bay-scented crab legs and take some slaw for a spin any day of the week—but keep an eye out for weekday specials so you can get your Shuckin' fix at an unbeatable price. theshuckinshack.com.
Siena Trattoria
Siena's entirely from-scratch kitchen is just one of the attributes that keeps customers coming back for more. All of the ingredients for their homemade sauces, dressings, and desserts are thoughtfully sourced from local farms and fisherman. If it's smoky brick oven pizza you're after, you've come to the right bistro. Try the over-the-top Salsiccia pie with housemade crumbled sausage, mushrooms, caramelized onions and double cheese. For those at your dinner table with dietary restrictions, Siena boasts an abundant selection of vegetarian dishes and gluten free pastas and pizza. sienawilmington.com, 910-794-3302.
Tarantelli's
Good luck naming another restaurant where you can find live opera music all while watching your spaghetti get doused in whiskey and lit on fire inside a giant wheel of parmesan cheese. This newer Tuscan-style downtown eatery has had no deficit of followers and no lack of outstanding Italian wines. For a hearty, non-meat option the Pasta e Verdure with yellow squash, zucchini, eggplant, grilled asparagus, roasted red peppers, and spinach with roasted garlic olive oil in an airy Chablis lemon butter sauce will hit the spot. tarantellis.com, 910-763-3806.
The George
The George is one of the Riverwalk's top spots for sunsets, shrimp and grits, and specialty cocktails. This waterside staple features a dog-friendly, open-air patio and a menu varied enough for even the pickiest of diners. The Scallop Ceviche (day-boat scallops cooked in a house citrus marinade with diced red onions, cherry tomatoes, and pineapple-jalapeño salsa) is a refreshing reminder that the sea is nearby. If ocean fare isn't your jam, The George also makes a mean marbled grilled Angus Ribeye with red wine demi-glace and your choice of sides. thegeorgerestaurant.com, 910-763-2052.
Tavern on 17th
Practically brand new and managing to put out pub grub that stands up among the best in town, Tavern on 17th is a newbie we've happily welcomed to the neighborhood. Situated in The Pointe at Barclay, Tavern is in an ideal location for snagging a quick meal before a movie or rallying up the troops for a sports game and a pile of wings. They may be serving bar food, but they've stepped it up a notch with items like the slow roasted BBQ St. Louis Ribs and Thai Chicken Nachos with spicy chicken, Thai peanut sauce, and snow peas. tavernon17.com, 910-765-1157.
Yosake
You can find me—and many other locals—sipping sake during happy hour at this Front Street sushi house. From 5 – 7 PM, Yosake puts some of its most popular items (like Spicy Crunchy Tuna Rolls and flash-fried Firecracker Shrimp tossed in a zesty Shanghai mayo) on a half-price lineup that you can't beat with a (chop)stick. Also celebrated for their colossal noodle bowls and flavorful curries, Yosake isn't a one-trick pony. Regulars dig everything from the Tuna Tartare Tacos to the Sweet & Sour Chicken. yosake.com, 910-763-3172.