Deck the Halls
05 Nov 2017
Local designers offer holiday decorating and entertaining tips
By CAROLINE GOBBLE » Photos by KELLY STARBUCK PHOTOGRAPHY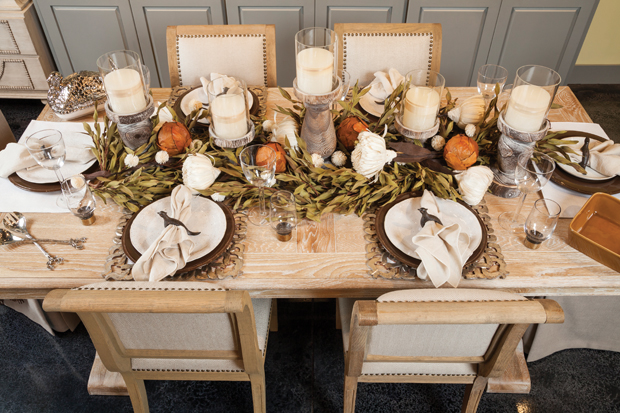 It's almost the most wonderful time of year again, with the holidays right around the corner. Whether you are throwing festive gatherings or decking the halls with cheer, local interior designers have some wonderful tips and inspiration to help you create your own festive home and tablescape for the holidays.

Lou Anne Liverman
Nest Fine Gifts and Interiors

At Nest Fine Gifts and Interiors, a unique home furnishings boutique that offers interior design and decorating services, the annual holiday tablescape focuses on fall and Thanksgiving. Lou Anne Liverman, a designer at Nest, brings the outside in by using natural looking elements on her tablescape that offer a subtle repetition of color and texture, inducing a calm and soothing ambience. One of her DIY holiday decorating tips is to go outdoors for fresh and fragrant décor because, "nothing says holidays like the natural and earthy looks and aromas of cedar, pine, and magnolia!"

Liverman explains, "In the early stages of any creative thought process―including this tablescape―I like to think what would be the most conventional décor, and then I try to think outside the box from that. I'm inspired by the challenge to do just a little something different, while continuing to honor the season and/or holiday."

The color palette she chose speaks to her desire to create unique designs by focusing on deep browns, muted greens, and subtle silvers, with a pop of traditional orange, rather than using all traditional fall colors like gold, red, and brown. This color palette helps offer an earthy, natural look which is perfect in reflecting the autumn season. The orange balls in the centerpiece are preserved Langka leaves, adding the perfect pop of color against the soft whites and greens in the centerpiece.

Another tactic Liverman implements when designing tablescapes is choosing the centerpiece first and working down and out from there. She explains, "With this table, I chose garlands of brown and green leaves first and then added and intertwined a variety of cream, handmade bamboo mums and pom-poms for additional texture and soft white color. And then, because I believe you can never have enough candlelight anywhere, I chose five, not one, distressed, natural wood candle pillars with cream candles." Another one of her DIY holiday decorating tips is to use candles to create a romantic and glowing ambiance that makes your home cozy and welcoming.

For the place settings, Liverman chose a mix of elegant and casual pieces, to create an earthier, natural look, full of texture, for a Thanksgiving table. The glassware in the place setting is long-stem, elegantly understated wine glasses along with glasses with ombre-tip bases, offering additional depth to the tablescape. She chose intricately cut, silver-gilded wooden square placemats that are complimented by over-sized deep chocolate charger pIates. She says, "The dinner plates are more casual in keeping with a "natural" theme. Reminiscent of pottery, they are cream with speckled, deep brown reactive glaze. Contrastingly, I used cream linen napkins with deep brown pheasant napkin rings."
Together, all of these natural, textural, and earthy elements work together to create a serene and elegant table for Thanksgiving and the autumn season. For the holiday season, Liverman recommends thinking outside the box of traditional holiday colors, using lots of candles, and bringing the feel of the outside in to help create the perfect mix of looks and aromas for an organically elegant, and casual, holiday home. 910-256-6378, nestfinegifts.com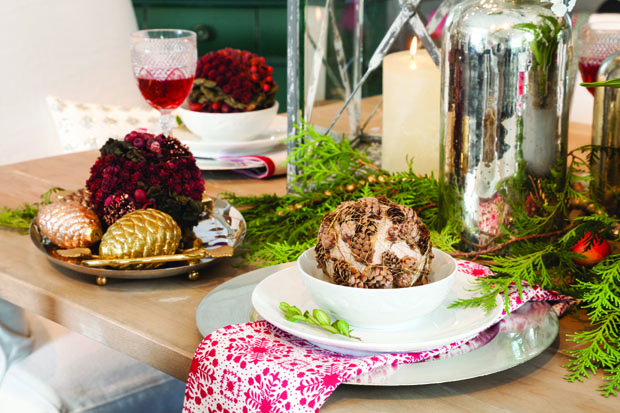 Debby Gomulka
Ethan Allen
Though Debby Gomulka launched her own boutique interior design firm, Debby Gomulka Designs, in 2000, she most recently joined Ethan Allen's design team here in Wilmington, NC. The exquisite tablescape she created is called "A French Country Christmas," which combines magical, shiny elements like Mercury glass canisters and gold accents with elements from nature, such as pine cones, evergreen garland, and sprigs of boxwood. She also includes pops of red pomegranates and authentic Victorian handmade ornaments at each place setting for extra shine and splash of color.

Gomulka explains, "A combination of natural elements, the rustic reclaimed wood dining table and gorgeous centerpiece mixed with the stunning black and white awning covered bench give it a trendy vibe." The table is a reclaimed wood farmhouse table, and its floral centerpiece boasts winter white accents to set the mood for a cozy and elegant Christmas dinner. "Twinkling candles in dramatic hurricane glass lanterns and evergreen branches twine throughout the setting to set the stage for a French Country Christmas," says Gomulka.
The French Country-inspired place settings are simple, white dinner plates and bowls over red and white linens and silver chargers. The glassware is elegant, stemmed glasses with an etched design. Gomulka explains, "I have included a few of my favorite things, with elements of a by gone era. 'Elegance and simplicity' is the underlying French Country theme, with layers of texture and a splash of Christmas red! Festive French martini cocktails are ready to be served to each guest―won't you join us for Christmas Eve dinner?"
Next to the table, Gomulka created an authentic French vignette whose focal point is a stunning ceramic jar with wonderful texture. She used white florals to add to the understated French elegance and twinkling candles create mood and the boxwood sprigs say, "Merry Christmas!"

Gomulka recommends using candles to add sparkle and festivity to your holiday color. She also says to use neutral colors and natural elements with fresh greens mixed with white elements, as illustrated in her tablescape's centerpiece and dishes. Beautiful linens also add colorful accents at each place setting, and you can complement them with a fun jingle bell. Lastly, her tip for DIY is, "Decorate with a French attitude, "je ne sais quoi!" Confidence rules, with a chic and elegant flair!" 910-352-7339, debbygomulkadesigns.com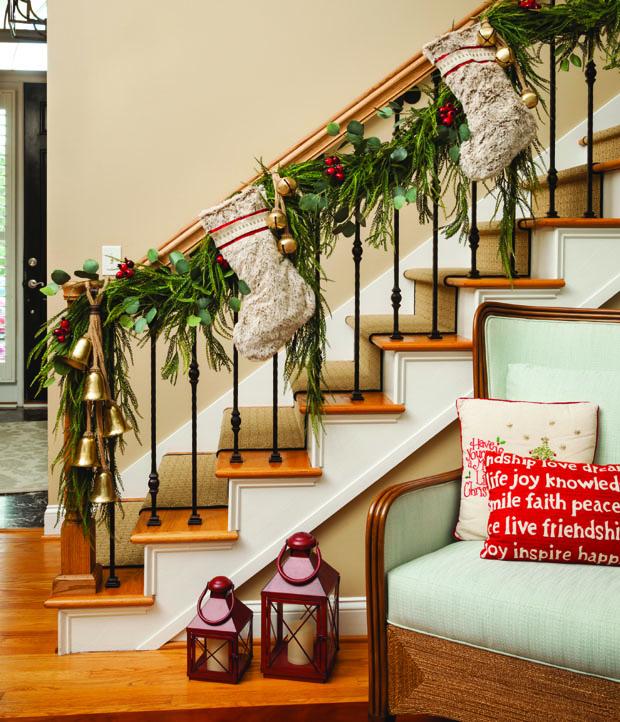 Ayla Schares and Rileigh Wilkins
Big Sky Design
Big Sky Design is a full service, licensed interior design company, offering complete commercial and residential interior design services. As they celebrate 20 years in business this year, Big Sky Design still follows the mantra, "Design is a choice, make it yours!" The team at Big Sky helps make designing unique to each client, completing high-end custom homes, renovations, and large and small-scale commercial projects. Big Sky's commercial projects range from aquariums, corporate offices, local iconic projects such as the YMCA, Wrightsville Beach Town Hall, Hoggard High School, to medical practices, banks, law firms, schools, hotels, and restaurants. Big Sky's creation, Bea, is North Carolina's first and only Mobile Boutique. Bea is perfect for residential clients who want to tackle individual rooms, or who may have more immediate accessory/drapery needs. Bea brings great design directly to you.
A great holiday design from Big Sky team members Ayla Schares, Interior Designer, and Rileigh Wilkins, Special Projects Manager, is a festive holiday mantle in a client's home. They used tall accessories on the hearth to balance the tall height of the mantle, and they also played with scale by mixing in candlesticks at varying heights. One DIY tip is to spray paint old candlesticks rather than buy new ones. It's an easy and inexpensive way to incorporate a pop of color.
Schares says, "Mantles are always our favorite to decorate, because the options are so unlimited. We changed out everyday accessories in the bookcase with holiday decor and red accents that relate back to the mantle."

The Big Sky team used natural elements like greenery, berries, and pinecones. One tip Wilkins recommends is, "When shopping for florals and greenery, don't limit yourself to the holiday section. We chose nontraditional greenery, like olive branches and dried eucalyptus, to incorporate texture, movement, and softer greens." Big Sky designers also replicated the same textural greenery that is on the mantle into the staircase, which creates a flow throughout the home. They also hung stockings on the staircase instead of the mantle, and they added a decorative fringe tape and ribbon to the stockings for a unique touch.

Schares explains, "We had previously worked with our client to design multiple areas of her home, but specifically in the living room." Big Sky worked with the client to create the custom stone fireplace hearth and Cape Fear River wood mantle, the ceiling beams, furnishings, and window treatments. The team was familiar with the home and knew the perfect way to decorate the mantle for the holidays.

The Big Sky team strives to be advocates of great design, no matter the project size or type. "We use thoughtful elements in spaces that provide visual interest, whether they are serene color combinations or artful juxtapositions of textures or patterns, we hope to evoke special experiences specific to each project," explains Jennifer Kraner, owner of Big Sky Design. "We also use classic design principles in our process mixed with the latest design trends and exciting new materials."
Big Sky is thrilled to also open its doors on Masonboro Loop in December. The boutique will be open Monday through Friday, offering to–the–trade resources to anyone. Those who would like to stop in for resources at their fingertips; draperies, decorative lighting and accessories, furnishings, and artwork...stay tuned! 910-793-3992, bigskydesignonline.com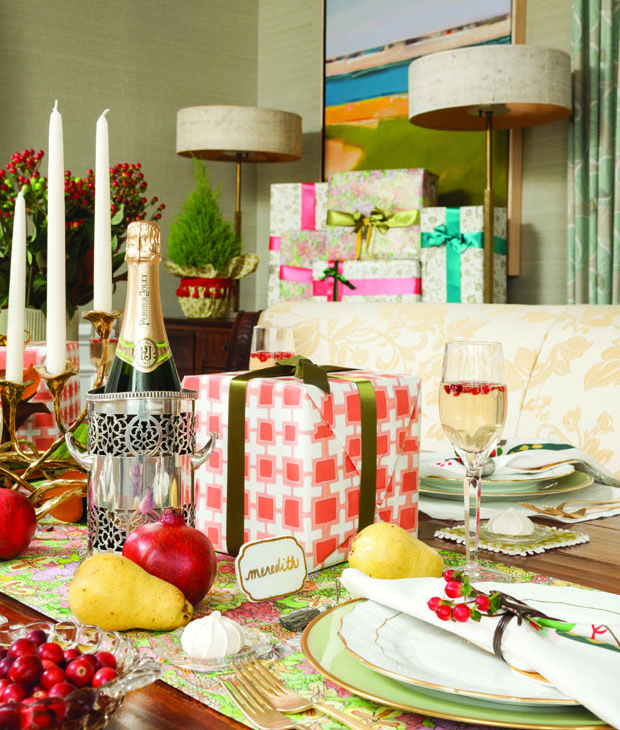 Liz Carroll
Liz Carroll Interiors

Clean. Fresh. Livable. That is the mantra of Liz Carroll Interiors, who offers hands-on, all-inclusive design services for a single room. Carroll's team takes a unique, systematic approach to design a custom space for each of their clients. "Over the past 9 years, we have established strong relationships with exclusive to-the-trade vendors, both locally and internationally. This ensures we are able to source unique, one-of-a-kind custom furniture, lighting, flooring, and more for every budget," explains Carroll. They also partner and work closely with builders, architects, and general contractors to ensure each client's vision is brought to life. In 2017, Carroll and her sister, Charlotte Harris Lucas, launched House of Harris, a high-end fabric and wallpaper line that features whimsical patterns and vibrant colors, with a decidedly modern flair.
For the holidays, Carroll created the perfect vision of a best friends' holiday brunch. Her tablescape offers a festive spin on Christmas decorating, using fresh colors and fun pattern combinations to create a more modern holiday feel. "The light and bright colors were inspired by my new fabric and wallpaper collection, House of Harris. We pulled in a number of patterns from the House of Harris collection and used them for table runners, napkins, coasters and wrapping paper," explains Carroll.

Down the center of the table is a floral table runner, which is a tightly woven, colorful bouquet of flowers and, as Carroll says, "is granny chic done right!" The floral pattern is also a fun way to bring the outside inside! Another way she brings the outside in is through the use of eye-catching bird napkins. "The Windwood peacock jazzes up a standard white dinner napkin. We added tassels on the corners to make it special for the holidays," says Carroll.

The holiday brunch tablescape uses coasters to add another layer of pattern mixing, and Carroll explains that small geometrics are a good anchor for pattern mixing. She mixes contemporary and traditional looks by using green and gold chargers, adding a classic touch to ground more modern elements. Another way to add a pop of color to your holiday table is with seasonal fruit, and in this tablescape, the pomegranate seeds in the champagne add a festive and colorful touch, as do the pears and apples decorating the table. The use of magnolia leaves and flowers also add a natural feel and some color. As Carroll exclaims, "Every room needs a little great!"
The table's focal point is the unique centerpiece, which is a gold candelabra with white candlesticks. The intertwined magnolia leaves add natural details and texture to the table. Lastly, Carroll used nameplates at each place setting, which are a personal touch to make guests feel special. She also explains, "we turned our House of Harris patterns into wrapping paper for the table and loved mixing multiple ribbons when we wrapped the gifts. A small velvet ribbon on top of a wide satin ribbon made such a lovely impact."
In making suggestions for DIY holiday decorating, Carroll says, "Christmas decorating doesn't always have to be traditional red and green. Mix contemporary linens with traditional china for a new combination. There is a visual interest when appropriately mixing patterns. Combine a large scale piece like the statement bird, and mix it with a tight floral and fun geometric pattern." Using a variety of patterns, natural elements, and a combination of contemporary and traditional colors, linens, and china is the perfect way to make your home ready for the holidays! 919-352-2416, lizcarrollinteriors.com