A Glowing Circle
07 Jul 2018
Judy Girard's professional journey paved the way for the opening of Wilmington's first all-girls charter school

By TERESA McLAMB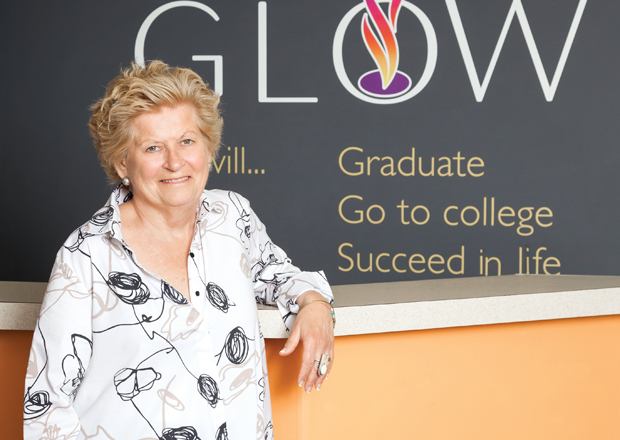 When a project she led at Disney proved unsuccessful, television executive Judy Girard did what any sensible woman faced with a career dilemma would do: she climbed Mt. Kilimanjaro.

Totally out of her comfort zone, but knowing she needed to shake things up a bit, Girard accompanied two television executives who were in "very good shape." The men didn't make it to the top. "They went up too fast," she said.

The top of the mountain is all snow. To make the trek safely, climbers travel by night when the snow is firm, but the atmosphere is extremely cold. "I had a 16-year-old Sherpa who spoke no English. I got about one-fourth of the way [through the night trek] and said, 'I can't do it.' He took my walking stick and put it behind his back and motioned for me to hold on. That kid took me, really dragged me, all the way up the mountain. It was the first time ever that I let go and depended on somebody else to complete something. It was a complete surrender. When we got to the top and saw the sunrise at 23,000 feet, there was satisfaction in that."

There was also an awareness that ties into her dedication to mentoring, which she did in New York and has continued since moving to Wilmington.

Girard describes herself as a terrible student who likely had undiagnosed ADHD, but whose mother insisted she go to college. Despite her grades, she was accepted into Ithaca College's new broadcasting program where her roommate was Jessica Savitch, who later became one of the first female anchors in the nation, at a time when women were allowed to report the weather and not much else.

Through the college radio station, the two teamed up to interview big acts coming into nearby Cornell University. "Jessica could talk anybody into an interview, including Bob Dylan who sat for 45 minutes with her. Rod Serling was teaching there then too, and he was a great mentor," said Girard. The two helped her realize she was "pretty good" at television. "You've got to have 60 balls in the air at one time and not stress, and I was perfectly matched for that. All of a sudden I found all of my weaknesses were strengths," said Girard. She advises the girls she mentors to embrace their weaknesses.

"Because of what I did for a living, I could tackle GLOW (Girls Leadership Academy of Wilmington), particularly in the beginning, so it's kind of the completion of the circle. What it all has in common is giving women a chance in life."

Girard's chances in life took her from a year-long internship with Triangle Broadcasting in Philadelphia (thanks to a recommendation from Serling),

through a series of increasingly challenging positions. "Part of it was due to the women's movement," she said, which resulted in a quota system forced by the FCC. "I got put in a couple of jobs I was in no way ready for."

Despite a long-distinguished career, Girard may be best known for what she says is the "smallest job I ever had." The Disney project had shut down; she took a year off and climbed Mt. Kilimanjaro and met future husband Richie Karoon. "Big companies were making me crazy and small jobs weren't too interesting."

The owner of the Food Network contacted her about taking over the struggling network. "I'd come off of Lifetime, NBC and Disney. What was this little category network?" she said. Girard admits to taking the position because she thought her relationship with Karoon was getting too serious. Not only did her decision to accept the position lead to 8 professionally successful years as President of Food Network and later, HGTV, it forged relationships that would later prove to be a blessing in pursuit of a passionate, future endeavor.

The divine providence she sees in her entire adult life took over. "For Food Network to be so supportive of GLOW and to get it started in this town is just an amazing circle to me," said Girard.

By now, GLOW supporters and local residents know Girls Leadership Academy of Wilmington is affiliated with a network of girls' schools which originated in New York and for which Girard volunteered. GLOW opened in August 2016 as the state's first all-girl charter school. It targets girls from households with minimal resources. The initial class welcomed 100 girls and had a long waiting list. There are currently 300 students.

After Girard and husband Karoon moved to Wilmington, a chance conversation with Gloria Miller (former UNCW Chancellor Gary Miller's wife) resulted in a scouting trip by local officials during which a pact was made to bring the concept to Wilmington.

Girard's friend and former co-worker at NBC, Ann Rubenstein Tisch, had founded schools in New York City to address the needs of at-risk girls. Young Women's Leadership Network (YWLN) operates The Young Women's Leadership Schools (TYWLS), all-girls public schools, and College Bound Initiative (CBI), a co-ed college access program.

Tisch's goal was and is to provide students growing up in low-income communities with a high-quality college preparatory education modeled upon the finest private schools.

Girard was doubtful the model of the 16 schools would work in such a small town, but Miller grabbed the idea and ran with it. Within two weeks, the two women were on a plane with the mayor, district attorney and school board members headed for the Harlem School.

"In LaGuardia on the way home, all seven of us decided to try it," Girard said. "When people refer to me as the founder, I get nervous because I couldn't have brought those people together. I didn't even know the people."

In the short time the school has existed, Food Network celebrity chefs have helped to raise awareness and thousands upon thousands of dollars, through local fundraisers towards the school's operation and construction of a permanent campus on 30 acres near Maides Park.

Groundbreaking for the new school took place in May. Anticipated move-in is fall of 2019, a full year earlier than initially hoped. "This town has been unbelievably supportive, beyond any of our wildest imaginations," said Girard.

"Building the culture of the school among the students is one of the ongoing challenges," Girard said. The second and third years are the hardest as 100 new students are introduced to the culture each year. That culture includes total commitment to study, to be supportive of fellow students, and to complete college. "By the fourth year, you have at least two years where kids have the culture, the goals, and accept their ability to go to college," she said. Nonetheless, the first seven years are tough; they know they'll be in a growth process until 2023. That process involves the hiring and training of additional staff. "All the schools have made it. All have 98% graduation rates," said Girard. The Wilmington school also has all the other schools as resources. "The formula is a lot of extra programs, electives and trips to colleges," she said.

Other towns are taking notice. Inquiries have been made from people in Winston-Salem and Raleigh who are interested in opening affiliated academies.

"I'd love to see them all over the state," Girard said. "The need is there, but I don't want to see us take on too much."

The success, after all, requires helping each other, guiding each other, and sometimes letting go, just as she did on a cold snowy night just before a glorious sunrise.