The Savvy Sweets of Summer
07 Jul 2018
Nothing says summer in the South like sweet and juicy…Fruit, that is.

By EDNA COX RICE, RDN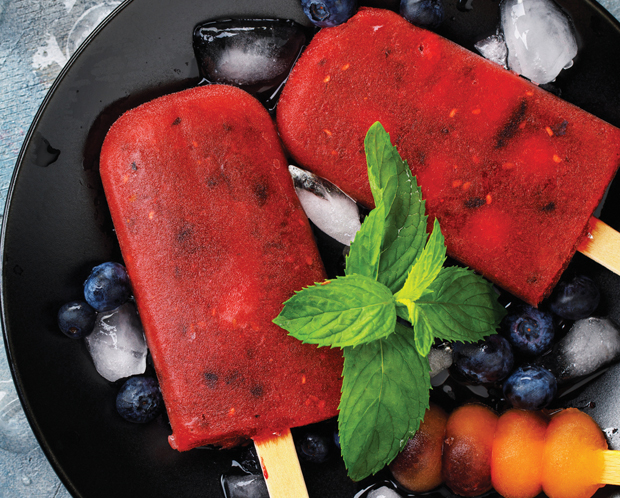 Blueberries, peaches and watermelon are among summer's top super foods and among the top crops here in the South. You can find locally-grown strawberries in early spring, blackberries and blueberries from May to August and peaches, nectarines, cantaloupe and watermelon all summer long.

These colorful and fun-to-eat sweets are savvy because they're abundantly good for you. Research verifies that as plant-based food consumption increases, the risk of all lifestyle related diseases such as obesity, diabetes and heart disease decreases. Enjoying three or more servings of fruit daily is associated with lower weight, increased energy, healthy skin and hair, and slowing the aging process.

Berry Good for You

Berries are packed with powerful antioxidants, Vitamin C, and fiber. These nutrients are effective in reducing inflammation, protecting against infections, and slowing memory loss. Give your brain a boost with a bowl of berries.

Healthy From the Inside Out

Peaches and nectarines don't just taste good, they are especially rich sources of Vitamins A, C, and E. These nutrients work together to support the immune system and to give your skin a healthy glow.

Keep Hydrated All Summer Long

It's easy to lose your cool and your energy under the Carolina summer sun. Cantaloupe and watermelon, quintessential take-along snacks for summer picnics and cookouts, can help ward off dehydration and combat heat. An added plus is their refreshing taste provides an easy, guilt-free dessert for kids of all ages. Their high Vitamin C and potassium contents are beneficial in helping to decrease blood pressure.

Easy to Add to Your Diet

Purchase these sweets during the peak of their season to enjoy the best flavor, optimal freshness and highest nutritional value. It's easy to add summer sweets from the beginning to the end of your meal or your day.

Pop 'em in your mouth as a snack. Grab a handful of berries, slices of peaches, or cubes of melon any time. Keep a bowl of prepped, sliced or cubed fruit in the fridge and pop one or two pieces the next time you're peering into the fridge looking for a sweet treat.

Top 'em as a protein boost. Add berries, peach slices, or melon to fat-free Greek yogurt or fat-free cottage cheese. Want dessert? Top 'em with fat-free whipped topping or a dark chocolate sauce.

Toss 'em into a bowl of hot or cold cereal. Or throw berries, sliced peaches, or melon into a mix of nuts for a healthy satisfying snack.

Bake 'em into muffins, breads, cookies. Or treat the family with a satisfying blueberry, peach or raspberry crisp or cobbler.

Smooth 'em by blending berries, peaches, or melon with your favorite ingredients into a smoothie for breakfast or a healthy snack.

Drown 'em by adding berries, peaches and even watermelon to iced tea, lemonade, or water for a burst of fruity, vitamin-filled flavor. Or mix up a pitcher of homemade sangria.

Nothing compares to the savvy sweets of summer to refresh your senses and give your body an extra boost of nutrients to keep it healthy and vibrant all summer long!
---
Easy Frozen Fruit Pops

12 oz. fat-free vanilla flavored yogurt

2 cups chopped fruit – berries or peaches

1 tablespoon honey


Put all ingredients in a blender or food processor and mix until smooth.
Divide mixture among six –6 oz. paper cups and cover cups with foil (or fill ice pop molds following manufacturer's directions). Insert popsicle stick into center of each cup.
Freeze for about six hours or until frozen.