A Romantic Escape Plan for Two
30 Dec 2018
For a lot of couples, Valentine's Day is the most stressful of holidays: how do you flaunt your love without giving in to cliché, or, worse, watching what should be a romantic evening implode under the weight of expectation?
This year, take the pressure down a notch or two and get out of town—where for a day, a weekend or even a week, you can break out of the day to day routine and focus on something, anything, else. Which, if all goes as planned, might be each other.
To get you started, we've uncovered two escapes, one near and one far, where romance can be whatever you'd like it to be.
By KATIE MCELVEEN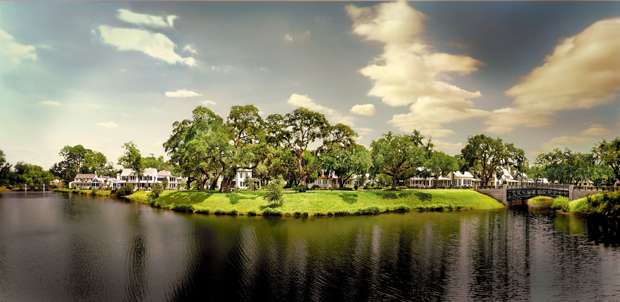 The Near
Montage Palmetto Bluff, Bluffton, South Carolina
Whether your romantic taste runs more toward nature or nurture—or a little bit of both—you'll find happiness at Montage Palmetto Bluff, a 200-room activity-filled resort located just outside of Bluffton, South Carolina.
First the nature. Set on 20,000 acres of pristine marsh, shady forest and open wetland, all hemmed by three rivers, Palmetto Bluff is, at its heart, a celebration of the lowcountry landscape. Overseen by the Palmetto Bluff Conservancy, the resort's natural areas are crisscrossed by low-impact trails where sharp-eyes explorers might spot elusive bobcats lounging on centuries-old live oak trees, shy deer grazing on new shoots and alligators sunning on riverbanks. There are guided explorations as well, including naturalist-led kayak trips that are regularly "interrupted" by sightings of dolphin and river otters, field trips into remote areas where the Conservancy has established breed-specific habitats and history walks with the Conservancy's staff archaeologist through graveyards, plantation ruins and other sites. There's also a fly-fishing academy, shooting club, equestrian facility, guided inshore and offshore fishing expeditions, racquet sports and golf.
Feel free to get creative, by, say, cycling the three-or-so miles from the main inn to Moreland Village for drinks or dinner, and calling a golf cart to deliver you back to your room after dark. Your bikes will be fine until the next day.
Romantics in search of nurturing creature comforts will find them at Palmetto Bluff as well. Start with the rooms, where private terraces overlook the river, a lake or a garden and large bathrooms are outfitted with extra-deep soaking tubs, large showers and double sinks. For sheer indulgence, book a river view cottage suite, where you can nap on a screened porch overlooking the May River, relax by the fire and enjoy complete privacy in an elegantly furnished suite—think heart-pine floors, Oriental rugs, marble bathrooms and a mile-high four-poster bed--that's larger than many apartments. It's the perfect place for room service and a bottle of Champagne.
Meals are served in a variety of settings within the grounds; try the plush Canoe Club, where you can sip your pre-dinner cocktail from a rocking chair on the second-story porch; the elegant Cole's, with its hand-made bar constructed of tabby, a traditional lowcountry material utilizing oyster shells, or the breezy Octagon Bar, where there's always vibrant energy and, often, live music. For each restaurant, master sommelier Jesse Rodriguez has crafted a distinct wine list from the resort's cellar, which contains nearly 3,000 choices, including rare vintages from Bordeaux and Burgundy, cult Napa Cabernets and a selection of whites and sparklers that may have you rethinking that pre-dinner glass of California Chardonnay.
If you really want to impress your Valentine, book a half-day of bliss in the couple's suite at Spa Montage, a sun-splashed oasis with twin massage tables and side-by-side tubs. Arrive early enough to take advantage of the European-style steam rooms, sauna, cold plunge and whirlpool before your treatment; then get ready for the May River Revival, a signature therapy that combines a rejuvenating, mineral-rich pluff-mud body mask with a deeply relaxing hot stone massage.
On your last night, grab a cocktail, set yourselves on one of the resort's many porches and discuss which you loved more: the nature or the nurture.
The Far
Banyan Tree Cabo Marques, Acapulco, Mexico
Don't be surprised if it takes longer than expected to check in at Banyan Tree Cabo Marques. The problem isn't a slow computer system or lack of staff. Rather, the issue will be you, floating around the open-air lobby so you can take in all the angles of the view of the Pacific that dominates the serene space.
Luckily, the scene is equally glorious from your room, an indoor-outdoor complex set with an oceanfront infinity pool and a private sundeck complete with comfy lounges. Inside, two walls of floor-to-ceiling windows mean you can continue to gaze into the sea from your bed or the bathroom's deep soaking tub. It's so compelling you might not notice that, beyond the fragrant rainforest hemming the other three sides of your villa, it's the only thing you can see. Yes, there are other villas (45 to be exact), but thanks to a bit of clever design, you can remain blissfully unaware of their presence until you emerge from your nest.
Our advice? After breakfast on the terrace and perhaps a brief stroll along the shady paths that wind through the resort, call for a golf cart to take you to Las Rocas, a tree-shaded bistro overlooking a rocky beach where you can order lunch—try the spicy fish chowder and addictive guacamole--from your Bali bed or one of the umbrella-covered tables nearby. From there, move on to massages or facials in the resort's spa, where therapists trained in Thailand, where Banyan Tree is based, perform treatments in one of seven two-level spa suites outfitted with shower facilities and an in-ground bathing pool. Therapies—Thai massages, pampering facials, rain-forest showers--begin with a ritual foot cleansing and end with 30 minutes of quiet time to sip tea, nibble passion fruit and enjoy the quiet buzz of relaxation. There's also a state-of-the-art gym, a cooking school and formal tastings of tequila and mescal, which are served with various salts and fruits to highlight their remarkably varied flavors.
Banyan Tree's cliffside location is particularly advantageous at sunset, when the already stunning views become bathed in hues of pink, scarlet and gold. One night, join the fun at the lobby bar, Las Vistas, where you can toast the evening with other guests and sample a nearly infinite variety of artisanal tequilas. On another, head to La Nao, which is tucked into a garden strewn with red lanterns. Be sure to wander over to the resort's infinity pool, which reflects the colorful scene like a mirror, then stay for dinner, where you'll discover the sophisticated side of Mexican cooking in the form of dishes like salmon with cucumber "tagliatelle" and pine nuts; coconut soup with roasted shrimp and blackened tuna with huauzontle—a local grain—lemon and corn ashes, a delicious byproduct of tortilla making. Round out the meal with Mexican-style tiramisu scented with orange and chocolate.
At least one night, dine at Saffron, a signature Thai restaurant with a location at each Banyan Tree property. Like the spa therapists, Saffron's chefs receive rigorous training in Thailand before taking over the stove at a resort; the result is a rare opportunity to indulge in truly authentic Thai flavors without traveling to Thailand. Consider starting with a lychee martini before moving on to satays, tom kha gai—Thailand's famed kaffir-lime-scented coconut soup—grilled fish in a sweet, fiery sauce and, to finish, tangy tamarind sorbet. Arrive early: the setting—the restaurant is perched on an outdoor dining patio that offers yet another perfect view of the sunset.