A Step Back in Time
21 May 2014
Retro Dixie Grill has modern-day appeal
By BRIDGET CALLAHAN » Photos by JAMES STEFIUK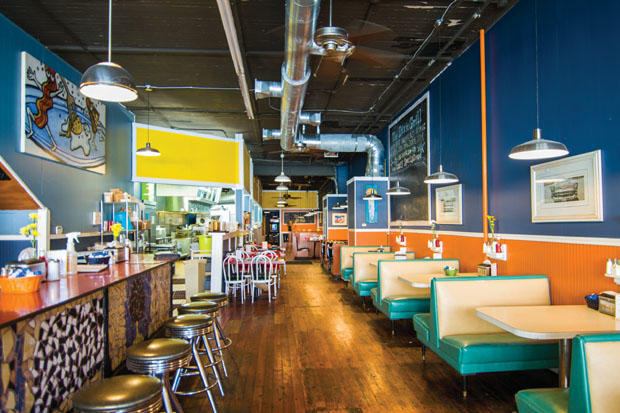 ON A WEDNESDAY MORNING AT 10A.M., Market Street is fairly quiet. Summer is about to start, and the anticipation hangs in the air. Delivery trucks are parked in front of bars and restaurants, a few stray people are walking in the warm sun towards the river.
Inside the Dixie Grill, a friendly, tattooed waitress with teal blue keds is pouring coffee, and bringing out plates of eggs and their famous Louisiana Hash to quiet men in work clothes who congregate in the blue and cream colored vinyl booths, having either a late breakfast or an early lunch. The space inside is deceptive ― it stretches long to the back, belying the building's historic pool hall origins.
"You used to get a bowl of beans every day for lunch, and a ham sandwich, for three bucks", Allen Quigley, one of the owners of the Dixie Grill, tells me. Allen became partners with Brian Mayberry a little over a year ago. Mayberry took over the Dixie thirteen years ago, but the restaurant itself has been a Wilmington staple since 1906.
"One of the cool things about this place is how long it's been around, and the people who continue to come on a regular basis. We have these two old timers who have been coming for thirty to forty five years. They come every day between ten and eleven, and they sit there playing cards until their parking meters run out," Quigley says. It's the little things like that, the sense of town community, which make the Dixie Grill a downtown gem.
There are many elements of the Dixie Grill that evoke Diner Americana ― the red top laminate counter with bright yellow baskets of creamers, the vinyl and chrome bar stools, and the crew of young waitresses in matching black t-shirts that hover around, pouring refills and bringing hot sauce. Look closer though, and you'll notice how deftly the space blends modern hip decor with its retro tradition ― from the local art work on the walls to colorful, abstract tile mosaics.
The menu has come a long way from a bowl of beans. Regulars already know about the Dixie's classics, like huevos rancheros and cheesy shrimp n' grits. But this summer they'll get an opportunity to try out an expanded burger menu, featuring new items like the Jamaican Jerk burger with charred pineapple, cherry peppers, and ghost pepper jack. Quigley says they are trying to expand their healthy menu items, offering gluten free, vegan, and vegetarian options.
In a move guaranteed to thrill lots of downtown locals, starting the weekend of Azalea Fest, April 12th, the Dixie Grill will be staying open later, serving the full menu and a full bar. The restaurant will be open until 10pm, Wednesday through Saturday, all summer. In addition to their catering packages, Quigley and Mayberry will also start highlighting a different local non-profit every month, with fundraiser dinners and table literature. The goal is to raise customer awareness of the amazing community work being done in the Wilmington area today.
But even with all the new plans, it's important to Quigley that their current regulars still have a familiar place to come to.
"It's just great history, and we're trying to keep that going," he says. "You know, improve it, but not change it."
The Dixie Grill
116 Market St., Wilmington
910-762-7280
Hours: 8:00am - 3:00pm daily