Alluring Aruba
19 Jan 2016
Peek behind the upscale tourist haunts and you'll find secluded, unspoiled and incredibly beautiful areas that complete the mélange of cultures and coastlines found on this Dutch Island.
By KATIE MCELVEEN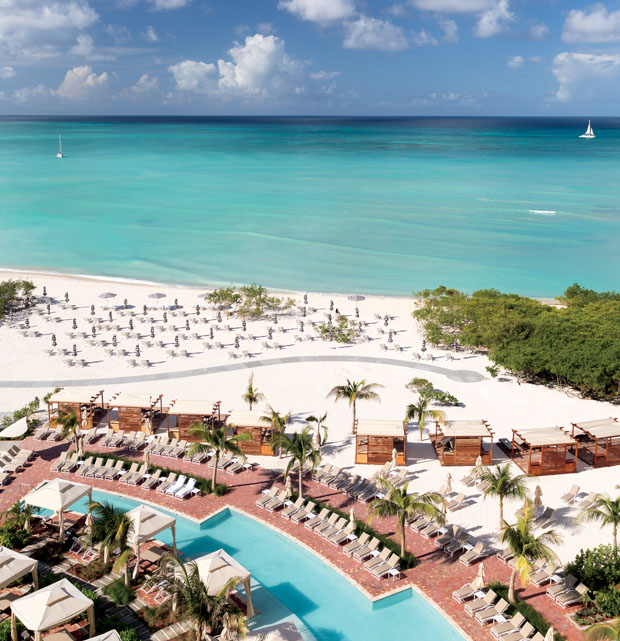 With its abundance of luxury high-rise hotels, designer boutiques and glitzy nightclubs, Aruba doesn't lure escapists the way some of its island neighbors do. But don't write off the island as an overdeveloped tourist mecca. Dig a little deeper and another Aruba – one brimming with secluded beaches, untouched landscapes, tiny local restaurants and a kaleidoscope of cultures – begins to emerge.
The smallest in a triumvirate of Dutch isles that also includes Bonaire and Curacao, Aruba is a study in contrasts: the south and west coasts are lined with gorgeous beaches lapped by the calm Caribbean Sea; the north coast's aggressively rugged landscape more closely resembles a dormant volcano than a tropical isle. At night, visitors dress to impress at the casinos along Palm and Eagle Beaches; days are spent on outdoorsy pursuits like hiking the trails of Arikok National Park and windsurfing the breezy coastline.
Restaurants within the hotel zone are refined and expensive, often with celebrity chefs at the helm, while those in neighborhoods—called cunucu houses—are casual affairs serving Aruban specialties like Keshi Yena, which makes marvelous use of Gouda and Edam cheese shells by filling them with a flavorful chicken concoction that resembles country captain.
They do wonders with seafood as well. Zeerovers is a popular outdoor restaurant where the fried fish and shrimp arrive dusted with a translucent glaze of peppery crumbs and the pan bati – Aruban-style cornbread – is more addictive than the fries, which are also pretty good. There aren't many choices on the menu, which is actually a board hung next to the window where you order and pay, but no one seems to mind. It's about the fish, the view into the impossibly blue lagoon and the laid-back atmosphere.
Zeerovers isn't alone. All over the island, local chefs are serving up memorable meals using traditional ingredients and cooking techniques. At Arubaville, for instance, fish steamed in banana leaves was simple and perfect. Ditto the whole grilled snapper at Boca Prins Bar and Restaurant, which came with a view of a deserted, wind-swept beach and a basket of the addictive fried polenta known as funchi that needed refilling more times than was polite.
Beyond the beaches, that intimidating north coast is also worth exploring. Take a jeep into Arikok National Park, and you'll enter a world of caves, giant sand dunes, a sandless beach that resembles a moonscape and, at Boca Keto, the chance to swim in a natural pool that Robinson Crusoe would have loved. Getting there is half the fun, requiring a bumpy ride on a steep single track littered with boulders and deep ditches, then a short hike up and down a pebbled slope that ends, more often than not, with a splash into the hidden pool. Fed by rogue waves that crash without warning over the pool's lava-like walls, the pool stays clear and cool no matter how many swimmers are paddling about. A second pool, shallow and sun-warmed, is the reward for a precarious climb up a slippery boulder; exiting requires cannonballing into the main lagoon. But not all of Aruba's beaches require sharing or such a commitment to reach them: the island's coastline is filled with narrow strips of sand hidden behind mangroves or set along a quiet roadway that open onto clear turquoise water.
Varied lodging options make it easy to find your own experience as well. Unlike many islands, Aruba is filled with small boutique hotels that offer tranquil spaces and well-chosen amenities. At the Boardwalk Inn, for instance, sisters Stephanie and Kimberly Rooijakkers have curated a series of Treasure Boxes to help guide guests to some of their favorite spots on the island. Amsterdam-trained chef Bas Kuurstra creates the gourmet breakfast they deliver each morning to the resort's funky art-filled casitas, which are also outfitted with outdoor charcoal grills. Manchebo Beach Resort's daily Pilates and yoga classes, which are held on a beachfront pavilion, are known throughout the island. Don't forget to grab a homemade smoothie on the way out.
The 320-room Ritz Carlton is known as much for its pampering service as it is for its spa treatments, which were developed with the advice of a Curacao-based herbalist and utilize hand-gathered herbs, minerals and botanicals. "Aruba is not only very pure, but it contains several energy lines as well," says Karin Cofino, the resort's director of Spa and Retail. "One of those energy lines runs right through the area around the hotel."
One of the most healing therapies is the Dushi Terra, a two-hour treatment that includes a body mask composed of house-made red clay to hydrate and diminish aches and pains, envelopment with soothing honey and comforting coconut oil and a rubdown with stones picked up from one of the surrounding beaches. Then there's the Divi-Divi massage, which harnesses the power of the indigenous divi-divi tree to smooth cellulite and slim the body. "This treatment was developed by our therapists," says Cofino. "The strokes used resemble the wind, the leaves and the sun." The Candelo Deseo couples' experience is based on an ancient spiritual bath used by the Arawak Indians and includes a scrub, massage and bath infused with local herbs and blossoms. It was developed using an ancient blend of flowers and herbs said to balance each of the body's seven chakras, or centers of energy.
No matter what treatment you choose, arrive in time to spend time in the 15,000-foot spa's elegant public areas, where sugar scrubs inspired by the elements take showers to new heights (choose from fire, water, air and earth scents), even the teas are formulated by Aruban artisans.
Set within a grove of sea grapes at the quiet end of Palm Beach, the Ritz Carlton is both a well-positioned base to explore the island and a quiet oasis to enjoy the sunny beach. Rooms are decorated in soothing blues and have private balconies with views of the ocean, where you can watch kite surfers take advantage of the island's well-known breezes. There's also a pool outfitted with remarkably comfortable pool floats, several restaurants and a casino.
Resources
Aruba.com; Ritzcarlton.com; Boardwalkaruba.com; Manchebo.com