An Idyllic Sanctuary for Mental and Physical Healing
04 Jan 2023
One of Wilmington's historic houses of worship becomes a beautiful backdrop for yogis


By Katie Schmidt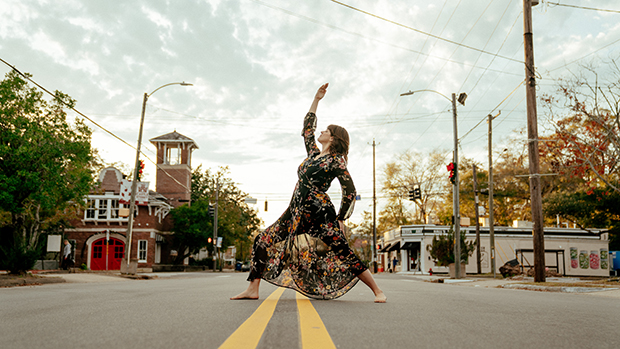 From Earl Nightingale's "What happens inside always appears outside" to Elle Woods' famous words, "Endorphins make you happy. Happy people just don't kill their husbands," it is well-documented by great thinkers alike that mind wellness and physical wellness work in tandem. That is certainly the case at terra sol sanctuary.

The small, wooden building on the corner of Castle Street and S Fifth Avenue appears, from the outside, like a church. The big red doors, white paint and stained glass all conjure the image of an old, southern house of worship. And for its first 100 or so years (this is Wilmington after all), that's exactly what it was. In 1877, when 507 Castle St. first opened, it was called Primitive Baptist Church. In 1992, it became St. Jude's Metropolitan Community Church, which ministered to the LGBTQ+ community (and still does at its new home on 26th Street). The building spent a handful of years as an antique shop before becoming its current iteration of a yoga studio in August of 2016.

As co-founder and owner of terra sol sanctuary, Alexis Abbate shares that her and her fellow tera sol founders changed nothing about the building besides adding cubbies and new fans. Because of this, there really is a natural reverence upon entering tera sol that you'd be hard pressed to find in other yoga studios. The building's original intent was to be a community gathering place, and its structural elements help to re-establish that to this day.

"It's a place of connection with each other and with ourselves," Abbate says. "I think when we have these types of places that we can go and unwind, reconnect or whatever it is that somebody is looking for — that really helps the whole macrocosm of a community. The more healing we can do on an individual level, the more healing this city is going to reap the benefits of."

With 30 different class offerings every week, terra sol provides its students with plenty of opportunities to heal on an individual level, which then reverberates throughout the city. At the end of a class shortly after Thanksgiving, three women can be overheard recounting volunteering to serve the homeless over the holiday, while another student comes to his Wednesday class straight from a full day at the Good Shepherd.

The studio offers an array of different types of classes, some with more well-known distinctions like "Flow" and "Beginners" and some with less common descriptors like "Yogalicious." "That's Georgia's class," Abbate says, laughing. "She wanted to call it 'yogalicious' so she can do whatever the hell she wants!"

Georgia Routsis Savas, who is an instructor at terra sol, refers to herself as "on the old side of town" at age 64. She's been teaching yoga for about eight years now and says one of her strengths is that she doesn't look like "your normal yogi."

"A lot of people imagine — you know, they see Yoga Journal Magazine or whatever and it's this young, lean person who's wearing the yoga outfit and is a supermodel, blah, blah," she says. "And I think part of my strength as a teacher is people see me and are like, 'Oh, if she could do that, then I can do that.'"

Abbate prefers for terra sol to be appealing to a diverse set of interested yoga students; she even took an inclusivity workshop to ensure she was building a space all felt welcome in. "I strive for any teacher at terra sol to be able to teach anyone who walks in the room, regardless of their level," Abbate says.

This was certainly the case for Jim Elms when he and his wife, Laura, started attending terra sol classes a little over a year ago as new residents in Wilmington. While yoga was a big part of Laura's life at that point, Jim had only dabbled in the occasional at-home yoga VHS tape and had "no real level of commitment" before terra sol. Now, he consistently attends at least one class a day, sometimes joining virtually as he travels often for work. He even mentioned that he's shuffled travel plans before to make it back in time to physically attend his favorite Thursday class.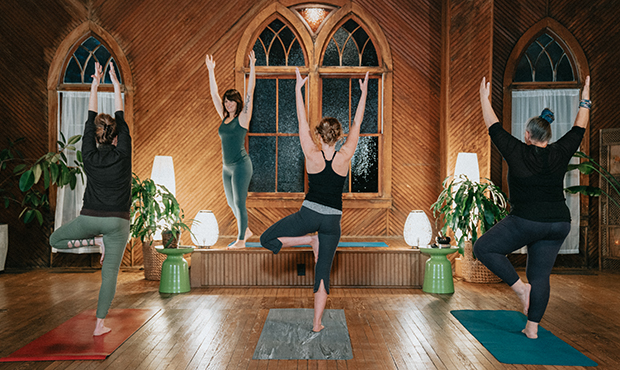 "The teachers are so unbelievably kind and have such positive energy that you feel the minute you walk in the building," he says. "That is such a boost and alone is enough to make me want to come back. But also, all the different styles of yoga taught have helped my curiosity. You're not just trying to get buff, it's so much more."

Of course, yoga is still a form of exercise, so physical changes are locked in step with the mental benefits of the practice. Elms describes, "feeling looser and lighter and having more strength" due to his consistency at terra sol. Another instructor at the studio, Jackie Lew, enjoyed that yoga allowed him to "feel calm and strong at the same time" when he was first starting out.

"It was hard and I sweat a lot," Lew says, describing his first foray into yoga. "But it was different than what I'd done before. It was quiet. I was also boxing at the time and the fact that I could get a workout in and not leave with a bloody nose? It was a sustainable practice."

The fact that the studio offers such a wide breadth of styles, approaches, and accessibility options is a point of pride for Abbate, who also hosts several different workshops at terra sol. Several of the workshops allow for those who are not as interested in the physical practice of yoga to still engage with the mental benefits.

Abbate herself shares that she first got into yoga while seeking a way to handle her own depression, anxiety and life stressors. "I played sports growing up, so I always moved my body, but I did not understand the mind-body connection," she says. "I was in talk therapy, too, but I was just coping." Her aunt took her to her first yoga class and she had an inkling there was something to the practice. "I wanted to learn, just, what is this? Why do I feel so good? Why do I feel like I can handle this existence with more ease when this practice is part of my life?"

Savas describes the sensation as, "that yoga buzz". Elms refers to, "a kind of space warp". Lew shares a story about a student crying throughout the entirety of a class and the ability to facilitate mental healing through the physical practice.

"It's all connected," Abbate says. "We are whole and when there is emphasis on one more than the other, it can bring us a little bit out of balance. So literally when we remember that we are in union — and that's yoga, union, connection — when our mind and body are in sync, things just seem a little bit easier."