A New Day Spa Finds Quick Success
04 Jan 2023
A beauty studio in the heart of The Cotton Exchange quickly becomes a local favorite

By Judy Royal » Photos by Abigail Whitehurst

Taylor Keeping Smith planned to open a beauty business in Raleigh after graduating as a licensed esthetician from the Aveda Institute Chapel Hill in 2019, but the Triangle's competitive housing market interfered with that vision. With a bit of fate, some good luck and hard work, however, her Plan B ended up working out better than she ever dreamed.

Smith owns Keeping It Glam, a beauty studio that specializes in eyelash extensions, hair, permanent makeup, facial waxing and lash lifts. Located in The Cotton Exchange in downtown Wilmington, Keeping It Glam opened in March after an extensive search for the perfect location.

When Smith and her husband Julian were unable to buy a house in Raleigh, an old friend suggested they consider moving to Wilmington instead. As beach lovers, they took his advice and arrived in August 2021.

"We took a pretty big leap of faith and thought it was the right move for us," says Smith. "We had our first date here, so it holds a special place in our heart. It kind of just all worked out where we knew we were prompted to be here."

It took some time to find the right space, and Smith admits there were some discouraging moments as they searched the area, but as soon as she saw the listing, she knew it was the one.

"It was on that day that Keeping It Glam became a reality and not something of my pure imagination," says Smith. "We were very open to 'wherever we're supposed to be we'll end up,' so we really just got lucky with the space."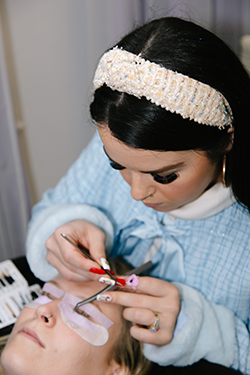 The studio underwent a major renovation that involved Smith and her husband doing much of the work themselves, sometimes painting until 4am.

"We got to do the project together, which was really special," says Smith. "We wanted to make it look special and inviting. The way it looks in here is a big part of what really pulls people in."

Once Keeping It Glam opened its doors, the clients started coming at a rate that even Smith herself didn't expect.

"The most surprising thing since opening was how fast we grew," she says. "Within two months of being open, we were nominated and won the WWAY Viewers' Choice Award for Best Day Spa, and after a friend of ours posted us on her TikTok page, the flood gates opened and people never stopped showing up, and for that we feel truly blessed."

Smith, who is a twice-certified lash artist and certified lash trainer, also attributes the rapid growth to good timing. Women were in quarantine due to the COVID-19 pandemic for so long without beauty services that they are now craving being pampered and feeling like themselves again, she explains.

"It's so nice to be in a community with other women, especially after a long pandemic where we were all isolated from one another," says Smith. "Our clients are all great people who love their high-quality services."

Keeping It Glam strives to offer a unique experience for its clients, who span all ages and walks of life.
"What sets our business apart from others in the same industry is our attention to detail, building relationships with our clients and the ultimate client experience," she says. "Your service takes place in a uniquely designed private room with ocean sounds under the beds while you lay under a mystical trellis. We have designed Keeping It Glam with the soul intent to have a feel-good vibe from the moment you walk in, and not just mimic what every other studio is doing."

The studio offers a 10 percent student discount because "being a girl is expensive, especially while in school," Smith says.

Smith, who at 24 is a young business owner, says she never thought she would be an entrepreneur but is grateful for the opportunity.

"My favorite thing about owning the business is the creative freedom to do things differently," she says. "I am put into a position where I am able to give women a boost of confidence while giving them a safe space to talk freely and encourage them, walk alongside them and uplift them. I have the opportunity to play a very different role in the beauty community that advocates for giving kindness to yourself and others."

Another plus, Smith adds, is being able to bring her long-hair Chihuahua Coopie, who is an emotional support animal, into work every day.

"He loves our clients as much as they love him," she says.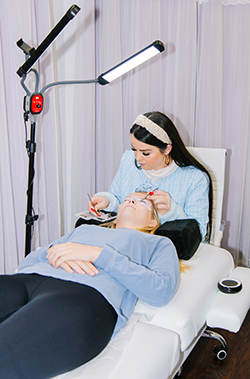 More About Keeping It Glam

Owner: Taylor Keeping Smith

Services: Eyelash extensions, hair, permanent makeup, facial waxing and lash lifts

Location: 326 Nutt St., Wilmington, NC

Phone: 910.338.1133

Website: keepingitglam.com

Facebook: facebook.com/keepingitglamm

Instagram: @keepingitglam