Artistic Armory
15 Mar 2015
Outfitting actors with essential tools of the trade is a labor of love for this local couple
By KIM HENRY Photos by JENNIFER SIMPSON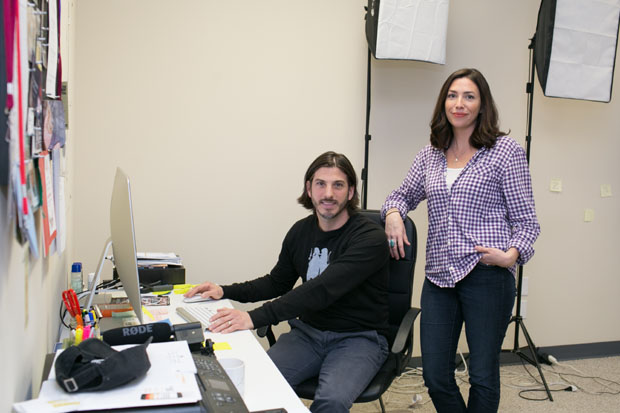 Every craft has an essential set of tools. Carpenters need saws and hammers, chefs require herbs and spices, and actors depend upon talent, tenacity and technical experience, to name but a few components of their competitive trade. To provide both tutoring and hands-on production assistance in all that is demanded of today's screen actors, Ron Fallica and Allie McCulloch created Actor's Arsenal to ensure that whoever walks through their doors will be given the weaponry they need to be working on-camera.
This dynamic duo met in the City of Angels in 2002 in what sounds like a story straight from a Hollywood script. Fallica arrived from Long Island where he was born to Italian parents, young, shy, and hungry to act. McCulloch drove in from Seattle, having lived all over the country as her father was in the Navy. For McCulloch, who had been Angelina Jolie's screen double at age 18 and spent four months in New York modeling at age 16, L.A. seemed like the next obvious place to check out.
Cut to an acting class run by Denis Lavalle where the two would-be stars were studying their art and the rest, as they say, is history. "Allie finally asked me if I wanted to do a scene with her. I said 'sure' and went home to find every scene that involved kissing," says Fallica with a laugh.
After thriving for 10 years in Los Angeles as working actors, producers and in casting offices, life suddenly looked a little different following the birth of their first child. "I loved living in L.A. but having our son changed things. It wasn't just about us anymore," explains McCulloch, her huge green eyes flashing with enthusiasm. "We knew we wanted to find a place where we could still be true to ourselves as artists and bring up our child in a more balanced environment. Wilmington was the perfect fit."
They arrived on the East coast in 2012 and hit the ground running, getting signed by STW, Wilmington's leading casting agency. They soon found themselves running some on-camera audition classes and realized that having worked on both sides of the camera, they had a wide range of skills and insight to offer their fellow actors.
"I had a teacher in LA who told us that as actors, we needed much more than just being able to act up our sleeves. We needed a warehouse full of skills to draw upon and to be prepared for whatever the moment demanded of us," explains Fallica. This is how the concept and name for Actor's Arsenal was born. This couple can provide the complete 'arsenal' of tools that every client needs in order to successfully be a working actor and reach their full potential.
Now proud parents of two sons aged four and nineteen months, the founders of Actor's Arsenal have their hands full. They both juggle being parents and running the agency, providing on-camera classes for children, teens and adults of all ages. They also offer audition coaching, audition taping, clip and reel creation, video editing and website design. In addition, Fallica runs classes in the Meisner technique of acting, which in the words of Meisner himself is described as, "bringing the actor back to his emotional impulses and to acting that is firmly rooted in the instinctive. Only in this way will you (the actor) begin to understand the definition of real acting, which is to live truthfully under the imaginary circumstances."
Having rebuilt their lives in Wilmington, how do they feel about the recent withdrawal of the film incentives in North Carolina? "It's gone away before, it'll come and in the meantime actors have to be all the more innovative and resilient, which are both essential aspects of every actor's arsenal," says McCulloch. She insists that they are here to stay and will continue to do everything within their remit to get their actors working as much as possible. If the testimony of their clients is anything to go by, they are succeeding.
Twenty-nine year old Alan Boell recalls that after taking a year of classes at Actor's Arsenal and receiving audition technique guidance, he is now a full-time working actor. "Allie and Ron are incredibly supportive, way beyond the official classes and services that they offer. They really want to nurture your individual strengths as an actor and offer you a whole world of advice about the business. It's not just attending a training center, it's being part of a family," he says.
Once again, Wilmington has attracted talent and artistic vibrancy to its sandy shores, as more and more people want to live their dream both within their chosen field of work and outside of it. Actor's Arsenal is a shining example of what can happen when people come together, share their knowledge and support each other to think big. It takes a warehouse to raise an actor. For more information visit actorsarsenal.com