Artistic License
03 Aug 2013
The Museum School gives all of us permission to play
By JENNIFER GLATT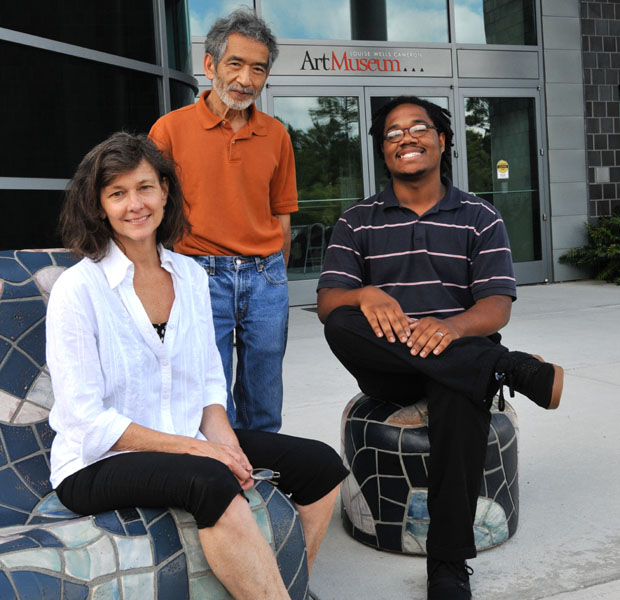 Painters and sculptors, writers and composers—really, creators of any sort—have long been able to cause us to recognize the familiar and show us the world in new ways. Twentieth century Trappist monk and spiritual thinker Thomas Merton (and, fittingly, the son of artists) summarized the notion aptly when he said, "Art enables us to find ourselves and lose ourselves at the same time." And in between, noted John Updike, "What art offers is space — a certain breathing room for the spirit."
Wilmington is fortunate to be home to the Cameron Art Museum, where such "breathing room" is abundant. With a gallery replete with paintings, sculptures, exhibitions, installations and a calendar full of programs, events and even Civil War activities, you may be surprised to find that CAM offers even more through its Museum School.
"The Museum School is a distinct limb of the educational environment fostered through Cameron Art Museum," says Donna Moore, director. Enhancing visual and cultural literacy is CAM's fundamental aim, and "for an art museum to nest an art school just makes good sense," she continues. "We are enveloped by art! Our instructors are artists and we have all the gifts of the museum as easily accessible teaching tools — dynamic exhibits, diverse cultural programming, a contemporary architectural structure, an Art Park, and a growing membership of people supportive of the arts."
Humble Beginnings
Martha Burdette, CAM's current Curator of Education, and Moore met in a life drawing class in the Cowan House at St. John's Museum of Art in the early 1980s. Friends through the years, they were both active in the local art community and in education. Burdette joined the Museum School staff, serving as the Museum School Director while Moore served as Community Coordinator, then together they functioned as co-directors before Burdette went on to her current position.
"Hester Donnelly, a Wilmington familiar, taught many of the same drawing and painting fundamentals in the Cowan House decades ago, as we teach in the Museum School today," Moore explains. "In that sense, we are an extension of an arts program hatched on downtown's Second and Orange Streets many years ago."
The desire to revive the instructional classes once offered at St. John's was the impetus for The Museum School. It was a "natural evolution" for Moore and Burdette to work together as an art education team. Programming started with a bare selection of classes in the Spring of 2011, following with a more robust collection of offerings in the Fall. From those grass roots sprung a wealth of beginning art classes, as well as numerous intermediate classes for more experienced artists, including Masters classes that can include CEU credit through New Hanover County Schools. "We start with the classic fundamentals and build classes based on students' response," Moore notes. "We offer a scope of studies that will foster basic skills, confidence and enthusiasm for both the creation and appreciation of the arts."
A Program for Everyone
Classes are offered in an environment steeped in consistently high quality instruction from actively working regional and local artists. Drawing, painting, mixed media, photography, art history, printmaking and clay are just some of the subjects of the Museum School's classes. Programming is designed to "breathe and grow," continues Moore, and adapt as necessary to demand. The Museum School also offers healthy living classes, Yoga, T'ai Chi, and nutritional education.
Seven sessions throughout the year provide adult programming in a variety of 6-week classes, as well as one- or two-day weekend workshops. "We max out at 12 students, allowing for personal interaction between students and instructors," says Moore. "In the summer months, we have one-week classes, meeting for three hours a day, for older youth (middle and high school). Our same professional artists work with the youth classes, providing an opportunity for quality focus and development."
Moore also notes that the Museum School is one of very few, if not the only venue in town for weekly drop-in life drawing sessions with no instruction. In a professional studio setting, the class can draw or paint trained, nude models and participate in quarterly critiques.
While a variety of summer art camps are offered through CAM's Youth Education programs, the Museum School offers more in-depth, week-long classes that focus on such subjects as drawing, painting, mixed media and clay. "They are not summer camps for kids — far from it," Moore cautions. The three-hour per day classes are designed for children "who have a sincere interest in an art discipline and seek instruction through professional artists in a studio environment."
The Best of the Best
Beyond the gallery and the classes, Cameron Art Museum is also an area leader in the art of experimentation. CAM prides itself on the quality and caliber of its instructors, which, as you might expect, are top-notch. Case-in-point: Master artist and Artist in Residence Hiroshi Sueyoshi, who helms the Pancoe Art Education Center. He works exclusively in clay and teaches five 8-week sessions through the year.
A native of Tokyo, Japan, Sueyoshi came to North Carolina in the early 1970s to help build Humble Mill Pottery in Asheboro. Sueyoshi has taught at numerous institutions, including Sampson Community College in Clinton, Wilson County Technical Institute and Cape Fear Community College. He has exhibited both nationally and internationally, and his works can be found in many private, corporate and institutional collections around the country, including the Renwick Gallery of the Smithsonian Institute.
Featuring studios and an outdoor kiln, the Pancoe Clay Studio focuses on the techniques, forms and conventions of clay, while encouraging experimentation in contemporary medium, concepts and techniques, according to CAM's website. Practically speaking, the studio is a place to work and play, and often the two are commingled. Sueyoshi offers group instruction, demonstration and individual assistance in clay hand-building, wheel-throwing and glazing techniques. Novices to experienced potters are welcome to come to the studio, which offers open studio time and assistance with clay making one time at no cost.
Numerous other noteworthy instructors offer their time and expertise through the Museum School. They include:
Sheila Boneham Ph.D., an author who has published fiction, nonfiction, and poetry, taught writing at several universities in the U.S. and abroad. She teaches writing workshops.
- Todd Carignan, who was born and raised in Wilmington, teaches art. He graduated with a BFA in Sequential Art and a minor in Art History from the Savannah College of Art & Design.
- Alan Cradick, a photographer for 30 years, provided editorial, portrait and feature photography for the U.S. Coast Guard and teaches digital photography and portraiture.
- Mitsuyo Ito has taught Japanese calligraphy for 30 years . She also teaches various aspects of Japanese culture, such as Japanese Tea Ceremony, Temari, Kimono, Origami and the Japanese language.
- Michael Van Hout is a working artist known for his sea creatures that can be seen at the North Carolina Aquarium at Ft. Fisher. He shares his printmaking expertise.
"We are building a community of both new and practiced artists — first time students and more and more repeat students," says Moore. "We hope to encourage anyone interested in developing skills, experimenting creatively or gaining appreciation to take that step towards discovery."
The Cameron Art Museum is located at 3201 South 17th Street. A Museum membership offers free admission (and a discount on Museum School classes). The complete calendar of events can be found at cameronartmuseum.com.
Donna Moore
» Birthplace:
Beckley, WV
» Family:
Companion Jake Sutton, 22-year-old son, John David
» Education:
Bachelor of Arts in Creative Arts from UNCW
» Favorite Hobby:
Knitting and Nudes
» Favorite Piece on Exhibit at CAM and Why:
Wilmington native Alonzo Wilson's Mardi Gras Indian Costumes (for HBO "Treme" series). It's authentic in cultural statement and expert in execution.