Balancing Act
22 Jul 2015
Dedicated to serving the business community, Connie Majure-Rhett is a driving force at the Wilmington Chamber of Commerce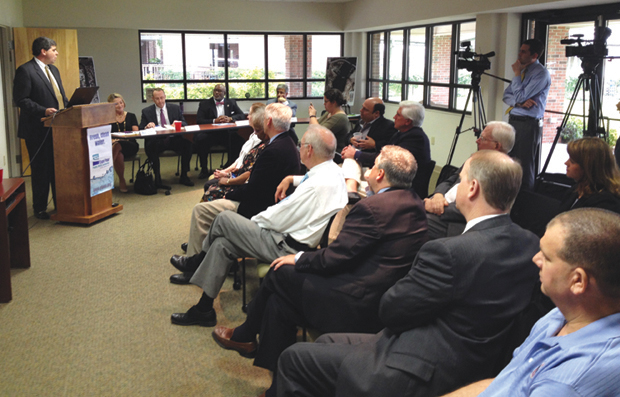 By TERESA A. MCLAMB
From her office at One Estell Lee Place, Connie Majure-Rhett looks beyond the expansive lawn to the gently flowing Cape Fear River. A lone figure strolls by on the Riverwalk. The scene is peaceful, even romantic. It's symbolic of the town's birth along the river and downtown's strong reemergence as the city's heart. Majure-Rhett has enjoyed this prime seat since accepting her executive leadership position with the Greater Wilmington Chamber of Commerce in 1994.
The building was brand spanking new when she moved in. It was also void of furniture and computers. One of Majure-Rhett's first challenges was finding the funding to outfit the building.
A native of South Carolina, Majure Rhett earned a degree in elementary education from the University of South Carolina. When she couldn't immediately get a teaching position, she took a temporary position at the chamber of commerce in Charlotte. She left there to teach for a year and a half before the chamber called asking if she would like a full time job. That was 1976, and for most of the years in between, she has dedicated her career to serving the business community. From Charlotte she went to the Cobb County (Georgia) chamber, then Atlanta. "I was lucky to have some really incredible leaders who...let me run and do what I thought needed to be done with their direction."
After about seven years in Atlanta, she moved to DC to work for a small business lobbying group. "That's the area I had not done any work in; nothing in governmental affairs. I went up there dewy eyed, and thought I could change the world." After three years, she was ready to come back home to the south. When a friend called about the Wilmington chamber opening, she jumped at the chance.
A successful multi-year fund raising effort had allowed the chamber to move from its historic Market Street digs where it shared office space with George the ghost, to the modern riverfront building. One of Majure-Rhett's first challenges was to furnish the building. There was no cash. "I had a good leader, and we went to the bank and got credit." She turned her attention next to membership, building from 550 when she started to almost 1,700 at the height of the boom in 2007. "We've stabilized at about 900 now, which is pretty normal for a community this size," she said.
Through the years, her vision of the chamber's job has remained steady. "We need to do the things that make this a desirable place for business to locate and to grow, and for people to want to live here. This includes business advocacy, addressing education issues, addressing crime perception." In the past, she said, businesses considering relocating would call and make an appointment. "You'd put on your best clothes and take them to what you wanted them to see. Now, they look on the Internet before they come. They see the headlines." That makes the media's coverage of the area critical, she said. It's one reason she has addressed that issue in print, challenging the media to provide a more balanced view of our region.
Among the many issues GWCC staff and volunteers are addressing are regulations, infrastructure, long range planning, exports and film incentives.
"We are spending a lot of time on the county's special use permit (SUP). We don't believe it will go away, nor are we pushing for that, but we do believe it needs to be more specific," she said. As written, there's too much uncertainty, she said. The Coastal Federation has formed a committee which the chamber has joined "trying to find the things we can all agree on." A consultant hired by the Coastal Federation is working on a draft.
In the meantime, an associated report has demonstrated the need for infrastructure improvement on Highway 421, so that is happening. "The county is undertaking that with the utility authority and the city. We'll be able to see if the SUP is a hindrance, when we have actual sites with water and sewer." She noted that many municipalities have special use permits, but they vary greatly. "Ours, if four or five things were changed, would be livable," she said. Businesses need to know exactly what is needed from them and when can they expect an answer. "The problem with our SUP is that it's not a clear process or timeline."
Chamber staff is working with county and city staff on comprehensive long range plans, making special note of plans and proposals that negatively affect business. "We found a lot of issues. With the county, particularly, a lot of the development that is being done now could not be done in the plan. They wanted to limit height, but we are a very small dense county, and there's very little land. They've been very interested in what the business community had to say." The plans cover the next 25 years, but she said the county and city have committed to updating them on a regular basis and using them as a guide for growth.
She voiced concern that many people who attended the public meetings, held at 11 a.m., were proponents of no-growth. "They want this to be a resort town. We can't grow well on a service economy."
Working closely with GE Aviation, the chamber staff is advocating strongly for renewal of the Export-Import Bank (EXIM) which expires the end of June. "It's a way for large companies, like GE, to arrange guaranteed payments for their international shipments. It gives them a kind of a leg up, and makes it more equal with countries that subsidize their exports." Many local companies, large and small, and the state ports are affected by this as are many others nationwide. "We've been meeting with people and talking with our elective officials, and sadly our elective officials are all over the place. Burr is for it; Tillis is against it; Rouzer is on the fence. It's really bad."
"We are concerned. How our state is looking at business is frustrating," she said, noting that the county and city are working on a draft for a local film incentive plan. "We know we have lost two productions, maybe three. We know there are 1,700 people employed by the film industry here." Majure-Rhett echoes other observations that the film industry is much more than the productions, it has resulted in new businesses, the Cucalorus Film Festival, and much more. "All the things that have grown up around the film industry have added to the color of our lives here," she lamented.
Investing in our future, the chamber is funding STEM curriculum for a middle school to demonstrate its value. "We're concerned about good public education and our lack of focus on STEM, or STEAM when you add the arts component," she said. "It teaches kids they can do things with their hands and learn science and math and not be frightened of it."
The recently completed Work on Wilmington, our tenth, is the culmination of a chamber success story. Resurrected in the 1980s after a long hiatus, Leadership Wilmington has evolved to a year round program with a full time director. The thirty class members delve into everything from education to infrastructure to our courts. "By the end of the ten months they know a lot more about Wilmington than most people ever will." They also raise money and recruit volunteers for Work on Wilmington. This year, they raised almost $100,000 and recruited more than 1,000 volunteers for 31 projects, all while working full time jobs.
Much of the chamber's success is due to a strong volunteer board, Majure-Rhett said. "We've got bright people who want to do right by the community," she said.