Timeless Fashion Ware
22 Jul 2015
Eleanor Hall offers comfortable and trendy clothes for women at her seaside shop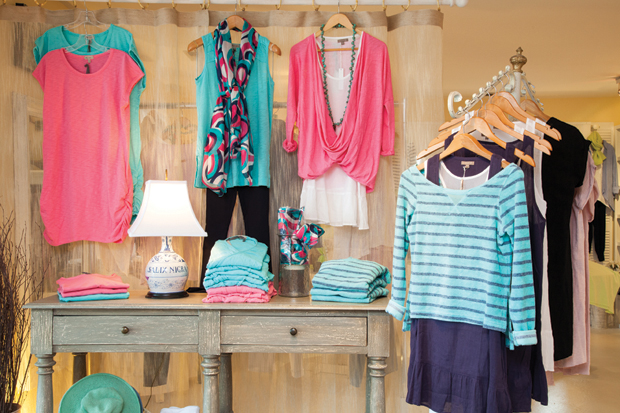 By JOHANNA COLBURN » Photos by KELLY STARBUCK
Summer in the South has arrived! Shop local at Wilmington's CoolSweats as temperatures beckon shoppers to pick breezy looks for a casually elegant appearance. In business in Wilmington since 2006, CoolSweats is just as unique as its owner Eleanor Hall. Hall made the permanent move to Wilmington in 2003 after living in Pinehurst for 34 years. After her last child left for college in the fall of 2006, she decided to find a part-time job. With this in mind, she called CoolSweats owners Barbara and Bruce Bishop in Pinehurst, to ask if they needed anyone part-time at their Wilmington location. In October 2006, Hall began working part-time at the Wilmington location and then in May 2007, she became the full-time manager. In 2011, Hall purchased the store from the Bishops and continues to run it. CoolSweats' first location opened in Pinehurst and has been in operation for 15 years. The Wilmington location has been open for 12 years and Hall has been there for the last nine years. A Raleigh location opened its doors five years ago.
When CoolSweats began, they sold only comfortable, high-end sweats. Today, they have evolved from more than just sweats, now offering unique clothing that is exclusive, timeless and chic. Specializing in both comfortable clothing for the Wilmington lifestyle and the Southern fashion-forward woman, CoolSweats has become the area's go-to store for high-end casual fashion. Inspired by the beaches and beauty that reflect our coastal region, CoolSweats personifies that same unique laid-back attitude. The store pays homage to our region's coastal atmosphere by helping customers to step up their sophisticated seaside style.
Hall makes sure that CoolSweats is a relaxed and cheerful atmosphere for everyone who shops there. Staff is on-hand to welcome each customer and help shoppers feel at ease. Helping customers feel good and look great is what the staff is trained to do, and is what sets them apart from competitors. Full-time employees include Hall's daughter Carter Fogleman and Jody Simpson. Part-time employees include Meghan and Katelyn.
Fine as they are functional, CoolSweats sells clothing that customers will wear time and again. Cruise the racks and splash on some color with new styles coming in daily. Hall ensures that each timeless piece never goes out of style and is perfect to wear for any occasion. Whether you're after a date-night dress, a beach wedding outfit or just want to pal around with friends, they have something for everyone. Stock up on subtle luxury with washable cotton that is glamorous without being fussy. The store sells relaxed textures in flattering silhouettes that are both cozy and shape-enhancing.
Specializing in designers that embody the coastal vibe, the store carries unique styles and brands ranging from Bella Dahl, Hard Tail Forever, Fresh Laundry, CP Shades, Allen Allen, Krazy Larry Pants, AG Jeans, Wilt and Mod-O-Doc. Ninety-five percent of their products are American-made with pieces that are sure to become every woman's constant and comfortable companions. CoolSweats sells extra-small to extra-large to fit women of all sizes, and for customers spanning all ages. There is something for every woman, no matter what age, shape or body type. "We want every customer to feel comfortable and good about themselves," says Hall.
Not limited to clothing, they also carry beautiful accessories to compliment any outfit. Hall sells On U Jewelry by Richmond designer Donna Silvestri. The original, semi-precious beads are custom-made by Silvestri and come in a multitude of colors including gold and silver hues. Hall is also known for selling Ergo Candles and Diffusers in Kiwi – the store's signature scent. The high-quality candles are created with 100-percent soy wax. In addition, scarves are popular items at CoolSweats for all seasons. Fresh Laundry t-shirt dresses are another bestseller and have just been re-ordered for the summer inventory. Heirloom pants are also a hit and are back in style in a big way.
Hall's favorite look for summer-in-the-South 2015 is a pair of AG Jeans paired with a comfortable top. To add extra panache, she recommends adding a statement necklace or scarf to the outfit. Her insider fashion advice is whatever the season or trends, wear what you like and what makes you feel the most comfortable. For customers who are searching for the perfect gift, Hall recommends that they purchase a gift certificate to allow recipients to pick anything they want from the store.
CoolSweats features a new color story on display each month, which is wildly popular with customers and they have two large sales a year – one in August and one in January. Life is beautiful – dress comfortably in CoolSweats classic, timeless pieces that are made to love for a lifetime. 910-509-0273, coolsweats.net