Best of Wilmington 2014
12 Jul 2014
You might call them the class of 96: the winners of our first annual Best of Wilmington poll in eight dozen categories. Our invested Wilmington readers picked their favorites in everything from golf courses to shoe stores, bartenders to plastic surgeons, burgers to caterers. And the winners are...
By Jennifer Glatt and Liz Biro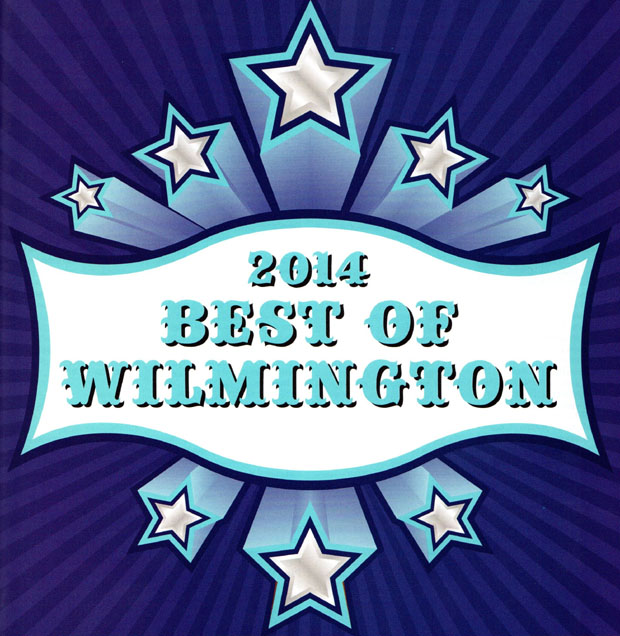 Best Dining
Authentic American
Rx Restaurant
421 Castle St., 910-399-3080, rxwilmington.com
Farmers are the rock stars; Southern flavors are the music chefs compose with the bounty. The handmade honeywood bar and tables host a fresh menu daily, perhaps hoop pimento cheese with housemade pickles and crackers, maple-smoked pork ribs, and green tomato remoulade dressing crispy soft-shell crabs.
Authentic Caribbean
Jamaica's Comfort Zone
417 S. College Rd., 910-399-2867, jamaicascomfortzone.net
"Ya mon." The jerk chicken, curry goat and Escoveitch Chicken are the real things, although the curry fried chicken should not be missed, either. African, Amerindian, French, Indian, and Spanish cuisines groove to Reggae seven days a week.
Authentic Asian
Indochine
7 Wayne Dr., 910-251-9229, indochinewilmington.com
"An exquisite Thai experience," from the outdoor garden's lotus pond to the famous banana egg roll with vanilla ice cream – but that's not all. Vietnamese, Indian, Cambodian, Chinese and other Asian flavors blossom on the huge menu. Loyalists (and there are many) crave pad thai, pineapple fried rice, roasted duck in red curry and tender, creamy coconut layer cake.
Authentic Italian
Osteria Cicchetti
1125 Military Cutoff Rd., 910-256-7476, osteria-ciccetti.com
Communal, boisterous, delicious. Patrons feel like paesani whether tucking into pappardelle Bolognese in the Roman holiday piazza dining room or sharing antipasti and Prosecco in the grand bar. Veal piccata, wild mushroom risotto, pan-roasted clams, crispy pizzas. Tutti bellisime!
Authentic Mexican
El Cerro Grande
Multiple locations, elcerrogranderestaurant.com
When servers deliver sizzling fajitas on hot platters, every head in the dining room turns. Stomachs growl at the mouthwatering aroma. Slow-roasted pork carnitas, potato-stuffed roasted poblano peppers and chili-sauced lamb shanks join all the Mexican standards, best washed down with a tart margarita rocas.
Bakery
Apple Annie's
837 S. Kerr Ave., 910-799-9023; 1121 Military Cutoff Rd., 910-256-6585, appleanniesbakeshop.com
If a sweet Italian grandmother went on a baking frenzy the result would look like Apple Annie's. An Italian family started the biscotti, butter cookie, cheesecake, cannoli, layer cake, bread and pastry traditions here. Over time, more pies, sweet nut breads, scones and muffins appeared. Celebrities filming in and around the city are as loyal as locals. Custom cakes make special occasions unforgettable.
Breakfast Spot
Causeway Café
114 Causeway Dr., 910-256-3730, causewaycafewb.com
Locals and tourists alike crowd this beach town institution where you can still get malted pancakes and Belgian waffles, homemade hash browns and eggs any style alongside fried flounder and grits. Choose a shrimp and cheese omelet or classic eggs benedict. Best of all? Breakfast is served all day.
Burgers
P.T.'s Grill
Multiple locations, ptsgrille.com
Certified Angus Beef burgers are never frozen and always griddle-cooked to order in a lively show. Sit at the counter and watch the burger masters at work in the open kitchen. They're quick! Fries have as many fans as the burgers. The fresh-cut-daily, Idaho potatoes come with every order.
Candy/Chocolate
Kilwins
16 Market St., 910-772-1298, kilwins.com/wilmington
The irresistibly sweet aroma of fudge pots and warm, fresh-pressed waffle cones leads people to a delectable wonderland of ice cream, kettle corn, nut brittles and chocolate-dipped everything including truffles, caramel, marshmallows, sea foam, pretzels, peanut butter and Oreo cookies, most of it made on the premises. There might be a line, but no one minds the wait.
Caterer
Pine Valley Market
3520 S. College Rd., 910-350-3663, pinevalleymarket.com
Butter-poached lobster over sweet pea risotto by candlelight. Tenderloin crostini and pulled pork spring rolls on the wedding buffet. A live paella cooking show for a crowd or grilled Angus steak for a business lunch. Chefs see to it that every gathering is a premier event. Best of all, the market and its café are open daily.
Coffeehouse
Port City Java
Multiple locations, portcityjava.com
From every single-origin, organic and Fair Trade raw bean to the roasting room to the seasoned baristas, coffee is serious business here. Born in Wilmington, "PCJ," as locals call it, pours from Maryland to South Carolina, as well as Jordan, Dubai and Costa Rica. No matter the locale, each cup draws the same response: "Ahhh."
Crab Cakes
Catch
6623 Market St., 910-799-3847, catchwilmington.com
Asian cuisine especially charms award-winning chef Keith Rhodes, hence his ginger-seasoned crab cakes, which in 2011 were deemed the best at the annual N.C. Seafood Festival chef competition in Morehead City, N.C. Never one to rest on his laurels, Rhodes changes up the spices, but one thing about his crab cake never changes: they're always meaty rounds of fresh, sweet, blue crab.
Desserts
Sweet & Savory Café
1611 Pavillion Place, 910-256-0115, sweetnsavorycafe.com
Most of the wide-open kitchen is taken up by the bakery, where pastry masters produce all manner of delectable sweets: Belgian chocolate brownies, coconut cream pie and red velvet layer cake, to name a few. Raspberry Chocolate Delise, a flourless chocolate cake topped with chocolate mousse, raspberry mouse and chocolate ganache, is so sophisticated, but cooks just as happily pan Rice Krispie Treats.
Family Restaurant
Red Robin
905 International Dr., 910-256-2677, redrobin.com
Fire-grilled burgers have a gourmet edge, especially the D.G.B. (oven-roasted tomatoes, roasted garlic aioli and fresh arugula tossed in citrus olive oil dressing, all on a toasted ciabatta), but the feel is warm, comfortable and kid-friendly. Bottomless Root Beer Float anyone?
Farmers Market
Downtown Riverfront
Water St., between Market and Princess Sts., 910-538-6223, wilmingtondowntown.com/farmers-market
The Cape Fear River's early-morning mist lends a heavenly feeling to vendors proffering juicy, sweet heirloom tomatoes; fresh seafood; free-range pork; soft blue eggs; and so many other delicious – and beautiful (arts and crafts are sold, too) – things from March to December. Everything is local. Everything is fresh, and vendors happily share garden and cooking tips. You might hear some local music, too.
Fine Dining
Port Land Grille
1908 Eastwood Rd., 910-256-6056, portlandgrille.com
Subtle, sophisticated and scrumptious define this farm-to-table classic. Spot-on service comes in an upscale casual setting close to the beach. Dress to the nines or don khakis for pan-seared Maine diver scallops au poivre over smoky bacon studded grits; lavender-fennel pollen risotto with smoked salmon or a hulking pork porterhouse chop with sweet, tangy balsamic plum barbecue sauce.
Healthy Fare
Epic Food Co.
1113 Military Cutoff Rd., 910-679-4216, epicfoodco.com
Chef/owner James Bain puts his skills to work on wholesome food that tastes good. Organic ingredients, from-scratch fare and devotion to craft guide the kitchen. Expect house-smoked salmon, vibrant sauces like cucumber mango dressing, and gluten-free fried chicken as good as any grandma's Southern fried chicken, all served in a sunny café.
Ice Cream
Boombalattis
1127 Military Cutoff Rd., 910-256-8330, boombalattis.com
Every hand-made batch of homemade ice cream, prepared daily, begins with the milk and cream of grass-fed, free-range, hormone-free cows living in North Carolina. Ice cream makers stir in high quality, all-natural ingredients to create classic flavors like true fruit strawberry and wow combinations like cinnamon caramel oatmeal cookie. Twenty-six flavors change regularly, which produce work-of-art banana splits.
Lunch Spot
Tower 7
4 N. Lumina Ave., 910-256-8585, liveeatsurf.com
Icy margaritas, super-fresh salsa, warm tortilla chips, fish tacos, fat burritos and many more Baja Mexican delights are just steps from the best surf breaks at Wrightsville Beach. Homemade corn tortillas and fresh-daily guacamole confirm kitchen's devotion to deliciousness. Re-rev morning, noon or night at the full-service coffee shop.
Organic Foods
Whole Foods
3804 Oleander Dr., 910-777-2499, wholefoodsmarket.com
As grand as a supermarket but stocked with organic, natural and local foods, the layout is aisle after aisle of delectable goodness. Hot and cold food bars send up enticing aromas, and customers may stop by to stop, dine or both. Special events bring tastings, Twitter chats and cooking classes.
Outdoor Dining
Dockside
1308 Airlie Rd., 910-256-2752, thedockside.com
Sit on the upper or lower deck and watch the boats go by, or pull up in your own craft. Munchies and meals, much of it fresh seafood, await. Share a pound of steamed shrimp. Tuck into blue crab corn chowder. Add fried oysters to any salad. Don't forget to ask about the catch of the day.
Pizza
Slice of Life
Various locations, grabslice.com
Real olive oil, fresh produce and housemade dough are some of the little things that make a big difference in the pizza served at four locations in Wilmington. Get any toppings on slices or whole pies, even the "white" pizza with fresh garlic, basil and tomatoes and ricotta, mozzarella and parmesan cheeses. Doesn't a load of chicken and roasted red peppers sound good on that?
Raw Bar
Dock Street Oyster Bar
12 Dock St., 910-762-2827, dockstreetoysterbar.net
Raw, shucked oysters are always available. "Steamed, grilled but never fried" is the mantra for seafood at this little, downtown restaurant. Clams, shrimp, mussels and snow crab come from the steamer, as well. Get them all, plus corn and potatoes, on the Dock Street Platter.
Romantic Atmosphere
Boca Bay
2025 Eastwood Rd., 910-256-1887, bocabayrestaurant.com
Couples cuddle at cozy, candlelit booths; patio tables under palm trees; and intimate bar corners at what feels like a secluded island resort. They might share Blue Point oysters and champagne, ravage fried seafood platters or nibble sushi before a fine rib-eye with port wine blue cheese butter. Sunday brunch is a whole other love story.
Salads
Brasserie du Soleil
1908 Eastwood Rd., 910-256-2226, brasseriedusoleil.com
More than 30 fresh ingredients are available to customize salads. Baby spinach, poached pears, shaved fennel, hearts of palm, tuna steak, pine nuts, candied pecans, sherry vinaigrette, hariot verts. What's your pleasure? And bonus! Chefs here go out of their way to source fresh, local produce.
Seafood
Bridge Tender
1414 Airlie Rd., 910-256-4519, thebridgetender.com
Sleek as a yacht cabin and overlooking the Intracoastal Waterway, the dining room feels perfect for the inspired seafood menu. Find traditional crab cakes and shrimp and grits, sure, but there's also seared, horseradish-crusted tuna with soy ginger glaze. Grouper Rockefeller features grilled filets topped with fried oysters, spinach and hollandaise sauce.
Seafood Market
Mott's Channel
120 Short St., 910-256-3474, mottschannelseafood.com
Follow locals and top chefs to the place known for the freshest and widest array of fish and shellfish. Set right on the channel for which it's named, Mott's welcomes boats bringing in fresh catches that show up in the city's best restaurants. Plenty of home cooks come, too, as much for the seafood as the recipes and cooking tips offered by the staff.
Service
Ruth's Chris Steakhouse
301 N. Water St., 910-343-1818, ruthschris-wilmington.com
Attention to detail flows from kitchen to table. Impeccable service matches fine USDA Prime steaks. Whether diners choose white tablecloths, private dining or bar seats, courteous staff ensure everything is correct. That was founder Ruth Fertel's intent 40-plus years ago when she mortgaged her home for $22,000 to purchase the "Chris Steak House" in New Orleans. Her core values endure: "deliver the highest quality food, beverages and service in a warm and inviting atmosphere."
Steakhouse
Port City Chophouse
1981 Eastwood Rd., 910-256-4955, chophousesofnc.com
Beef is an occasion thanks to options well beyond rare, medium rare or well done. Go Oscar-style with bernaise and steamed asparagus and crab. "Smothered" brings sautéed onions and cabernet mushrooms. Atypical surf-and-turf includes a lobster claw in sriracha. Casual sophistication dictates the atmosphere, and there's lots more than steak on the menu.
Sushi
Nikki's Sushi
Various locations, nikkissushibar.com
Sushi knives tap way cool tunes. Traditionalists may choose classic sashimi and California Rolls. Progressives go for house specialties like Beach Bum Roll (spicy tuna, mango and tempura flakes topped with tuna, salmon, yellowtail, white tuna, eel, sweet sauce and red tobiko) or Jumbo Crunchy Lobster (tempura lobster, cream cheese, avocado, asparagus and cucumber wrapped in soy paper and topped with spicy sweet sauce).
Sunday Brunch
Boca Bay
2025 Eastwood Rd, 910-256-1887, bocabayrestaurant.com
Arrive early for the 9 a.m.-to-2 p.m. Sunday brunch locals have long claimed to be the Port City's best. Eggs benedict, sausage and gravy, lox and bagels, eggs and omelets made to order and oh so many delectable pastries fill the grand groaning board. Wear your elastic-waist pants!
Vegetarian/Vegan Options
Lovey's Cafe
1319 Military Cutoff Rd., 910-509-0331, loveysmarket.com
Long before kale salad was cool it was on the buffet here. The salad is just one of vegetarian and vegan delights on the healthy smorgasbord. Meat and dairy options are available, too, as are fresh soups daily and made to order sandwiches. Tofu melts, deluxe bean burritos and veggie grinders satisfy hearty appetites.
Waterview Dining
Bluewater Waterfront Grill
4 Marina St., 910-256-8500, bluewaterdining.com
When does fresh seafood taste best? When it's served with a waterfront view. Think about it: a crispy soft-shell crab sandwich on the patio overlooking a sunny Intracoastal Waterway. Creamy seafood linguini under a harvest moon setting over the marsh. Nibbling steamed shrimp at an upper deck party under the stars while the yachts go by. Hungry yet?
Best Nightlife
Appetizers
Circa 1922
8 N. Front St., 910-762-1922, circa1922.com
This former bank, built in 1922, is a magnificent red brick shrine to small plates. "Circa," as locals call it, was Wilmington's first tapas restaurant. Fifteen years later, it still leads the trend with international favorites like paella, sushi and braised lamb shanks with French lentils and sauce vierge.
Bar
Banks Channel Pub & Grill
530 Causeway Dr., 910-256-2269, bankschannelpub.com
Shorts, flip flops, coconut oil and all come from the beach, just blocks away, to chill over craft, draft, imported and domestic beers, summery cocktails (yes, there's a stiff iced tea) and late-night pub munchies like fried wonton nachos and gravy-bacon-cheese-smothered Tater Tots. Like dinner at the bar? Try Buffalo pork sliders or bacon-wrapped filet mignon.
Club/Nightspot
The Dirty Martini
1904 Eastwood Rd., 910-679-8050, thedirtymartiniwb.com
A chic bar, a popping dance floor and creative bartenders mixing perfect martinis – shaken, stirred or exotic as jalapeno mango – are reasons to don smart shirts, high heels or something more casual. You never know when an impromptu cornhole game might happen in the gorgeous courtyard.
Cocktail Selection
Manna
123 Princess St., 910-763-5252, mannaavenue.com
The Old Fashioned is always correct, the bartender creations always interesting at a spot known as "THE" craft cocktail bar in Wilmington. Sippers might be treated to a barrel-aged Cherry Manhattan, a classic Ramon Gin Fizz, the Devil Anse (cinnamon-infused bourbon, apple cider, lemon, bitters) or a rare bourbon, straight up, no pretentions, just like Manna.
Craft Brewer
Front Street Brewery
9 N. Front St., 910-251-1935, frontstreetbrewery.com
Whether their micro-beers are seasonal, surprising (oyster stout!) or aged in bourbon or wine barrels, brewmaster Kevin Kozak and team reap national attention and gold medals. Easy Coastal Kolsch, sharp Port City IPA and wildly popular Dram Tree Scottish Ale are flagship brews, but many specialties arrive year round.
Happy Hour
YoSake
33 S. Front St., 910-763-3172, yosake.com
Asian-fusion food specials, fine cocktails like the famous Pomegranate Ginger Mojito and an anime-colored atmosphere mark happy hour at all hours. Retro drink prices show up on '80s nights. Locals get 20 percent Tuesday evenings. Happy hour food deals often appear 5 to 7 p.m. and 10 p.m. to midnight. Track Happy Hour specials at facebook.com/YosakeDowntown.
Late-night Menu
Might As Well
250 Racine Dr., 910-228-5365, mawbar.com
Hankering for house-cut bacon and pepper jack cheese fries at 1 a.m.? Jonesing for a midnight Heart Attack Burger (double cheeseburger with fried mozzarella, fried egg, chili, bacon, hot sauce, barbecue sauce, jalapenos, and pickles)? Thinking a light, late dinner of Blackened Salmon with Mango Relish alongside mixed vegetables? Stop by. Better yet, order online and have it delivered.
Pub/Tavern
Copper Penny
109 Chestnut St., 910-762-1373, copperpennync.com
Beer from so many taps is cold, televisions are tuned to sports and the burgers are always just right, as are the wings, hand-cut fries, bread pudding and everything else on the no-fuss, rib-sticking menu. Low ceilings and soft lights supply a homey feel, especially for Philadelphia Eagles fans. The team colors compose much of the décor, but any team fans are welcome.
Specialty Drink
Manna
123 Princess St., 910-763-5252, mannaavenue.com
So many signature drinks come across the bar that mixologists can't let a single version fall completely off the menu, which changes seasonally. Enduring sips include Elderflower Fizz (gin, St. Germain, grapefruit, lemon, soda & grapefruit bitters) by Joel Finsel and Largemouth Bass (rye, port, egg white, lemon, vermouth, old fashioned bitters) by Ian Murray. Both are nationally recognized barmen.
Wine List
The Fortunate Glass
29 S. Front St., 910-399-4292, fortunateglasswinebar.com
Fifty wines by the glass, 400-500 by the bottle, a dozen bubbles by the glass ― not to mention around 35 craft beers. Serious sippers never miss this downtown spot. Small plates with international flair enhance pours, as do knowledgeable bartenders. Wine novices are as welcome as oenophiles. Not sure what you like? Ask for some suggestions. Staff are happy to assist.
Best People
Architect Michael Ross
Kersting Architecture, 4022 Market St., 910-794-7930, kerstingarchitecture.com
You won't find a cookie-cutter approach to architecture with MRKA. The company, established in 1995, approaches every project with a focus on creative ideas, a collaborative approach, and the active pursuit of high-quality design. The company strives to create places that are authentic, provocative, meaningful, and responsive.
Artist
Justin Campbell
901 Rabbit Run, 910-612-7526, jmc0623@ecu.edu
French-American sculptor Justin Campbell grew up on the North Carolina coast, developing an intimate connection with the subtropical wildlife both in and out of the water. Captivating and thought provoking, his work explores the effects that progress has on our environment and the human condition. You'll be pleased to know he also works on commission.
Attorney
LeeAnne Quattrucci, P.A.
401 Chestnut St., 910-795-0230, aqlaw@yahoo.com
For sound and compassionate legal advice, Wilmington Magazine readers chose LeeAnne Quattrucci as the best attorney in the city. She practices family law, juvenile law, and immigration law, devoting 60% of her practice to litigation. She also handles cases for the Department of Social Services and, when she's not in the office or with her family, she can be found at Miller-Motte College, where she serves as chair of the Criminal Justice/Paralegal Department, teaching aspiring paralegals.
Bartender (Female)
Chelsea Reeves, Kickback Jacks
418 South College Rd., 910-523-5669
From Blue Moon to Yuengling, Kickback Jack's draft menu covers the ABCs of beers (and then some), while made-to-order cocktails, wines, and more make the 5:00 hour all the more enticing. Best of all? Beloved bartender Chelsea Reeves is at the helm, with her ready smile and enthusiasm!
Bartender (Male)
Ian Murray, Manna
123 Princess St., 910-763-5252
Creative and tasty, the full bar menu at Manna is a downtown delight. Bartender Ian Murray promises patrons delicious liquid libations such as a Lotus martini, made with fresh cucumber, Domaine de Canton ginger cognac, extra dry gin, and mineral water. Whether tried-and-true favorite or something new, any choice will complement the American cuisine you'll enjoy at this eatery, which opened its doors in 2010.
Businessman
Alan Zimmer
Alan deals in products from famous names, including David Yurman, Tacori, and Swarovski, but he's just as likely to know your name, since Alan Zimmer considers his customers as family. High-quality service and products are what keeps Reeds Jewelers a Wilmington favorite.
Businesswoman
Tonya Nesselroade
From sales and marketing to accounting and customer service, Tonya Nesselroade keeps everything running smoothly at the Kitchen & Bath Design Studio. She combines big-business wisdom with an energetic, entrepreneurial spirit to tackle home projects both large and small. When happy clients want to host a bathroom party instead of a holiday party, you know your team has done a stellar job!
Chef
Keith Rhodes
Locals, visitors and celebrities (Gwyneth Paltrow, Robert Downey Jr., Gary Cole) adore chef Keith Rhodes' "modern seafood" at Catch. The James Beard "Best Southeast Chef" semifinalist uses fresh seafood and local produce for signature dishes including wildly popular Angry Lobster, a hefty whole lobster wok-fried in sweet chili basil sauce and served over crunchy rice noodles and soft Israeli couscous.
Dentist, Adult
Bozart Family Dentistry
6132 Carolina Beach Rd., 910-392-9101, bozartfamilydentistry.com
Bozart Family Dentistry provides comprehensive dental care from the tallest to the smallest in the family, including orthodontics, oral surgery, cosmetic dentistry, and restorative care. The team of four dentists and full staff work hard to make sure you get (and stay) on the right track with your teeth.
Dentist, Pediatric
Dr. Allison Eggleston
6781 Parker Farm Dr., 910-795-2511, dreggdental.com
Allison Eggleston, DDS, MS, is affectionately known as Dr. Egg, and her pint-size patients simply adore her—which means moms and dads do, too. She's born and bred in Wilmington, a home-grown girl with a passion for pediatric dentistry. For her, little mouths are a big deal!
Financial Advisor
Bruce Moskowitz
4020 Oleander Dr., 910-202-4656, sterlingwealthllc.com
Retirement planning, asset management, investments, and insurance are the very things that have not only propelled Bruce Moskowitz to climb the corporate ladder at Smith Barney and Wheat First Securities, but to succeed at a level that he was able to launch his own firm, Sterling Wealth Management, in 2010. He can help you chart a course for a successful financial future.
Pediatrician
Cape Fear Pediatrics
3505 Converse Dr., 910-392-5634, capefearpediatrics.com
The doctors and medical staff at Cape Fear Pediatrics don't just monitor kids' growth, development, and health as they age, they treat their patients like family, with love. From newborn care to wellness exams, developmental issues to adolescent and women's health, Cape Fear Pediatrics has kids covered.
Personal Trainer
Lamaine Williams
6309 Boathouse Rd., 910-297-3488, fitnesssquad.net
"No time" is no excuse for Lamaine Williams—The Fitness Squad facility is open from 4 a.m.-11 p.m., and Williams loves nothing more than helping you exceed your fitness goals. His Cross Training system mixes cardio, weight training, agility balance, and coordination to strengthen clients both physically and psychologically.
Plastic Surgeon
Dr. Ken White
1404 Commonwealth Dr., 910-509-SKIN, wilmingtonplasticsurgery.com
Board-certified by the American Board of Surgery and the American Board of Plastic Surgeons, Dr. Ken White's practice is largely dedicated to cosmetic surgery and reconstructive surgery of the breast. Wilmington Plastic Surgery has been serving southeastern North Carolina for more than 30 years—longer than any other cosmetic surgery practice in the area.
Real Estate Agency
Intracoastal Realty
1900 Eastwood Rd., 910-256-4503, intracoastalrealty.com
If you're lucky enough to live in Wilmington, you're lucky enough. And if not, Intracoastal Realty is just the firm to help you find the home of your dreams here in coastal North Carolina. Since opening in 1976, this full-service real estate brokerage has expanded to 10 offices with more than 325 agents and staff members.
Veterinarian
Atlantic Animal Hospital
1808 Sir Tyler Dr., 910-256-2624, theatlanticanimalhospital.com
Exceptional care for your pet is Atlantic Animal Hospital's goal, whether Fido is there for medical care, boarding, grooming, or doggie day care. They know your pet is part of your family, and they'll love him like their own.
Wedding Planner
The Three Divas
910-399-6276, thethreedivas.com
This mother/daughter team of event planners and directors can take the stress of your big event and streamline it into a flawless occasion, barely breaking a sweat. To make planning even easier, they also offer in-house cakes, flowers, event design, and videography, so really, all you have to do is show up on time.
Best Shopping
Art Gallery
Eclipse at Blue Moon
203 Racine Dr., 910-799-9883, eclipseatbluemoon.com
Not even a year old and already winning awards! You'll find one-of-a-kind, eclectic pieces and work from local and regional artists at Eclipse, the artisan boutique at Blue Moon Gift Shops. Collections include original paintings, custom furniture, sculptures, North Carolina pottery, glass, jewelry, photography, and textiles.
Bridal Boutique
The Wedding Dress Shoppe by Perry's Emporium
2516 Independence Blvd., 910-392-0818, theweddingdressshoppe.com
He can find the ring you've always dreamed of, and now he can find your dress, too. Allan Perry of Perry's Emporium has opened The Wedding Dress Shoppe, a full-service bridal salon featuring quality, unique, distinct gowns for the stylish bride, her mother, and her bridesmaids, too. Skip the trip to shop in Raleigh and buy local instead!
Bridal Registry
Nest Fine Gifts and Interiors
1125 Military Cutoff Rd., 910-256-6378, nestfinegifts.com
Owner Monika Williams has curated an eclectic mix of furniture, accessories and gifts in the cozy, home-like atmosphere of Nest Fine Gifts and Interiors, making it the perfect place for to-be-weds to start their wedding registry. From fabrics to furniture, area rugs to art, you'll find divine design inspiration sure to make your new home sparkle.
Car Dealership
Stevenson Automotive
821 S. College Rd., 910-395-1116, stevensonhonda.com
The selection of new and pre-owned cars combined with a dynamic sales staff and quality service have earned top honors for Stevenson Automotive in Wilmington. Customers return time and time again to take their business to Stevenson's trusted team.
Clothing, Kids
Once Upon a Child
4719 New Centre Dr., 910-452-9976, onceuponachildwilmington.com
The only good thing about kids outgrowing their clothes quickly is that you can turn them into cash on the spot at Once Upon a Child, owned and operated by Terry and Sharon Talbott since 1994. "Gently used" clothes, toys, and baby equipment are yours for a steal, including costumes, dancewear, and dress-up clothes.
Clothing, Men
Bloke
1427 Military Cutoff Rd., 910-679-4137, blokeapparel.com
Bloke focuses on the "casual side of style," offering a carefully curated selection of men's clothing that includes t-shirts, shorts, and shoes. Numerous brands are offered, including brand-new Sewn To The Bone (bow ties) & Forge and Foundry products, made right here in Wilmington.
Clothing, Women
Monkee's
1900 Eastwood Rd., 910-256-5886, monkeeswilmington.com
This is boutique shopping as it's meant to be: fun and personal, with access fashion that rivals treasures from New York or Milan. All your favorite designers' wares are here (DVF, Kate Spade, Tom Ford, Trina Turk), as well as shoes and accessories. With all the fun finds, their tagline is true: You might need a bigger closet!
Furniture Store
Custom Home Furniture Galleries
3514 S. College Rd., 910-799-4010, shopcustomhome.com
Owners Kevin and John Gray have expanded their business quite a bit since 1995, growing their showrooms over the years from 6,000 square feet to their current 50,000 square foot gallery. Whether you're adding small details to a room or furnishing an entire home, Custom Home Furniture Galleries has everything you're looking for.
Garden Center
The Transplanted Garden
502 S. 16th St., 910-763-7448, transplantedgarden.com
Owners Tom Ericson and Allen Sabin opened The Transplanted Garden in 2000, and it has been Wilmington's go-to garden store ever since. Let them solve your problem planting areas or design a new garden for you based on encyclopedic plant knowledge and a wealth of beautiful blooms and plants perfect for growing in our coastal climate.
Gift Store
Blue Moon Gift Shops
203 Racine Dr., 910-799-5793, bluemoongiftshops.com
More than 100 artisans, craftsmen, retailers, and entrepreneurs create an unmatched selection of home accessories, furniture, art, pottery, hand-blown glass, apparel, handcrafted jewelry, coastal decor, photography, and more at Blue Moon Gift Shops. With so many treasures and vendors, it's never the same store twice!
Home Accessories Store
Blue Hand Home
1125 Military Cutoff Rd., 910-509-0088, bluehandhome.com
Inspired by the 10 years they spent living in Bali, owners Arnie Cullipher and Tracy Tang opened Blue Hand Home to inspire customers and clients to transform their homes into a comforting, inspiring sanctuary. BHH offers home styling, décor, women's accessories, gifts, and residential and commercial interior design services.
Jeweler/Jewelry Store
Reeds Jewelers
926 Inspiration Dr,, 910-256-2962; 3500 Oleander Dr., 910-799-6810, reeds.com
Reeds Jewelers for the win—again! Wilmington Magazine readers voted Reeds the Best Jewelry Store, honoring the generations of exceptional service and selection the retailer provides to us locally, throughout the Carolinas, and beyond. Professional, passionate sales staff and a tradition of value will ensure loyal customers for years to come.
Shoe Store
Monkee's
1900 Eastwood Rd., 910-256-5886, monkeeswilmington.com
Sandals, slingbacks, wedges, pumps, boots, heels, flats… Monkee's of Wilmington is the place to go when you need your shoe fix, whether you're buying or just browsing. From casual to classy, trendy to tried-and-true, take your feet on vacation to Monkee's.
Surf Shop
Hot Wax Surf Shop
4510 Hoggard Dr., 910-791-9283, hotwaxsurfshop.com
It's not the first thing you see when you walk in the door, but Hot Wax Surf Shop's surfboard shaping room is just one of the draws to this popular surf and skate store, established in 1986. Owner Michael Paul clearly practices what he "preaches," founding his own Proline surfboard label and shaping many boards himself. He enjoys providing the best surf and skateboarding products the industry has to offer.
Swimwear
Redix Store
120 Causeway Dr., 910-256-2201, redixstore.com
Southern lifestyle outfitters since 1969, Redix is a hometown favorite for anything and everything beach-related, especially swimwear. The abundant selection from scores of popular brands means everyone is outfitted for water wear: men, women, and children alike.
Wine Store
The Wine Sampler
4107 Oleander Dr., 910-796-9463, thewinesampler.com
No matter the price point, every bottle here is a special pour. Staff select quality wines with every drinker in mind. As goes the shop's motto, "Wine is too much fun to be stuffy and overly serious. Wine is about enjoyment, sharing, music, great food and lively conversation; wine is life…every walk of 'wine life' is welcome." Free tastings happen weekly Thursday-Saturday. Lots of other events pop up, as well. Be sure to subscribe to the newsletter for event and bottle news.
Best Services
Contractor
RMB Building & Design, LLC
1017 Ashes Dr., 910-256-6326, rmbbuildinganddesign.com
Owner Mack Braxton knows that attention to detail makes all the difference when transforming a dream into a home. As a premier custom homebuilder, he and his team of drafters, designers, and construction crew members have built more than 130 custom homes in the Wilmington area. Maybe yours is next?
Day Spa
Ki Spa Salon & Day Spa
1125 Military Cutoff Rd., 910-509-0410, kispasalon.com
Ki—an ancient Japanese word for energy—is incorporated into all of Ki Day Spa's wellness services—a heavenly assortment of massages, facials, and body treatments—through the use of natural products, pure aromatherapy, and healing techniques. Relaxation never felt so good!
Flooring Company
Carve Surfaceworks
514 Dow Rd., 910-795-4456, carveconcrete.com
Modern designer concrete can take your home from drab to fab, and Carve Surfaceworks is just the company to take you there. Decorative concrete comes in many colors and textures, enhancing the beauty of your home in ways you've never imagined!
Florist
Julia's Florist
900 S. Kerr Ave., 910-395-1868, juliasflorist.com
Make any occasion a special occasion with blooms from Julia's Florist. Their professionals routinely exceed customer expectations, and their repeat business and enthusiastic recipients are proof positive that Julia's is doing something very right.
Golf Course
Country Club of Landfall
800 Sun Runner Place, 910-256-8411, countrycluboflandfall.com
Whether you're playing the Jack Nicklaus-designed Marsh, Ocean, or Pines nines or the 18-hole Pete Dye-designed course, you'll love the rolling fairways, strategic sand and grass bunkers, and splendid views of the Intracoastal Waterway when you golf at the Country Club of Landfall. It offers more than 20 golf tournaments each year as well as Interclub match play.
Gym
O2 Fitness
1315 Independence Blvd., 910-769-1038; 980 Town Centre Dr., 910-239-1202, o2fitnessclubs.com
More than weights and cardio equipment, O2 Fitness offers members a multitude of ways to customize their workouts and their results. Their 50+ daily classes include Les Mills programs, indoor cycling, yoga, Bootcamp, and Pilates, along with personal trainers for one-on-one instruction.
Home Security Provider
ADT
910-338-0290, adt.com
ADT is one of the oldest, most trusted, and well-known names in the business, and they know that security and peace of mind are priceless. Home or away, you can rest easy knowing your home is monitored and secure, and even manage your thermostat, appliances, lighting, and security system with their Pulse smartphone app.
Homebuilder
RMB Building & Design
1017 Ashes Dr., 910-256-6326, rmbbuildinganddesign.com
RMB Building & Design is a double winner for the Wilmington's Best Awards, taking the title for Best Contractor and Best Homebuilder. An RMB home is certain to have elegant architectural details, innovative design that blends form and function, and unquestionable quality, built by master craftsmen committed to excellence.
Hotel
Hilton Wilmington Riverside
301 N. Water St., 910-763-5900, wilmingtonhilton.com
Historic charm, modern comfort, and Southern hospitality are all yours at the Hilton Wilmington Riverside. Its plum perch on the Cape Fear Riverfront puts you within easy walking distance to all downtown Wilmington has to offer, whether you're staying for business or pleasure.
Interior Designer
McKenzie-Baker Interiors
3115 Wrightsville Ave., 910-762-4222, mckenziebakerinteriors.com
Co-owners Kathy McKenzie and Patti Baker founded McKenzie-Baker Interiors in 1993, and believe that there is a great design for every space, use, and budget. They successfully guide their clients (both residential and commercial) to create spaces that reflect their visions and personalities.
Kitchen/Bath Remodeler
Kitchen & Bath Design Studio
914 South Kerr Ave.,910-332-4656, kandbdesignstudio.com
It's another back-to-back win for the Kitchen & Bath Design Studio, this time for Best Remodeler. The design team keeps their motto simple: "We listen. We design. We remodel." With their skills, education, and experience, they are well-equipped to bring your dreams to life.
Landscape Designer
Classic Landscapes
8138 Market St., 910-395-2500, classiclandscapesnc.com
Classic Landscapes has been installing and maintaining some of Wilmington's prettiest places for more than 20 years. They offer custom design and build service, including plantings, hardscapes, water features, lighting, and drainage solutions, all while remaining ecologically minded.
Pool Company
East Coast Pools
951 South Kerr Ave., 910-395-4507, eastcoastpools.net
Whether in ground or above ground, vinyl-lined or fiberglass, East Coast Pools is the company readers want installing their pools. ECP installs a fixed number of pools each year, intent on providing their clients only the bestworkmanship, selection, and equipment available. Drawing on 28 years of professional experience, they know how to help you beat the heat.
Salon for Women
Bangz Hair Salon
1203 S. 43rd St., 910-452-4247, bangzontheweb.com
Frank, Linwood, and the Bangz team are happy to offer pampering and relaxation in as many forms as legally possible: massages, facial and body treatments, manicures, pedicures, and salon services using innovative and state-of-the-art techniques and products. It's easy to see why clients remain loyal year after year, and why they're a Wilmington Magazine reader favorite!
Salon/Barber for Men
earthBOUND Salon and Day Spa
4833 Carolina Beach Rd., 910-791-9160, earthboundexperience.com
Whether you're sporting a full head of hair or are a little sparse on the top, earthBOUND Salon and Day Spa can fix you right up. All haircuts include a luxurious eastern scalp massage and a shampoo and style. We recommend taking advantage of the Gentleman's Retreat Spa Package while you're there.
School
Cape Fear Academy
3900 S. College Rd., 910-791-0287, capefearacademy.org
Small class sizes, a state-of-the-art, 27-acre campus, and a talented, committed faculty are just a few of the reasons Cape Fear Academy was voted Best School by Wilmington Magazine readers. Incorporated in 1966, CFA is an independent school with a longstanding tradition of excellence in Wilmington.
Wedding Reception Venue
City Club at de Rosset
23 S. 2nd St., 910-343-1880, cityclubatderosset.com
This gorgeous, Greek Revival-style mansion is in the heart of Wilmington's historic district, perched on a knoll with views of the Cape Fear River and beyond. Bespoke events find their way to the City Club's historic rooms and terraced gardens, simply perfect for entertaining in Southern style and grandeur.