Inspiration From the Sea
12 Jul 2014
With summer in full-swing, we talked with an all-star cast of four Wilmington interior designers to share their recent projects which serve as celebrations of coastal style. After reading their expert tips on designing for a coastal look, we hope you will become inspired to turn your home into a space worthy of an endless summer. Whether you're considering a remodel or considering a new piece to freshen up a room, you're sure to find ideas to turn your home into your favorite oasis.
By JOHANNA COLBURN
Big Sky Design, Nest Fine Gifts, and T. Williamson photos by G. FRANK HART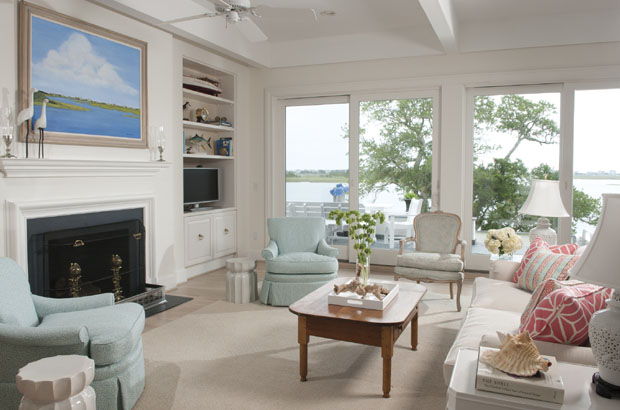 Liz Carroll, Liz Carroll Interiors
Nestled along the Intracoastal Waterway near the Figure Eight Island bridge, lies a beautiful home where Liz Carroll of Liz Carroll Interiors has fashioned an impressive living space by blending everyday livability with coastal design. Built by John Farlow in 1993 and designed by the famous late local architect Lison Flynn, the 4,500 square-foot home has been in the owner's family for generations. It's her affinity for mixing period styles that helps Carroll create her signature look that is fresh and current, but rooted in a timeless tradition.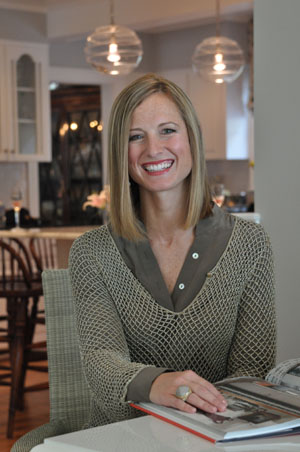 The interior had not changed in 20 years and the owners asked Carroll to make the space new again over the course of four months. Fortunately, the home had great bones to work with, as the home was already filled with exquisite furniture. The active couple needed a functional space with furniture and fabrics that could withstand pets, boating and grandchildren. Carroll determined the design concept based on colors and the needs of the family and created a practical flow of space for entertaining family and friends.
Together Carroll and the homeowners collaborated over a shared love of color. The homeowners bounced ideas off of Carroll and the project began from an engaging magazine article. They decided what to keep and what to eliminate while Carroll incorporated the new and tastefully preserved the old. Carroll reupholstered the existing chairs with durable indoor and outdoor fabrics and added swivels.
The end result is a light, fresh, up-to-date, and comfortable space that is both functional and effortless. The contemporary decor features pillows by Trina Turk and washable, easy-to-clean fabrics for the rugs and benches. Color is a big focus for Carroll and she fearlessly uses it to set up a visual dialogue and create a feeling for the room. Fabrics and textiles are her jumping off points to create the feeling and energy a space evokes, be it upbeat, calming, or relaxing. To stay abreast on the latest and greatest in the industry, Carroll is constantly using her own home as a testing ground to ensure her client's projects are successful. She believes in combining the aesthetic with functionality to make a space work for the client.
Carroll 's tips for decorating a space with a costal theme include function first and foremost. "The space should not have items in it that you can't sit on, but instead should be for relaxing and enjoying the space," says Carroll. "Use different textures and pull in different colors besides blue. Ideas include the greens found in marsh grass and the lavender hues of the sunset. Don't go overboard with a theme when decorating a coastal space." Instead of over-decorating with the obligatory seashells try to add other items from nature. And most importantly, incorporate the unexpected. A shadowbox frame on the gallery wall could include items such as a vintage bathing suit. 910-352-2416, lizcarrollinteriors.com
Renee Russo-Smith, Nest Fine Gifts & Interiors
Renee Russo-Smith of Nest Fine Gifts & Interiors has designed a beautiful home interior in Wrightsville Beach. Constructed in 2014 by Logan Homes, this craftsman-style home is as stunning from the street as it is from the Intracoastal Waterway.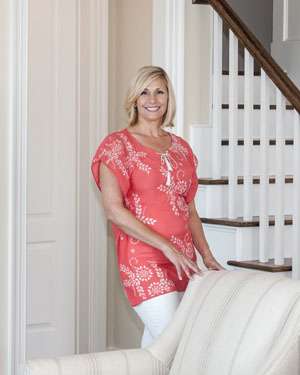 Renee began the three-month collaboration with the homeowners and helped pull every furnishing detail together on time and on budget. The result is an elegant coastal sanctuary with all the modern conveniences. "I believe with projects like this you need to let the effervescent view be the art," explains Russo-Smith. The interiors should be soothing and calm so our eye goes beyond the furniture and to the million-dollar view. "I'm always inspired by the neutral colors and textures of the coast and like to incorporate them in homes that I work on."
Influenced by the colors of the coast, Russo-Smith ensured that the interior was not too bold or jarring so the eye is drawn to the waterfront view upon entering the foyer. The furniture compliments the exquisite backdrop of nature through a mixture of natural wood shades and driftwood. The simplistic mixture of neutrals and textures evoke a sense of calm and peacefulness, while reflecting on the beauty of the beach and the ever-changing background of the Intracoastal Waterway.
Russo-Smith pulled each and every detail together to ensure the project was kept on track in order to be completed before the summer season. Custom-made means a perfect fit and Russo-Smith hand-selected each piece to add to the magic of the coastal backdrop. The living area features beautiful pine wood floors with custom stains, coffered ceilings, charming accessories, a state-of-the-art kitchen and multiple gathering spaces for dining, reading, relaxing and for watching television. The result is a space that is in perfect harmony with the outside, allowing for natural light and expansive views of the water.
The homeowners already had exquisite taste and knew what they liked so Russo-Smith's biggest concern was making sure the project would be exactly what they dreamed of and ready in time for summer. Her design concept was determined by the fundamental principles of form and function. The home needed to accommodate large crowds of family and friends, and keep up with the family's active lifestyle. The result is the creation of a sophisticated retreat that is still relaxed enough for everyone to enjoy.
Russo-Smith brings 16 years of experience and her panache for clean, casual, yet sophisticated aesthetics is apparent in her work. "I enjoy every aspect of the design process, including the discovery of each client's true style in order to achieve beautiful environments that are functional and timeless." She is inspired by a love of soft neutral colors, textures and layers of detail. 910-256-6378, nestfinegifts.com
Jo Howell, Big Sky Design
Future guests will be delighted to have the keys to paradise in this beautiful oceanfront home in Wrightsville Beach. The design project was taken on by Jo Howell at Big Sky Design. Jim and Donna Petrilla had a clear vision for their home and wanted it to reflect their casual lifestyle of easy, stress-free and practical, while retaining a sense of style and sophistication. Eventually the home will be utilized as a seasonal high-end rental property, so it was necessary that the living space accommodate as many people as the space allowed.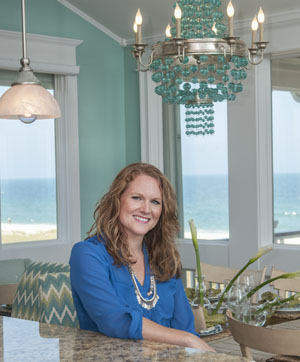 The 2,800 square-foot traditional beach-style home was built in 2006 by Dennis Moeller and is located at the site of the Old Station six monument on South Lumina Avenue, which is memorialized as a stop from the old Wrightsville Beach trolley. The interior needed a complete updating of paint, furnishings, lighting, art, rugs, and accessories. The Petrilla's wanted the living space to accommodate as many family and friends as possible, and a generous sectional was essential. Howell used soft, cleanable and luxurious outdoor fabrics on all the upholstered furniture, giving consideration to their day-to-day beach going use and for a high-end look. Each of the five bedrooms has its own bathroom in addition to a complete master suite, and large deck overlooking the ocean.
Howell wanted the home to feel welcoming yet still have a sense of sophistication and style. It was also important to achieve a cosmopolitan look that could accommodate guests in a laid back way. Since this home will be available to rent, it was very important to utilize performance fabrics, such as Sunbrella fabrics and distressed woods, mixed with sea glass and detailed wainscoting. Howell used soft tones of aqua, sand, taupe, blues and greens to complement the way the light plays off of the natural surroundings. It is a truly livable space from the exterior to the interior.
The back of the home has a sweeping view of Wrightsville Beach, with a large deck that seats six at the teak dining table, a sofa, and lounge chairs. The generous sectional accommodates a full-house as well as a large distressed gathering table and bar seating. Above the gathering table resides a traditional yet modern chandelier to elevate the high-end coastal look. The chandelier adds a delightful detail for guests and serves as a classic example of the marriage of unexpected materials mixed with sparkling aqua glass.
"What inspires me as a designer is tapping into the senses of my clients, getting to know them on a personal level and being able to deliver what they truly want in life, whether that is a quiet reading nook, an elegant and detailed master bathroom, or a functional, large, family-filled kitchen for entertaining," explains Howell. "It's about being able to experience the gratitude in the lives that you change. I like to open the minds and eyes of my clients to the ideas that there is no limit to the inspiration around us."
Jo's tips for decorating a space for a coastal theme is to keep your overall color palette soft and light but add in a punch of bright or saturated color in the accessories or pillows. Secondly, make sure to layer in textures. Mix your finishes to create a well-thought out and collected look. To have an oil-rubbed bronze lamp next to a hammered silver charger is such a refreshing surprise. Also, don't get too literal with your theme ― keep it simple and fresh! Last but not least, less is more and bigger is better! 910-793-3992, bigskydesignonline.com
Virginia Wyatt, T. Williamson Interiors
Virginia Wyatt of T. Williamson Interiors embarked on the adventurous journey of bringing an ocean front condo on the north end of Wrightsville Beach back to life. Constructed in the early eighties, the 1,400 square-foot unit was bought by the homeowners completely furnished and needed to be brought up-to-date. Faced with popcorn ceilings, overstuffed furniture, pepto pink walls, low vanities, and an outdated kitchen, Wyatt was faced with a creative challenge.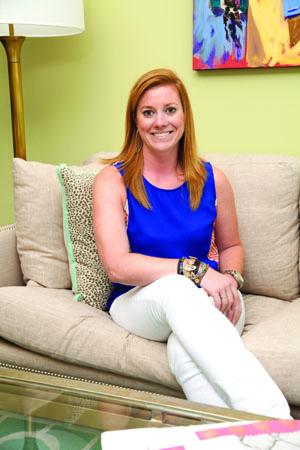 The homeowners wanted to completely change the look of the space and hired Randy Hunt, of Randy Hunt General Contracting, to demolish the interior of the condo. Wyatt was in daily conversation with Hunt throughout the entire project. Interior design and decorating decisions were made by Wyatt and the homeowners during the demolition. All renovation decisions were discussed with the homeowners who were actively involved throughout the entire project.
To determine the design concept, Wyatt met with the couple to discuss their lifestyle and vision of a space tailored for them.The homeowners wanted an elegant beach look that was easy to maintain. Comfort, practicality, and aesthetics were important elements. Sophisticated yet energetic, the space is nowlight and airy, while gracefully blending various shades of sea-inspired blue and filled with chic coastal décor. Original artwork by Kristin Gibson from Spectrum Art & Jewelry hangs above the sofa and a piece from Ben Keys in the dining room area.
The project is still ongoing but most of the design work took place between June 2013 and May 2014.
Drawing inspiration from blogs and shelter magazines, Wyatt's style is transitional with a functional aesthetic. She encourages clients to push the envelope a little to give them a more unique look that is still tailored to their needs and taste.
Tina Williamson, founder of T. Williamson Interiors, adds that she is influenced by the enthusiasm her clients have regarding their new home at the beach. "I've lived at the beach and enjoyed it all of my life, so my life experiences also inspire me," said Williamson. "The library at T. Williamson Interiors has been developing for many years to give our clients a broad selection of fabrics and furniture that can be used in homes on the coast."
Williamson and Wyatt's tips for decorating a space for a coastal theme is to first and foremost compliment and maximize the waterfront view. Utilize fabrics that can handle exposure to sun, sand, water, sunscreen and that are designed to withstand whatever the elements may be. Additionally, represent the elements of its natural surroundings including the sand, water, sky, and marsh. The space should embrace the coastal lifestyle and evoke a casual look while providing a change of pace from city life. 910-256-3256, twilliamsoninteriors.com