Swim in Summer
12 Jul 2014
In praise of the bikini―A summer fashion classic throughout the years
Stylist: Kristin Wood Photography: Leslie Koehn Model: Michal Lauren Cheshire Hair & Makeup: Chelsea Sule Location: Home of Allison Surfboards, Wilmington NC
Summer Bohemian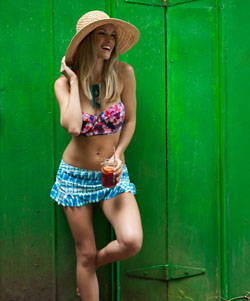 Swim Systems bikini Tie Dye Printed Top & Tie Dye Skirted bottoms, both $78,
Wallaroo "Nina" hat, $50, all at Redix.
Whistlepig Workshop "Jean Jeanie" necklace, $70, at whistlepigworkshop.com.
Designer Summer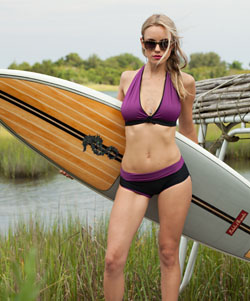 Edge of Urge "Maria" Solid bikini in Eggplant and Black, $110,
Vans "Janelle Hipster" sunglasses, $12,
I Like It Here Club "The Yovanni" necklace, $140,
and "The Bergman" earrings, $80, all at Edge of Urge.
Art Co. Surfboard design by Clark Hipolito, shaped by Will Allison.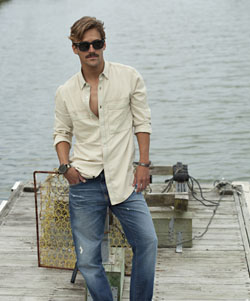 After the Boat
French Connection "David Denim" shirt in "Extreme Bleach", $98,
Big Star "Devision" Jeans in "Mariner", $118,
William Painter "Original Wayfarers" sunglasses in Titanium, $155,
Vagabond bracelet in brown & sterling, $39,
Kimono "Magnus Print Series "Woodland Camo" watch, $100, all at Bloke Apparel.
After the Beach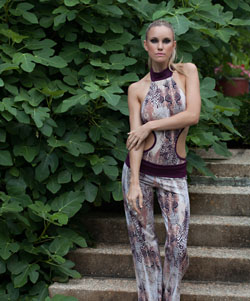 Tara Grinna Swimwear "Exotic Plum Animal Print" Monokini, $149,
and Yoga pants, $158, both at Tara Grinna.
Kopious "Krystal Duster" ring, $90, at kopiousjewelry.com.
Coastal Vogue
Xirena "Tias" bathing suit top in "Gilt", $75,
and "Cleo" bottom, $48,
Tom Ford "Liane" sunglasses, $387,
Merewif "The Cuerno" necklace, $130,
Kopious "Klutch Portfolio" in Obsidian (shown in double fold style), $250, all at Oliver.
Surfrider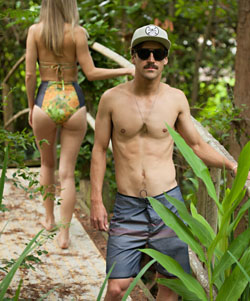 Ourcaste baggies, $64.99,
Epokhe "Renaca" sunglasses, $139,
Annex Beige Corduroy hat, $28,
Reborn Designs "Circle Surfboard" copper necklace, $40,
all at Annex Surf Supply.
Shopping Guide »
Annex Surf Supply
534 Causeway Drive
509-2995
Bloke
1427 Military Cutoff Road
679-4137
Edge of Urge
18 Market Street
762-1662
Kopious Jewelry
KopiousJewelry.com
Oliver
1055 Military Cutoff Road
256-2233
Redix
120 Causeway Drive
256-2201
Tara Grinna
1121 Military Cutoff Trail
509-9999
WhistlePig Workshop
WhistlePigWorkshop.com