Business Ingenuity
12 Jul 2014
The UNCW Center for Innovation and Entrepreneurship is helping connect start-up businesses with valuable resources to grow, and strengthen Wilmington's community as a whole
By DAVID HOWELL Photos by JEFF JANOWSKI, UNCW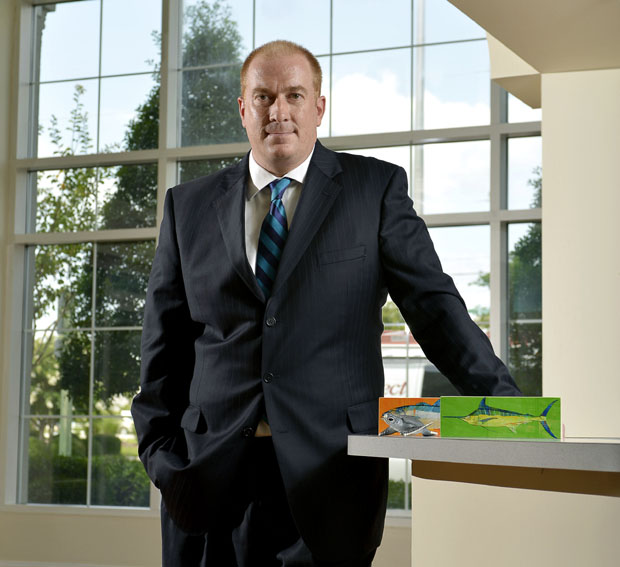 Shortly after moving to Wilmington in 2004, I found myself discussing the business market with a local business owner who made this comment: "Wilmington's weird… It's like we can't decide if we're a city or a town!" That business owner, like so many, opened his business downtown because he felt that part of Wilmington was missing something that people wanted. To this day, he is still in operation and that comment still resonates.
Think about it. How often do we step back and attempt to define the places we live in according to such vague definitions? A lot of folks don't even try. Nonetheless, I have made it a point to ask this very question to established business persons through the years: from a business perspective, is Wilmington a City or a Town? "Cities" bustle and brim with big commerce, tall glass buildings, concrete, and elaborate transit systems. "Towns" sit quietly and measure good days and deeds alongside what work they've provided for their neighbors and closely knit business networks. Cities are big. Towns are small, etc. Most of the answers I get hover somewhere in the middle of the two recognizable stereotypes.
Most aren't sure how to respond, but the question permeates in many of Wilmington's business events as well. The popular Power Breakfast Series which started several years ago and addresses Wilmington's business issues far and wide, has hosted CEO's and Chancellors, marketing gurus and social media geniuses, business pioneers and lawyers, winning coaches and politicians, all asked to discuss Wilmington as a business entity. What is the Wilmington brand? The consensus is decidedly mixed.
When I sat down with Director Jim Roberts in The Center for Innovation and Entrepreneurship at UNCW (we'll call it CIE or the Center), I asked him what he thought. He gave me the clearest and most clean-cut answer I've heard yet. "I think it's a city if you're living here. But, I think the rest of the state sees it as a place to visit on weekends." He goes on to say, however, "That's a perception CIE is planning to change. We have the quality of place. We need to continue to add the stronger economy to that quality, and then who wouldn't want to live here?"
Roberts graduated from University of Florida. In the year 2000, he was living in Charlotte, which at that time was the second biggest banking city in the United States. "However," says Roberts, "they were not necessarily participating in the technology economy." For all the banking dollars in the area, Roberts was working in the dotcom era where everyone wanted to be the next big start-up.
But how? He was working for a website design firm and most, if not all, of his prospects had little to no money. Quite simply, you can't sell services to companies with no money. So the answer for Roberts was to help them get more. In order to do that, he started a company called First Round. It established and held events engineered towards bringing entrepreneurs, investors, media providers and other professionals to a common place where they could connect. The topic of these events always involved how to get money into the hands of the entrepreneurs so they could grow their businesses. What he was doing lasted for about two years preceding the dotcom bust and 911, but the basic philosophy stays true, and Roberts brings it to the table at CIE—get people together who can help each other grow innovative businesses with potential and promise.
So the Center is all about growth. That too is something Wilmington opinion leaders and business professionals debate on almost a daily basis. What kind of businesses do we want here? There are many in the business community who feel that what type of company comes here shouldn't ultimately matter. There are others who feel we should be striving for tech over anything else. While Roberts doesn't pick particular sides regarding specific industry battles in Wilmington past or present, he does have ideas about the kind of industry the Center itself is focused on. At CIE, the ideal business is a start-up. Though the center can and will assist any entrepreneurial endeavor, it's not just any potential business they are focused on.
Ideally, CIE wants businesses whose goals and aspirations in the marketplace border on not simply being a part of a bigger and more robust business hub in our area, but innovating new ideas and going way beyond geographical specificity—here, there, and everywhere so to speak. Hence the word, "Innovation."
Roberts points to one of the first app companies affiliated with his tenure at the Center. The company Next Glass has built an app that takes the chemistry, or as they say, "DNA," from a particular user's genome cellar. Then, it builds a Taste Profile for the user that changes with one's likes and dislikes, and allows them to discover beer and wines that they will like. It also has a lot to do with food pairings and more, but it is still in its Beta (early testing) phase.
More importantly, and more directly related to CIE, Next Glass is one of the most successful businesses that has been and still is affiliated with the Center. "If you look at Next Glass," says Roberts, "they started out about the same time (in last September) that we started, and they've hired seventeen people since then for jobs that pay two to three times more than the average wage of the city." It's about the numbers and the achievement. "So if the average wage is, say, $36,600, Next Glass jobs are all between $75,000 and $115,000. There's no down-side to that, because those are really good jobs that also produce and support other good jobs."
People who earn well need homes. Homes need to be sold or built. Goods and services must be provided. Good jobs create more good jobs.
As far as the University of North Carolina at Wilmington is concerned, the center is a re-envisioning of the previous Entrepreneurship Center, which was identified as one of the Top 20 Emerging Entrepreneurship Centers in the nation by the Financial Services Forum in 2011.
The CIE now works more like an incubator for investment, events, opportunities, research and education. CIE even has it's own investment fund. Just a few of the notable facts regarding the Center's involvement in the community so far can be found on UNCW's website. More notable are that 20 companies call CIE home, three members have won awards, 21 major events have been hosted in less than a year since opening on September 5, 2013 with an average of 85 attendees (that's standing room only), and two CIE companies now have lab space at MARBIONC, the University's center for marine bio-technology and business.
From idea to exit, the CIE has a goal for each company that is around 18 Months. "But, we want you to graduate into the community," says Roberts. For this, the CIE has five offices outside the building that can offer space for companies who grow out of the Center, and they also have offices in surrounding buildings just outside of UNCW's traditional campus boundaries. Roberts also says that when demand requires it, there will be more space made available.
"We want to help build companies. We want to help grow them. But then, we want them to either sale to a bigger company or, ultimately, have an IPO on Wall Street. That's the goal of all start-up companies."
And for those of us who have the innovative ideas, but not the technological expertise, the center connects you to the resources. All promising entrepreneurial businesses can receive help, but there does need to be more than a dream. There needs to be an executable idea, and the willingness to go the distance.
"We can help anyone with how to make the basic connections they need to make within the business world, but the companies that are going to be tenants of CIE need to have a piece of intellectual property that is an innovation they can protect. They need to have an idea that someone could invest in. It's also an idea that can have an exit event five to seven years down the road."
One of the greatest resources and ways for more people to discover what the Center is doing for entrepreneurs is to attend one of their events. Ways to discover how to both grow and ground your business happens there. "If you come to our events, not every single person in the room is an entrepreneur. There are certain technology professionals who are web designers or investors who are looking for clients. We have accountants and lawyers who come to our events, because entrepreneurs needs all kinds of resources and sponsors."
So, to get back to whether Wilmington is a City or Town, perhaps the best answer is, "neither." From a business perspective, what we are and what we will continue striving to be is a strong community. That seems the most likely answer. It also seems obvious from the perspective of Jim Roberts and the people doing great things at CIE, that it's the only answer that really matters.