Big, Bright, and In Bloom
05 Nov 2017
Local oil painter, Debra Bucci, is an artist on her own terms
By JUDY ROYAL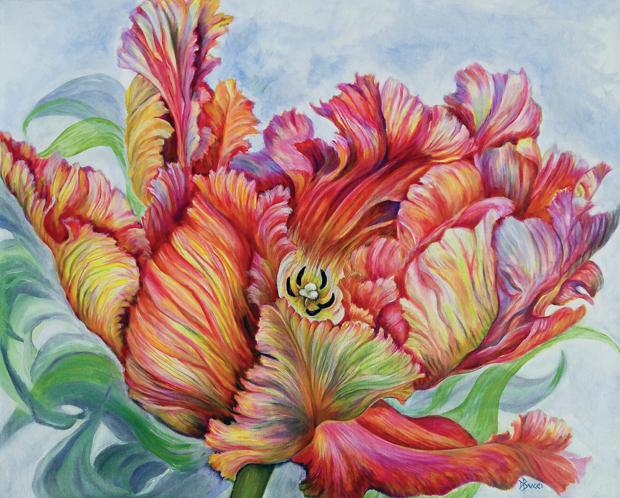 Debra Bucci has been a Wilmington resident for only a few months, but she's no newcomer to the local art scene. Her oil paintings have been brightening up the Port City for a couple of years, thanks to a connection she made hundreds of miles north.
Bucci and Amy Grant, owner of Art in Bloom Gallery in downtown Wilmington, were friends when they both lived in Pennsylvania. They often talked of a dream that is now reality – Grant owning a gallery that featured Bucci's artwork. Grant, who has family in this area, came to Wilmington first, opening Art in Bloom in October 2015. Bucci eventually followed, but she didn't wait to relocate before bringing her artwork south. As an anchor artist at the gallery since the beginning, Bucci and her husband were traveling to Wilmington at least monthly before they made it their permanent home last spring.
From the beginning, Bucci felt she'd found her place in a vibrant community of creative colleagues.
"My client list was growing really fast and Amy was marketing me and I was being written up in assorted things," she said. "Wilmington was getting to know me, and I was just embracing every moment of it. It was intense and it was fast and it was really fun. Wilmington loves artists."
Like many of her peers, Bucci discovered her artistic talent early in life – in her case, as a sixth-grader living in Westchester County, N.Y.
"All of a sudden I started having really strong opinions about colors and what I liked and what I didn't like," she said. "My mother and father always encouraged it because neither one of them could draw a straight line."
Bucci took as many arts and crafts classes as possible, before heading off to Drexel University in Philadelphia to study design with an emphasis on interior design. Part of the curriculum included learning other artistic modalities, and that's when she was introduced to oil painting.
After graduating with a design degree, Bucci had a choice to make – follow her love of artwork or pursue a corporate career that allowed her to use her creative skills to a limited degree but with more financial stability. With two kids to raise and eventually send to college, Bucci picked the latter, and that began her 25-year career in package design for various companies and products, including Hershey's.
While she found her career, which focused on color consistency and other prepress steps in the process, to be "interesting and challenging and fun," Bucci longed for a time when she would have unlimited time to paint. After her youngest graduated from college, she left the corporate world and finally started being an artist on her own terms.
"It was like a freaking explosion," Bucci said. "I couldn't paint fast enough. I've been doing it ever since, which has been about seven years."
"I walked away from the crazy corporate life and just dove into my new career of being an artist 24/7," she added. "I've never looked back, and I'm having such a great time."
Bucci's style is rooted in realism and woven with abstract elements. Her signature works are big, bright and floral.
"If I had my way I would paint 5-foot squares and bigger," she said. "I went out and got these enormous canvases and oil paint. I just started painting these giant flowers. The brighter the colors, the better. I've always been attracted to those super bright colors."
Why flowers?
"They're the perfect vehicle to express frailty and strength," Bucci said. "Flowers have this frailness to them, but on the other hand they're really kind of strong. I really don't want Hallmark-pretty paintings. The painting needs to have energy and it comes from tension and you've got to have some of that other side."
Since moving with her husband and dog to Wilmington, Bucci said her artwork has changed, mostly becoming brighter. She attributes that to the more temperate climate here.
"The weather has made a huge impact on me," Bucci said. "That sun just gets into you and warms your bones. I'm always warm, and it's coming through in the paintings. It's just really strong color here, really warm."
As an example, she mentions her "Carolina Sunflowers" painting.
"It just radiates with sunshine," Bucci said. "It's just really bright. It's a good mirror for how I was feeling when I had first gotten here, and it was really different than what I was painting in Pennsylvania."
In addition to Art in Bloom, you can find Bucci's work at Cameron Art Museum and The District Kitchen & Cocktails, and on her website at debrabucci.com.
"I really want my artwork to leave people exhilarated," she said. "It's that frailty versus strength, but ultimately that strength wins out and there's a feeling of lifting people up."