Boardwalk Pizza & Subs
06 Sep 2020
Serving up delicious and nostalgic eats straight off the Jersey Shore boardwalk

By BRIDGET CALLAHAN » Photos by KELLY STARBUCK PHOTOGRAPHY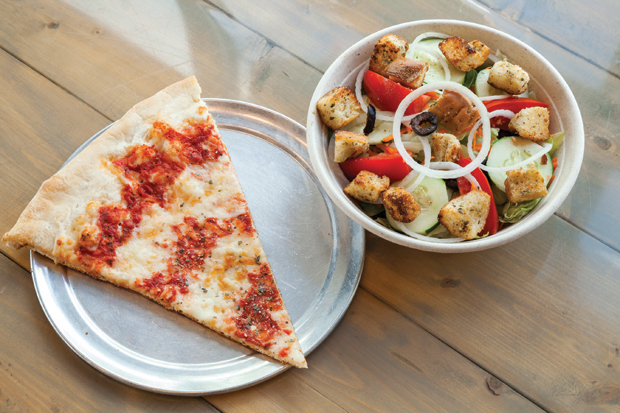 Pizza is a powerful memory. As one of the most iconic American foods, most people hold in their hearts the idea of the perfect slice, the ultimate pizza if you will, built from cherished hometown remembrance. Thin crust, deep dish, Detroit style - the kind you love depends entirely on where you fell in love with it. For Boardwalk Pizza & Subs owners, Randy Naylor and Stacey McGonigle, that was at the Jersey Shore boardwalk.

"I grew up in New Jersey, my parents had a place at the shore. Back then, all the young kids would get excited about summer days off at the Jersey Shore, walking on the boardwalk, eating pizza, fried twinkies, and all that fun stuff," Naylor says. Co-owner Stacey McGonigle grew up in Pennsylvania and had those same childhood memories. "My husband and I as kids vacationed in Ocean City, New Jersey. It was there we enjoyed delicious pizza on the boardwalk. Since being in Wilmington for the past ten years, we have not found a pizza quite as good as we had grown up with. This is where the concept for Boardwalk Pizza & Subs was born."

What is it that makes Boardwalk's
pizza different?

"It's a swirl pie," Naylor explains. "Our dough is handmade in house, stretched to order. The cheese is a blend of mozzarella and other various cheeses. The cheese goes on the dough first, then followed by the mouthwatering sauce, which allows the cheese to bake into the crust. These steps are what make our pizza unique. The way the sauce is swirled on the pie makes every bite a different experience in the best way. One bite is sauce and cheese while the next bite is just cheese."

The iconic pie is crispy and thin and available by the slice as any good NY-style pie should be. Boardwalk Pizza & Subs has only been open a couple of years, but already it has a big following. The little pizza and sub shop, nestled in a shopping plaza on Gordon Road, only sits sixteen people and does most of its business through the drive-thru window. If you pop inside to take advantage of their "two slice special", you'll see a wall-sized mural of the Atlantic Coast, marking famous pizza spots from southern New York
to Maryland.

"We have a lot of people come down from Maryland, New Jersey, Pennsylvania and New York. People love to come in and see all of the pizza places they grew up with. We are trying to give the guest a nostalgic experience," says Naylor.

The menu is full of other favorites like homemade pepperoni roll ups which are sliced up and baked until they are crispy and overflowing with cheese. Their Boardwalk "crab" waffle fries are sprinkled with Old Bay seasoning. The Philadelphia cheesesteak is made as authentic as possible with meat brought in from Philly and soft bread from South Jersey. The fried raviolis are breaded by hand. McGonigle's favorite, which was inspired by a South Philly deli, is the Boardwalk Chicken Cutlet Sandwich with provolone and roasted red peppers on top of a hand breaded chicken cutlet. Old school enthusiasts will be delighted to find stuffed fried rice balls covered in cheese and marinara on the menu. But of course, the pizza is the front-runner. Customers can choose the classic thin NY crust of the swirl pie or the thicker deep pan crust of Sicilian style. And all orders are topped off with salt water taffy, Boardwalk style.

Naylor's personal favorite is the Nonna. "It's a little thicker than a NY crust, and it's thinner than the Sicilian. It comes with our special blend of cheese and a fresh handmade margherita sauce, which is thicker and more flavorful, with fresh basil on top. It's cut into squares, and to me, it's one of the best pizzas we have, because it is very flavorful," Naylor says. He also recommends their version of a white pie, which comes dotted with rich ricotta. There is also a gluten free crust available. It is hard to go wrong no matter what kind of pizza mood you are in.

Boardwalk Pizza & Subs' second year anniversary fell just as the Covid shutdowns started, but unlike most restaurants in 2020, this little pizza and sub shop has thrived, which is partially due to good planning. They avoided the pitfalls of a more traditional sit-down restaurant by offering drive-up takeout, which has proven immensely smart in the age of Covid. People are certainly getting more takeout than ever. Even catering has stayed busy, though it sometimes requires a little out of the box thinking. When a local apartment complex contacted Boardwalk Pizza & Subs about catering a lockdown pizza party, the store created pre-baked pizza kits for the residents to finish baking in their own homes.

"We put the crusts in the oven for just a few minutes. We provided them with separate sauce, cheese and toppings. They then built and baked the pie at home. We delivered thirty pies that night to thirty customers," Naylor says.

Creating a feel-good food experience that invokes those happy summer boardwalk nights is the ultimate goal. "We wanted to create something that was different from a typical pizza shop so when a customer comes in, they not only enjoy it, but they create new memories," Naylor says.

Boardwalk Pizza & Subs is closed Sundays and Mondays for the time being, but they expect to return to their regular seven days a week schedule eventually. In the meantime, you can still get all your Jersey Shore favorites Tuesday through Friday 11am-9pm, and as their motto says, "We will see you at the Boardwalk!"