Breaking Down the Barriers to Health Care
04 Jan 2023
An organization opens access to health care and mental health services on site — a godsend to parents and students alike.
By Vera Wilson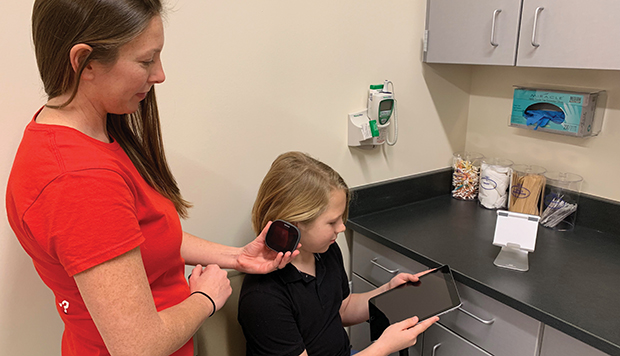 It's Wednesday afternoon, and you're at your desk preparing for a meeting. The phone rings—it's your son's school calling to let you know he's running a slight fever and you need to pick him up. You call his pediatrician, hoping they can squeeze him in for a visit… on Friday. Your kid is sick and you're not sure what to do during the hectic work week. What's a parent to do?
If you live in Pender County, Pender Alliance for Total Health (PATH) just might save the day. PATH is a nonprofit that provides access to high-quality health care in the school setting, where your child(ren) and thousands of other students spend most of their time.
Students can face many barriers to high-quality health care, such as living at or below the poverty level, lack of transportation or a shortage of providers, particularly in rural areas.
"Our goal is to take away those barriers by providing affordable, integrative health care at school," explains PATH's Executive Director Sandy Rowe.
So how does PATH accomplish this ambitious goal?
With funding from the Affordable Care Act, PATH was able to provide two school-based health centers (SBHC), one on the campus of Cape Fear Elementary and Cape Fear Middle School in Rocky Point and the other at Pender High School in Burgaw. The school nurses and a PATH medical assistant handle sick visits and administer tests for common childhood illnesses. They also can assist and monitor students with management of chronic conditions such as diabetes. Wellness checks, sports physicals, immunizations, and hearing and vision screenings are available as well. As long as the parents give permission through a simple enrollment process, all these services are conducted right on school campus.
PATH complements and supplements the traditional role of school nurses, family physicians and even mental health professionals. Follow-up with the student's established healthcare providers is always a priority.
"We're certainly not trying to take over the role of a primary care provider, although we do serve as a medical home for students who don't have one," says Rowe. "PATH is like the hub of what we call the Community Health Network. The spokes are the primary care providers, the mental health providers and school staff."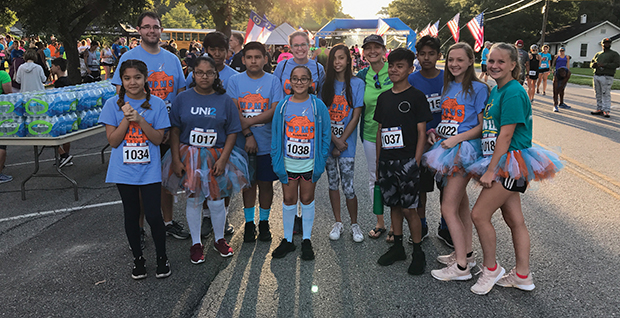 Founded in 2010, PATH has been on the cutting edge of providing access to the health care that Pender County students need. Unable to build a center on every school campus, Rowe turned to telehealth as an answer to providing care at each of the county's 19 schools. With a major investment in equipment and licensing (thanks in large part to funding from Pender County Schools), PATH has been offering telehealth visits well before they became commonplace under the COVID-19 pandemic. By partnering with the North Carolina-based Center for Rural Health Innovation, a student can remotely "visit" with a licensed nurse practitioner who is qualified to treat certain medical conditions and prescribe medicine without the direct supervision of a doctor. Parents can join in from work or home.
"We're here to offer efficiency and convenience. The earlier we can get a diagnosis, the easier it is to treat, and the sooner the student can return to school and learning," explains Rowe.
At PATH, no teacher is left behind. Any Pender County School employee can use PATH's services.
"Last year, we served about 1,500 students and 200 teachers/staff," says Rowe.
In recent years, Rowe has turned her attention to mental health care. Although PATH has, since its early days, offered mental health services through a partnership with Coastal Horizons, the results of a survey PATH sent to students in 2019 exposed some disturbing statistics.
"Thirty percent of our nine to eighteen-year-olds were flagged positively for depression," says Rowe. "Seven to nine percent flagged positively for suicidal ideation. And this was pre-pandemic."
Armed with this information, PATH staff, school counselors and Coastal Horizons therapists were on hand to treat students deemed at risk and referred those in immediate need to the appropriate mental health care provider.
"We quickly realized that the need for mental health services was so great and the number of therapists so small, we added teletherapy visits for students with mild to moderate needs," says Rowe.
For those receiving in-school mental health support, the telehealth system already in place proved invaluable when COVID-19 prompted schools to close.
"When COVID hit and schools were shut down, we were able to quickly convert students who were receiving in-school therapy sessions to teletherapy," says Rowe. "They only went about two weeks without their therapy."
PATH has embraced the adage that an ounce of prevention is worth a pound of cure.
"We've become laser focused on the prevention side," says Rowe. "Yes, we will always be here to treat young people with illnesses, but now we can turn our sights on providing prevention tools and techniques."
"One of the most exciting things is the mindfulness program currently offered at the kindergarten, second and sixth-grade levels," shares Rowe. "By teaching the children how to stop and take a breath, they can actually regulate their emotions. It's something they don't forget. They can use it anytime, anywhere and it costs nothing. And studies have shown that students who perform mindfulness exercises before a test, score better."
Due to the success of the mindfulness program, PATH has recently applied for federal grant money in order to expand their preventive technique training. Some of the funds will be used to sponsor the Youth Advisory Council at Topsail High School that has chosen mental health as their focus.
PATH is funded primarily through grants such as ones awarded by the Cape Fear Memorial Foundation, United Way and the NC Department of Health and Human Services. Donations from individuals and businesses also keep PATH humming.
PATH is currently in the midst of their annual fund drive. If you'd like to donate, please visit pathhealth.org.