Small Size, Big Benefit
04 Jan 2023
Wholesome Greens proves that microgreens and edible flowers are so much more than a pretty garnish
By Emory Rakestraw » Photos by Joe Choi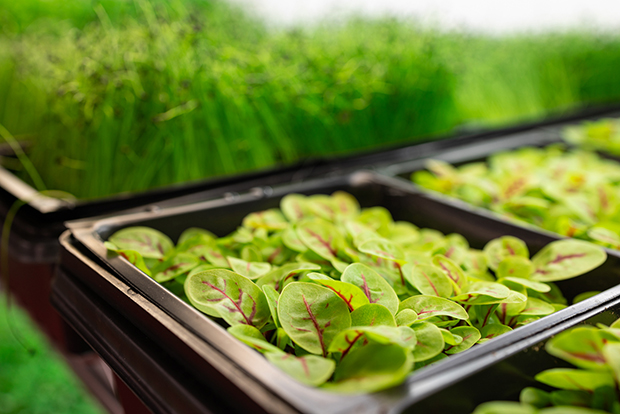 Did you know just one serving of microgreens packs 40x more vitamins and antioxidants than their adult counterparts? Add in the retained benefits of a fresh harvest, high yields requiring less grow space and their aesthetic touch to any dish, and you have a solid argument for why microgreens should be on your next to-grow list.
As seedlings of vegetables and herbs, common types of microgreens include amaranth, beets, basil, cabbage, celery and chard. They're harvested just after development of the cotyledon leaves or, in layman's terms, the seed leaf. For Joe Choi and Nicholl Gleason, growing and selling microgreens is a key component of their half-acre suburban homestead. The two founded Wholesome Greens, LLC in 2015 and have since expanded into edible flowers, herbs and mushrooms.
"Microgreens are not only a superfood but they're a very beautiful garnish. They have high nutritional value and are easily digestible," says Choi. "For example, a broccoli plant will only have as much as that compound or benefit that's in the seed, so one seed may have one unit, and when it grows it dilutes. When you eat microgreens, you're basically eating 40-50 broccoli plants."
It wasn't only the health benefits that attracted Choi and Gleason to microgreens, but also the convenience and ease of growing and harvesting them. Most microgreens are grown indoors, which is Choi's preference considering Wilmington's harsh heat and humidity. To grow, they only require a tray or glass container (with a lid), sprouting seeds, soil mix or a grow mat, water and a window with sunlight.
Microgreens grow year round with a growing period of five to seven days for warmer climates and two weeks for cooler climates. You'll know it's time to harvest when the first set of real leaves appear and are around one and a half to three inches tall. Cut just above the soil line and serve immediately for potent flavor.
"In the beginning, Nicholl and I wanted a homestead business growing a lot of things in the yard. Microgreens were a good fit in that you don't need a big property and they're a quick turnaround," says Choi. "I already had relationships with chefs in town and started small. Over the years we have grown and now supply about 20 different restaurants as well as a few restaurants we work with for edible flowers."
Those restaurants include PinPoint, Seabird, EAST Oceanfront Dining at the Blockade Runner, True Blue and The Green House. Microgreens not only add visual interest to a dish but pack plenty of flavor. A small garnish of basil microgreens proves the concentrated equivalent to its leafy, adult version with the ability to marry multiple flavors, highlight spices and lighten up umami.
For Choi, his favorite microgreen combination is an unexpected one: "I'd have to say my favorite would be pairing a purple or pink radish with a grilled cheese sandwich. It's amazing, just put a handful of it on there with bread and grill like you would any other grilled cheese."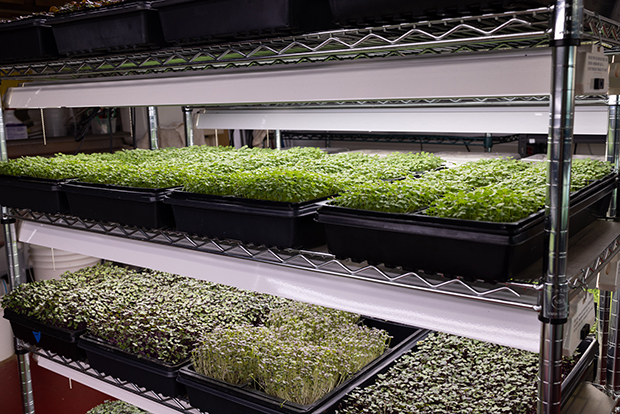 Aside from microgreens, Wholesome Greens also grows and sells culinary herbs and edible flowers. When it comes to edible flowers, they're not just there to pretty up a dish. Varieties like alliums provide the same flavor as chives or leeks, while nasturtiums add a peppery flair and are comparable to watercress. Choi grows marigolds in the summer and viola, borage, pansies and more in the cool season.
"The edible flowers came about in a lot of the things we were growing. We experimented… and towards the end of harvest, they'd start flowering," says Choi. "Dean Neff with Seabird always expressed interest in having unique garnish for dishes and he helped steer us in that direction with edible flowers and culinary herbs."
Choi is a big proponent of herbs (micro or adult) and sees them as an easy grow for novice gardeners. He suggests starting with culinary herbs you can pick daily and utilize to make a meaningful impact in a dish. If you're looking for an easy, low-maintenance solution, go with perennial herbs like oregano or parsley. "It's the lazy man's way of having herbs continuously instead of planting season after season. If you keep your beds tidy, weed eat and water properly through the summer, they're very easy to tend to," he says.
Recently, Choi and Gleason expanded their business and launched Wholesome Green's sister company, Wholesome Farms, which focuses on gourmet, edible mushrooms. Choi grows and sells a variety of mushrooms including oyster, lion's mane, chestnut, shitake and golden enoki.
It's safe to say mushrooms are having a moment. The global mushroom market is expected to grow to $18.78 billion by 2025. On a local scale, they're gaining popularity too. Lion's Mane mushrooms recently took center stage as an entree at The Green House while Hen of the Woods mushrooms were used in Pinpoint's risotto alongside Carolina gold rice, seared greens, parmesan cheese and roasted turnips. On Facebook, the Wilmington Mushroom Club boasts nearly 250 members, connecting both farmers and hobby mycologists.
You can find Wholesome Greens and Wholesome Farms every Saturday at the Wilmington Farmers Market. Wholesome Farms mushrooms are also (often) available at Tidal Creek and Homegrown Market.