Art that lays the groundwork for a brighter future

By KIM HENRY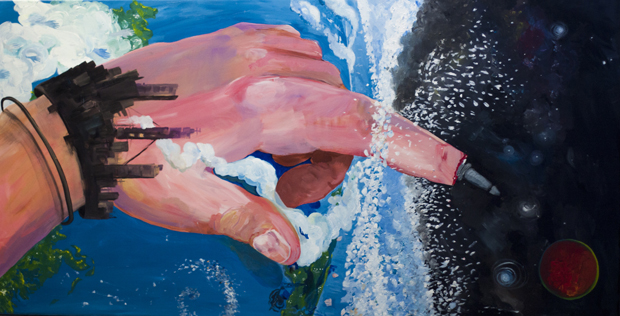 Blending her passion for paint, politics and plants, local artist Bri Mellott is finding her own unique way to share the stories that matter. Whether it is through her Art Nouveau inspired pen and ink drawings, vibrant acrylic portraits, or profound poetry, Mellott has plenty to say. The unique fusion of these mediums reflect the intersection of her reoccurring themes and help reshape the world around us.

Born in New Jersey, Mellot moved to Wilmington in 2006 and attended New Hanover High School where she met her first mentor. Having always loved the fantastical style of graphic novels and anime, it was her high school art teacher Sarah Jones who brought her back to basics. "She encouraged me to try and represent things as they actually look, rather than just my idea of how they look. This gave me a much stronger set of skills with which to return to my more abstract art later on," explains Mellott, who worked diligently on improving her artwork throughout her teens.

Mellot then went to Cape Fear Community College to study her other great interest in life – politics. Although this broadened her understanding of how the world works, Mellott found herself doodling throughout her classes and realized that this was not her calling. "I remembered points of the lectures through my drawings!" laughs Mellott, whose work is often infused with her affinity for ecology and social justice.

Like many artists, Mellott's work is a reflection of her own thoughts and beliefs. One of her first exhibits in Wilmington, Goblin Fruit, based by the poem by Christina Rossetti, was an exploration of the mythical ties between women and fruit, reframing the notion that this connection was somehow dangerous and synonymous with 'sinning.' This particular body of work showed women shamelessly relishing mother earths bounty, while also being celebrated for a multitude of strengths that far surpass the stereo-type of what constitutes a woman's worth
or 'beauty.'

Drawing on her affinity with gardening and growing both food and flowers, Mellott's work fuses the abundance of nature, with the redefining of 'what constitutes beauty' away from the male gaze. Often positioning her poetry alongside the images, Mellott's art is a feast for both the sight and soul. "Visuals are such an important tool for imagining a different world," reflects Mellott, "artists can recreate a world as we would want to see it through
our work."

The words that are placed next to her 2018 painting Stacked:


"What is the measure of a woman? her height? her weight? her cup size? what she looks like with her clothes off?

how many books she's read? the continents she's crossed? the words she has spoken? the degrees she's earned? the kindness she has shown? the lives she has saved?"


Her next show, all being well in light of Covid 19, is set to be at the Leland Cultural Center in the fall of 2020. With climate change as the central theme, Mellott's paintings and poetry will challenge the viewer to address our relationship with nature and the future of our home on planet earth.

Perhaps inspired by her work with children, Mellott mixes fantasy with positive (and negative) images of what the future may hold. As a working artist at Dreams of Wilmington, an after-school art center for children where she herself attended as a teen, Mellott is the resident muralist and photography teacher. Returning to Dreams has empowered Mellott to pursue her art as a living and pushed her to experiment even more with her technique. "Teaching has really improved my own art and it's exciting to be able to share my love of art with young people who still have creative minds and can hop about the room with joy when they learn something new,"
she smiles.

Her affinity with children complements her love of story telling and how writing is at the heart of her artistic journey. Mellott is about to have a section of one of her stories published in the graphic novel, Milk&Honey Comic Anthology: Volume 6. The fantasy story is set in Appalachian Mountains, in a world ravaged by climate upheaval. Combining her life long fascination with pen and ink, with her more newly acquired passion for paint and color, the graphic novel style is an ideal outlet for the things that make this dynamic young artist tick.

In these challenging times, we are once again inspired by the artists who remind us to keep positive visions for the future alive and well. Whose vibrant colors, imaginative characters, juicy shapes, and celebrations of light beg of us to never stop imagining. Mellott's artistic expression reflects that life is a story of which we are all the authors. We must ask ourselves – what do we want the next chapter to look like?