Cast Iron Kitchen
06 Nov 2017
By BRIDGET CALLAHAN » Photos by ERIN WHITTLE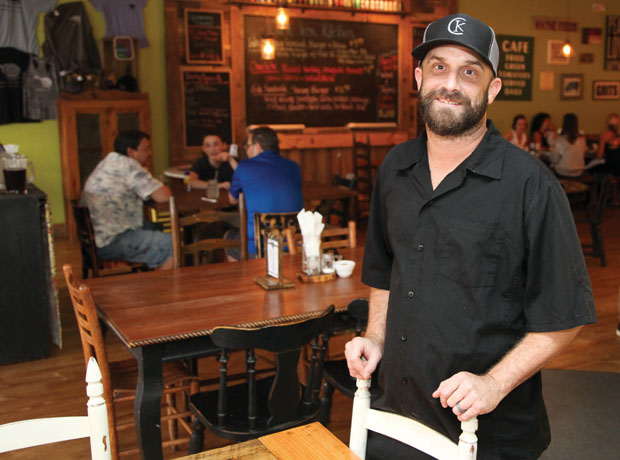 Cast Iron Kitchen
8024 Market St., Wilmington
910-821-8461
castiron-kitchen.com
If you have ever worked with or known someone opening a new restaurant, you have seen firsthand what an arduous climb it can be. Lots of restaurants never make it past the first year. The location doesn't pan out. The regulars don't come. They just can't stay afloat after the tourists go home. It's no coincidence that restaurant owners, especially the ones who are their own chefs, are a no-B.S. crowd. They have to be determined to survive.
Josh Petty, chef and owner of the Cast Iron Kitchen, knew it was going to be tough, but he didn't know it would be this tough.
"This business is one of the hardest things you can get into," Petty says. "There's thousands of things every day that can go wrong that are perishables. Like, today, when the power went out. The power goes out at a computer company, okay you might lose some data. Which is important. But what we lose, all the product, we can't get back. It comes out of our pocket."
The Cast Iron Kitchen seems now safely past the point of "making it." On a Tuesday afternoon, half an hour before close, the dining room was over half full. That might be the easiest time to come, because according to legend, the weekend lines can get long. But that's always how you know where the good breakfast or lunch place is.
Petty attributes a lot of Cast Iron's popularity to keeping a loyal staff around, which is exactly who you want working at a popular breakfast and brunch spot. After you've waited for your first cup of coffee, the best thing is to get an expert server, who knows the deal.
"Probably eighty percent of my staff has been with me since day one. Our biggest success has been the loyalties of our employees, and how they understand what we're trying to do. I tell everyone, treat everyone sitting out there like it's your grandmother. I ask my cooks, "Would you serve this to your grandmother? If not, then let's do it again." The servers? Just act like your grandmother is sitting out there. Be sweet as you can be," he says.
Petty was born in Burlington, NC, in the Piedmont area, an only child from a small family. But, all the family loved to cook.
"They're a very quintessential Southern family," Petty says. "On Sundays, we'd have a big ol' Sunday supper, which is actually lunch. There would be fried chicken, all the sides, all the fixings. We lived in the country and had a garden. I grew up appreciating the value of fresh food - having a garden, canning, pickling. We had cows. Every now and then we'd get a pig and we'd have a pig pickin' in the fall."
Petty started cooking in college, at first just for friends, but then in more professional kitchens. He graduated with a degree in history and found there was really nothing to do with that unless he wanted to be a lawyer or a teacher. So he went to culinary school instead. After a few years of wandering, he and his wife settled down in Wilmington and moved to the Porter's Neck area. Petty had worked for nine years at Sweet & Savory, and he thought that the Porter's Neck Ogden area, booming in recent times, was ripe for a good breakfast joint. The little space he found, nestled into the same plaza as La Costa, was formerly a pizza place, which wasn't doing great. Petty kept his eye on it, and when the space finally opened up, he jumped. His wife, and his mom and dad are all partners in Cast Iron, making it a total family affair.
What you're going to get at Cast Iron Kitchen, which is only open until 4pm Tuesday through Sunday, is breakfast and brunch. The breakfast menu is full of favorites like chicken and waffles, served with crunchy house made granola and honey bourbon syrup, and house made corned beef hash, with pickled cabbage Chow Chow and Texas Pete Hollandaise. On the lunch menu, the big sellers are a B.L.T. with egg and herb aioli, or the Simply Southern. "It's a lot," Petty says, laughing. "It's fried chicken, pimento cheese, a fig and bacon jam, honey mustard, lettuce, tomato and onion on honey wheat bread. The portions are big. I want people to feel the love."
"I've had people say, "Well, what's your corned beef? Do you serve it out of a can?" There's nothing that I put out of that kitchen that we don't make in house, from scratch," Petty says. "We make all the sausage, the turkey, the chorizo, and the country sausage. We have fresh ranch, we don't use packets. It's all fresh herbs and buttermilk from a farm outside where I grew up." Petty says one of his priorities is sourcing at least 50-75% of his ingredients from North Carolina produce, to support local businesses. Not just for the fun of it, but because the more customers those businesses have, the easier it is to keep the price point down for everyone.
While they don't do dinner, the restaurant regularly does pop-up dinners once or twice a month, giving the kitchen some room to stretch their culinary wings. Towards the holidays, they also sell Thanksgiving and Christmas packages. But, there are no plans for permanent dinner hours anytime soon. Petty is pretty happy with things the way they are now.
"I know where my food's coming from, and now everyone's like "Oh [farm to table] is such a big thing." But, it's not. Keep it simple and know what you're eating, and keep the love in it."