Changing the Game
01 Nov 2023
The seen and unseen impacts of Name, Image and Likeness
By SARAH LOUISE KRAWCHECK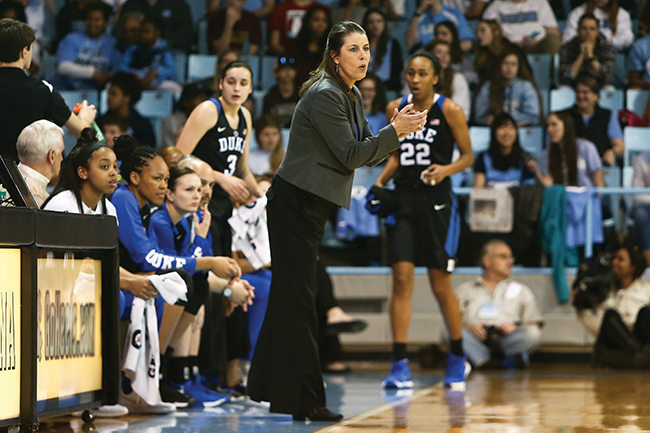 Everyone who follows college sports has an opinion on the recent inception of Name, Image and Likeness (NIL), and most of those opinions are strong: NIL contracts are either horrible or wonderful and long-overdue. As with much of life, the truth likely lies somewhere in the middle and may have more to do with how — and if — these contracts are regulated, rather than the advent of the new policy itself.
Professional athletes have always been able to cash in on their personalities and accomplishments through product placement, endorsements, personal business ventures and speaking engagements. Some would argue that college athletes have historically been paid for their services as well, albeit in a more subtle manner, by way of scholarships and job opportunities, which were mostly regulated by the NCAA. However, the call for college athletes to be allowed to profit off their own image and achievements has steadily grown over the years, ultimately resulting in the official introduction of NIL contracts in 2021, giving student-athletes the opportunity to control their own financial futures and be paid what they're worth.
This change was a long time coming but was catalyzed by Ed O'Bannon's antitrust suit against the NCAA in 2009. O'Bannon, who was a star on UCLA's 1995 national championship basketball team, alleged that the NCAA deprived him of his right to publicity when his likeness was used in a video game without his permission, and without compensation. In 2014, O'Bannon proved this was in violation of antitrust laws, and soon after, a number of related class action suits were filed, and eventually combined into NCAA v. Alston.
In NCAA v. Alston, the Supreme Court upheld the ruling from the O'Bannon trial, and in July 2021, the NCAA made it possible for student-athletes to trade on their NIL and to use agents, through the form of NIL Collectives (donors, boosters, community leaders, fans etc.), to help them manage their new financial opportunities. It was the hope of many that the official use of NIL would even the playing field by providing transparency and eliminating under-the-table deals. Unfortunately, the NCAA's enforcement role has been murky at best, and with laws and permissiveness varying from state to state, the landscape has become even more chaotic.
What is clear, however, is with the inception of NIL, student-athletes can now profit by serving as brand ambassadors, creating their own businesses, teaching at camps, selling their own merchandise, and so much more, allowing them, for the first time, to truly use the platform that collegiate sports give them to advance financially. In theory, this is a wonderful change, a sentiment echoed by Eric Montross, a star on the University of North Carolina's 1993 championship team who then went on to play in the NBA for eight seasons. Montross argues that NIL helps to empower students to advocate for themselves financially and see how their personality can fit into the world of marketing. "Not only does NIL have the financial gain potential for student-athletes who are interested in it," Montross states, "but it also gives these athletes a taste of the business world and how to go about thinking as more of an entrepreneur, as well as the responsibility of that from a tax perspective."
In addition to the benefits from exposure to the world of business and marketing, NIL contracts also allow students the flexibility to worry less about the financial aspects of their lives. AJ Cole, the former NC State and current Las Vegas Raiders punter, encourages people to remember that many student-athletes do not come from privilege. "While I was at NC State, many members of my team sent their scholarship money home to support their families," Cole says. "Money from NIL contracts could really help these players and allow them to focus more on the game. This cushion can also set them up for their futures, come what may, for no one knows what the future holds."
That sentiment rings true for student-athletes like Paige Bueckers. Bueckers is a star women's basketball player at the University of Connecticut who recently suffered an ACL injury that will have her on the bench throughout the 2022-23 season. Luckily, she will return for her senior year, but in the interim, she maintained her NIL deals with Bose, Gatorade, Crocs and more. For other students who aren't as lucky in their recovery, having the financial foundation from NIL contracts ensures that a career-ending injury won't upset the initial trajectory of their financial futures.
Before the NIL ruling, everyone but the student-athletes made money, even though the student-athletes were the ones who were filling the stadiums and being lauded as stars and heroes on TV every week. And that really does mean everyone — ticket and merchandise sellers, the NCAA (if indirectly), the food and beverage vendors, ESPN and its commentators, coaches, advertisers and more. Cole urges us to look to the basic economics of this situation, especially when teenagers in other fields have long been paid what they're worth. "When a young singer, say Taylor Swift or Justin Bieber in their earlier years, reaps millions for an album, not a word is said, for people understand that the product has market value and is thus acceptable in our economic structures," Cole says. "Why is it different for athletes? Why are they not equally deserving of at least a percentage of their market value? This is clearly an inequity that needs to be addressed."
And this inequity has been addressed through the NIL allowances, but rarely do significant changes, even good ones, come without growing pains. NIL has opened up a whole new world in college athletics, along with a number of unintended consequences. Montross explains that one of these consequences is that recruiting has become more of a bidding war for the best players, and even for the programs who can do the highest bidding, it's still not ideal. "Because there are no reigns on this runaway horse, we don't know how long the horse is going to run, or where it's going to run," he explains. "We just know that it's running, and that, right now, everyone is behind it. We're all chasing the horse and trying to figure out which direction is next."
There is some evidence that many programs and their associated Collectives are defying NIL rules and offering potential student-athletes enormous amounts of money to play at particular schools. Although this is in direct violation of the NCAA regulations against pay-for-play, NIL is so new and unwieldy that there are no real repercussions for coaches and Collectives who choose to break the rules. The fear here is that the richer programs with active fanbases will continue to get better and better, while the other programs will fall behind because they cannot pay for the type of players needed to elevate their programs. Montross also states, however, that this doesn't necessarily mean the more resourced programs will elevate their percentage of championships. "Money cannot create a cohesive team or foster a winning mentality."
Additionally, there is some concern about the interplay between NIL and the Transfer Portal, which Cole argues can put some players at risk. Transfer students were previously barred from playing for one year post transfer, which was viewed by many as inherently unfair, and ultimately the NCAA waived that restriction and created what is now known as the Transfer Portal. Now, a student athlete can sign up for the portal at will, creating a free agency where the student puts his name on the list and can cash in on a good season. "The problem that has evolved is that the allure of NIL is prompting more and more student-athletes to sign up for the portal, many of whom will not be picked up," Cole explains. "If a student falls into this group, and many do, that student will often find himself without a team. Although signing up for the portal is not an automatic dismissal from the current team, relations between the two are rarely great post-portal."
And then there is the question of the impact of NIL on coaching. Coaches cannot be separated from the recruiting process, and the recruiting process can no longer be separated from the NIL negotiation process, which ultimately means the coach must become an agent. This imposes yet another layer of responsibility on every coach. Already they are dealing with the players, the parents, the team dynamics, playing time, leadership and more, and now they must consider the NIL process and its impact on the team. Some coaches have described the current process as the wild, wild west. In essence, a free-for-all with unending repercussions. Although many of the Power 5 schools have NIL Departments, you will be hard-pressed to find a coach who isn't wrestling with this new world and what it means.
These are all examples of the "seen" consequences of NIL in college athletics, but there are unseen implications as well, especially within the dynamics of the team and how the individuals on that team view one another. It is the unseen implications that concern Joanne P. McAllister, the former Duke women's basketball coach, affectionately known as Coach P. "For example, your quarterback is in a car commercial, the point of which is to make the viewer like him and thus purchase the car. This is not the typical, competitive grit you expect from your quarterback," she explains. "When a team is on a winning streak, this duality may feel irrelevant. But when the team is in a slump, a teammate may wonder, 'Has that commercial-ready, likable quarterback lost his drive?'"
The psychology dynamic is ever-present and inescapable. The key will be what happens during times of adversity, which are as inevitable for teams as they are for individuals. "It begs a lot of an eighteen-year-old who has been elevated to the top of the mountain overnight to not be psychologically altered," Coach P explains. "Sure, being on top is great. But what does it feel like to fear falling — and how could they not harbor such a fear with all that is at stake? How does that fear manifest, and will it impact their careers?" Coach P argues all this new pressure on the recipients changes the team as a whole. "That's the deeper level of NIL—the conjecture on the team and the team concept," she explains. "It causes confusion. Commercial or game-face mode? Who is on the field?"
Similarly, Montross points out that the relationships between coaches and players may also change, especially in smaller schools where some players may start to make more money than their coaches. Although this is currently only a potential consequence, it is very real. Will the coach still be seen as the coach? Will the highly paid athlete still understand his or her role as one member of a larger team? "These are 18-, 19- and 20-year-olds for the most part, and I think it's unreasonable to expect these more sophisticated and mature perspectives," he says. "The student-athletes have to mature and age to understand these situations. There are some things in life where time is really the only thing that can give you the understanding."
And when individuals do start to see their sport as a business, it has the potential to change their entire perception of why they're playing. Montross explains that when he started playing for the NBA, he transitioned to the role of businessman overnight, which forced him to shift some focus to personal gain in the name of self-preservation. Montross doubts the long-term effectiveness of this in collegiate athletics, arguing that, forever, the best teams have been those that are selfless. "College athletics is the last amateur landscape, even though people make the argument that it's not, but it is to the players," he says. "You can still immerse yourself in the team, in dedication to your teammates." For Montross, that's what makes college athletics so compelling, and only time will reveal the real impact of NIL on the team mentality.
With all the implications of NIL in collegiate athletics, and all that is at stake for players and teams, is it too much to ask for a leader? NIL will not go away, nor should it, but more certainty surrounding its regulation could profoundly ease the road for all. Although the past lawsuits may explain the NCAA's lack of appetite for regulation, they arguably do not excuse it. And if not the NCAA, then who?