Learning "Farm-to-Table" Practices in the Cape Fear Region
01 Nov 2023
Local classes offer a better understanding of our food's journey to the plate
By Judy Royal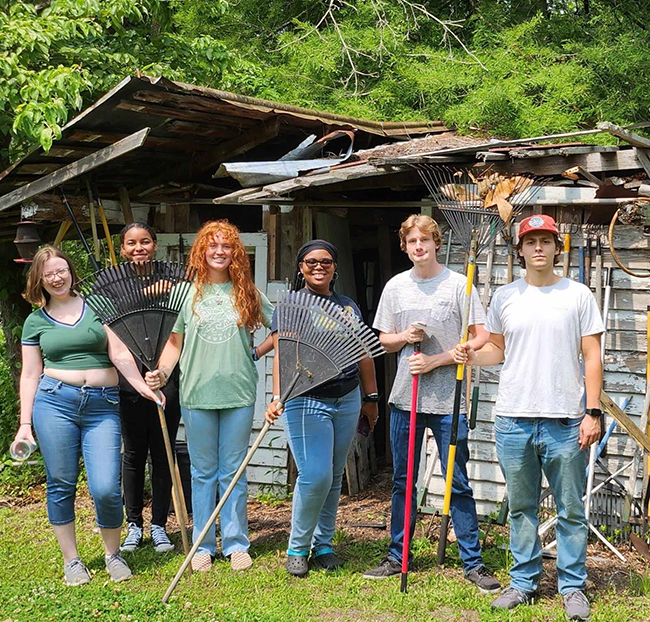 We've all heard the phrase "farm-to-table," but do we really know what it means? For those who want to go beyond the trendy term and get a crash course on the concept, there are local classes to help people gain a better understanding of the philosophy and discover ways to implement it in Cape Fear kitchens, whether in restaurants or their own homes.
As part of its Culinary Technology program, Cape Fear Community College offers CUL 283 – Farm-to-Table, an elective course available during the summer that introduces students to the cooperation between sustainable farmers and food-service operations. Emphasis is placed on environmental relationships, including how foods are grown, processed and distributed, as well as related implications on quality and sustainability. Upon completion, students should be able to demonstrate an understanding of environmental stewardship and its impact on cuisine.
Those taking the class visit local farms to talk to farmers and gather products to create meals, said Jaime Chadwick, CFCC's Culinary Technology program director.
"Culinary students like being hands-on," says Chadwick. "They like to know the why and how, and they also enjoy the networking it entails. When they're done with school, they can take those relationships and carry them over into what they're doing."
Awareness of how seasonality affects the quality of products is another big takeaway for students, Chadwick adds.
"You can get tomatoes all year round, but an heirloom tomato I get from a local farmer is going to be very different than Romas that come in from US Foods," she says. "It's expected that people are using products based on seasonality and what works well in the region. I think it's become very important to guests and chefs trying to lessen food miles and lower the carbon footprint."
Becoming educated about a farm-to-table lifestyle, however, isn't just for culinary students. The general public can learn more about how to make their food more local with classes from Michelle Lyon-Heatherly, a local grower who owns Cape Fear Tower Gardens and serves as the lead horticulturist for The Green House Restaurant.
"The food movement in Wilmington has really come a long way," says Lyon-Heatherly. "Restaurants and people in general appreciate and are taking into consideration where our food is coming from I think more so than even in a lot of other parts of North Carolina, but we need to think of farm-to-table not just as what our restaurants are doing. We need to think about what's actually going on our plates at home."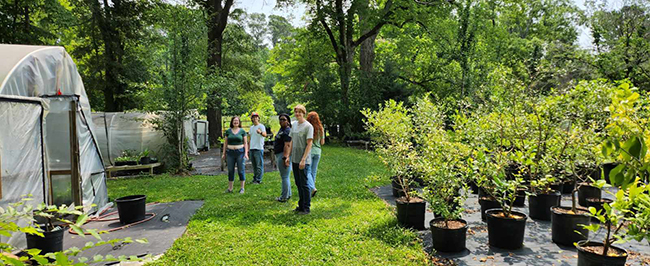 To that end, Lyon-Heatherly offers monthly classes that explore where our food comes from, urban farming techniques such as hydroponics and aeroponics and an introduction to aeroponics for those who might want to try it.
Demand for classes came about after diners at The Green House saw inside the restaurant's on-site greenhouse and began asking questions, Lyon-Heatherly says.
"Whenever I put the aeroponics towers right there in such a public space, it was like a magnet," she explains. "I had a continuous flow of people stopping by just to see what they were. They look so futuristic and unique. A lot of people just don't know where to start with aeroponics, and they don't realize how simple it can be."
As the population grows both locally and nationally, there will not be enough farmland to keep up with the demand for food, says Lyon-Heatherly, but urban farming can help ease the burden.
"Our food supply is something we're going to have to rethink as individuals," adds Lyon-Heatherly. "We're going to have to grow up because we're running out of options for growing out. We are so lucky to have some of the great farms we have in our area, but I think growing what we can grow at home and enhancing that food security is the way to go."
Wilmington can learn a lot about urban farming from larger cities such as New York, Atlanta and San Francisco.
"Farm to table is not a social movement," says Lyon-Heatherly. "It goes much deeper than that, and it can make significant changes in our life and health."
In addition to what she grows for The Green House, Lyon-Heatherly sells to other chefs in the area and Feast Down East, a local organization with the mission of strengthening the farming communities in this region by providing resources, education and distribution opportunities to farmers while addressing equitable food access.
"What I'm selling is very unique because it's living produce," she says. "When I sell it it's still a living plant with the roots attached, and then it goes to your plate. That has incredible value and is different in flavor."
Lyon-Heatherly's two-hour sessions cost $50 per person and details are available at thegreenrestaurant.com/events and on Instagram @capefeartowergardens. Lyon-Heatherly may be contacted through Instagram or at capefeartowergardens@gmail.com for anyone interested in aeroponics or groups such as garden clubs and schools wanting their own instruction.