Chile's Sophisticated Side
04 Jul 2019
A look into central Chile reveals a destination packed with art, culture, history and a deliciously diverse food scene

By KATIE MCELVEEN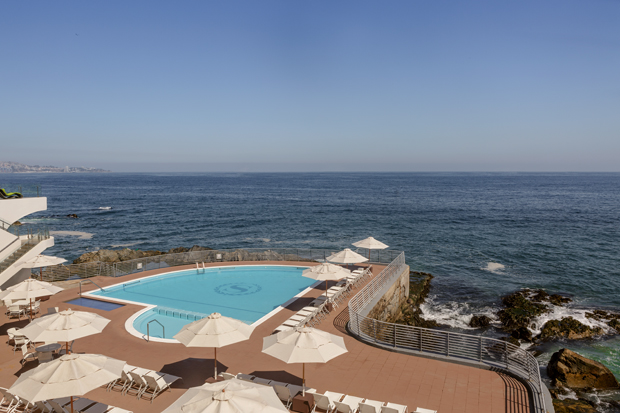 The first time I visited Santiago, Chile I thought I had tasted it all. I'd sipped pisco sours as the sun bounced of the Andes; reached for a third alfajor, the addictive dulce de leche-filled sandwich cookies found all over the country, and enjoyed soup made from congrito, or baby eels. And that was just the first day. As the week continued, I downed more than my share of Chilean wine, sampled rosy-pink razor clams baked under a salty Parmesan dome, and finally understood the fuss about Chilean Sea Bass.

Halfway through this second trip, I realized I had missed something: ice cream. As I walked through the park-strewn city, it seemed like everyone was selling ice cream, from the local McDonald's, where swirls of dulce de leche soft-serve are served from a walk-up counter, to tiny hole-in-the-walls where you can grab a helado de paleta, which looks like a popsicle but is made from ice cream. Then there's Emporio la Rosa, a local landmark known for transforming beloved Chilean sweets into ice cream flavors. Traditionalists adore miel de ulmo a platano, a frozen banana doused with rich Patagonian Ulmo honey, a childhood treat in Chile. In manjar blanco chocolate, a ribbon of Chilean dulce de leche winds through a base of white chocolate ice cream. The shop's namesake flavor, rose, is deeply scented and lightly flavored.

Chileans take their savory foods seriously as well. Local ingredients come together in new ways at the Latin Grill, which is located within the Santiago Marriott hotel—my pisco sour came flavored with more of that rich Ulmo honey; instead of being served in a stew, octopus, a Chilean staple, was simply grilled and dappled with avocado cream. There were new tastes, too, like spider crab, queen scallops, abalone and a smoked fish soup brightened with citrus and fresh herbs. The chef's menu, which changes every three months, also featured pairing with Chilean wines, many of which are not available in the US. Additional creative pairings awaited at Karai by Mitsuharu, which combines Japanese and Peruvian dishes in a gorgeous modern space within the W Hotel. Here, tiny silverfish formed rays around a sun made from bright sauce; ceviche was updated with large chunks of fish in a souplike sauce dotted with citrus and topped with greens. Sushi is a specialty of the chef, both traditional and a version for carnivores made from foie gras and caramelized tableside with a torch.

Not all of Santiago's restaurants are fancy: Galindo has been serving traditional meat empanadas de pino; fried hake and conger eel, and other Chilean comfort foods on a street corner in the artsy Bellavista neighborhood since 1968.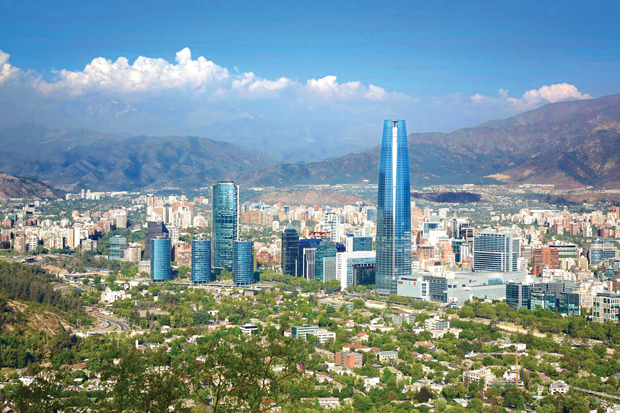 Santiago is actually a city of neighborhoods. Beyond Bellavista, where you can not only take in colorful street art and lively nightlife, but hop on a cable car to catch an amazing view of the city and its five mountain ranges, there's elegant Lastarria with its leafy squares, outdoor cafes and access to Santa Lucia Hill, a stunning park that tells the history of Chile. The old city center is home to the Plaza de Armas, which is rimmed with museums (including the notable Museum of Pre-Columbian Art), Neo-Classic government buildings, and The Church of San Francisco, which was constructed in the 1580's from bricks held together with a mixture of egg whites, limestone and sand. Santiago's newest district is "Sanhattan," a luxury high-rise district west of town comprising the neighborhoods of Las Condes and Vitacura. It's here that you'll find the city's most exclusive shopping and high-end restaurants.

Santiago is also less than two hours from the coast, where a mix of resort towns and funky villages look out over the Pacific. Vina del Mar's beaches are beautiful, perfect curves of golden sand fronting dramatic rock formations and those glorious sunsets. The city is often called the Garden City, and it's easy to see why: flowers tumble from baskets placed atop streetlights, down hillside embankments and across beautifully planted beds. There's even the Flower Clock, a massive working watch face made entirely from flowers.

Extending North/South for more than 2,600 miles—from Polar to Equatorial--Chile has one of the most diverse climates on earth. Founded in 1937, the Fonck Museum of Archaeology and Natural History details it all with dioramas showcasing the country's varied plants and animals; a whole floor devoted to otherworldly insects; art, jewelry and furnishings created by ancient residents of this part of the world, and a collection of important artifacts from Easter Island. An ancient monolithic figure -- or moai -- brought over from Easter Island in the 1950's towers over the entrance. The museum shop has a small collection of locally made crafts; across the street at Faba, you can find excellent pieces of jewelry crafted from Lapis Lazuli, a cobalt-colored stone mined throughout Chile.

Since dinner in Chile doesn't begin until at least 9pm, consider a late lunch, as I did, on the sunny patio at Divino Pecado just off the palm-studded Plaza Colombia. I started with a tart pisco sour before moving on to more of those pink razor clams broiled with cheese and a bit of white wine. For dinner, I headed to Chez Gerard, which serves beautifully plated ceviche sprinkled with giant roasted corn kernels as well as salads, grilled dishes, and many homemade pastas. It's located across from Acapulco Beach.

Edgier and hillier, neighboring Valparaiso is a UNESCO World Heritage city that was also a favorite of Chilean poet, diplomat and Nobel Prize recipient, Pablo Neruda.

Perched atop Cerro Bellavista, a high hill overlooking Valparaiso Bay, La Sebastiana, one of Pablo Neruda's three homes in Chile, is lovingly eccentric. Brightly colored inside and out, the five-level house is a curio of Neruda's collections; an audio tour led me through the narrow hallways and warren of rooms using Neruda's many objects—a stuffed bird, a carousel horse, a 17th-century map of the world featuring a misspelling of "Chili"—to tell the story of a Nobel-winning poet who went on to serve as a diplomat. After a visit, I explored the painted streets of Valparaiso, where schools of fish and tilted skylines decorate buildings, doorways have been transformed into magical entries and cat's eyes gaze down onto the scene. Stairways, often decorated with paint or tile, are everywhere and lead to funky galleries, hole-in-the-wall restaurants and tea houses, an ode to a time when England ruled Chile. They're worth a visit: some local tea houses, like Color Café, not only craft their own blends but are often happy to formulate a custom cup.

Valparaiso's hottest restaurant is Tres Peces, a fish-only restaurant occupying an early 19th-century building in the Cerro Conception neighborhood. Open since mid-2018, the restaurant serves sustainable species caught by local fishermen; the menu, which changes each day, ranges from simple dishes like abalone with mayonnaise to local tuna steamed and scented with Asian spices and served alongside jasmine rice and seaweed salad.

Quirky funiculars from the late 19th-century are a fun way to tame Valparaiso's city's steep hills, but I preferred the staircases, which offered views of neighborhood herb and vegetable gardens, pop-up artist markets, playgrounds, and more glorious street art.

Where to Stay

In Santiago, the Santiago Marriott offers easy access to dining and shopping; it's a 15-minute walk to the city's clean, safe, and convenient subway. Among the hotel's 280 oversized rooms are a few specialty suites that work well for families (bean-bag chairs, lots of televisions) and businesspeople (meeting spaces and conference tables). There's also an outdoor pool, a spa, and a club lounge serving breakfast, snacks, and all manner of beverages.

Vina del Mar's Sheraton Miramar is a luxurious, full-service resort sporting two pools (one inside and the other jutting out over the ocean), several restaurants, a kid's club, a large, well-equipped gym, and a spa with a soaking tub facing the ocean. Each of the resort's 142 rooms are surprisingly spacious and have balconies overlooking the Pacific.