Coastal Collaboration
04 Sep 2022
A local business and artist team up to support the conservation of North Carolina's coastal communities


By Judy Royal » Photos by G. Frank Hart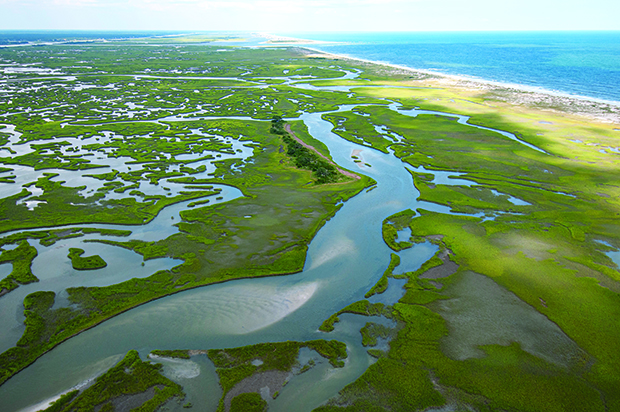 The mission of the Coastal Land Trust is to enrich the coastal communities of North Carolina through conservation of natural areas and working landscapes, education, and the promotion of good land stewardship.

"In short, we save the lands you love along the North Carolina Coast," the nonprofit organization's website reads.

A local business and artist are teaming up this fall to spread the word about this mission and support the Coastal Land Trust's efforts to preserve wild lands with scenic, recreational, historic or ecological value.

Big Sky Design in Wilmington is planning a benefit for the Coastal Land Trust with featured artist and Wilmington resident Janette K. Hopper. The event, dubbed Nature by Design: Captured + Conserved, will showcase Hopper's paintings in nature-inspired vignettes, or themed nooks of space, on Thursday, October 6, from 5 to 7pm at the Big Sky Shop + Studio.

During the evening, 40 percent of the proceeds from Hopper's art sales and 10 percent of the proceeds from all other merchandise sales will be donated to the Coastal Land Trust. For the rest of October, 20 percent of the proceeds from Hopper's art sales will go to the Coastal Land Trust.

Also at the event, staff members from the Coastal Land Trust will share information about their organization, including how they are saving ecologically significant places, protecting the balance through biodiversity, expanding conservation corridors, and encouraging public use in the forms of parks.

"Any funds raised will go to support our mission and help us support these special places," Coastal Land Trust Director of Strategic Advancement Eric Vreeland said. "But it's also an opportunity to talk to more people and share our mission and hopefully engage them in our work."

Hopper has been a supporter of the Coastal Land Trust for many years and has worked with Big Sky Design since 2016. She approached the business earlier this year about hosting a gallery-style fundraising event.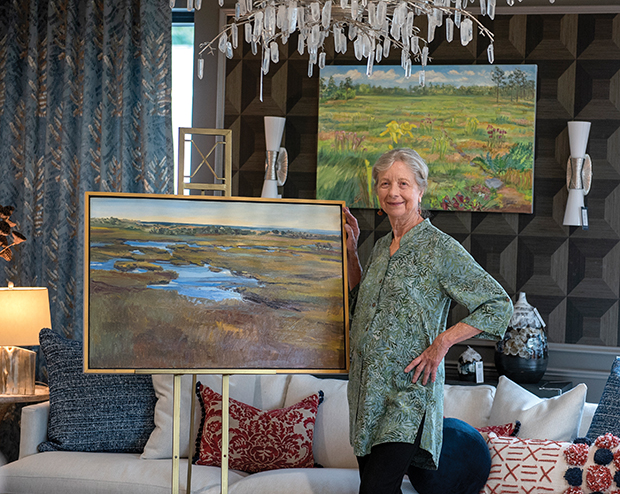 "She threw out the idea of involving Coastal Land Trust, and we laughed at the timing because I was just in the beginning stages of planning an event for our nature-inspired retail space and was hoping to involve the Land Trust also," Big Sky Design Creative Director Rileigh Wilkins said. "A few years ago, we organized an event with the Coastal Land Trust and Newton Paisley, a UK-based fabric designer with Wilmington roots, at the Cameron Art Museum, so I was familiar with their mission. At our Nature by Design event, Janette's pieces will be paired with our furniture vignettes throughout the shop along with photos of the CLT-preserved lands that inspired them. We will also have some one-of-a-kind Newton Paisley pouches and pillows up for grabs."

Hopper's paintings being featured at Nature by Design are inspired by her visits to and observations of specific places. She said she strives to balance the recognizable with the abstract to express the emotions she feels while experiencing the subject matter.

"I prefer wild places such as those the Coastal Land Trust saves," Hopper said. "In some of these paintings, you will recognize specific places that would not exist except for the Coastal Land Trust and other amazing guardians of nature in our area. I am thankful to all of those committed people who make my life fuller, allowing me to personally experience the wonders of our region and state. These wild spots take me on a journey where I experience a healing memory of quieter times and a place and time we all long to return to."

She said her goal for the fundraiser is threefold: give the Coastal Land Trust an opportunity to talk to people about its efforts, collaborate with Big Sky Design to contribute financially to the Coastal Land Trust and present new paintings to the public to help them feel a connection with nature.

"I think many people don't have the chance to get out in the landscape, so I hope seeing my paintings brings to them the realization of the natural treasures of our region," Hopper said. "My works bring out the space, the kind of light and the beautiful colors in nature. I hope in giving them this experience people will want to conserve land and nature. Great artists have always had roots in nature, so when you look at my paintings it is about some kind of feeling that wells up inside of me when I am connected with nature. Bringing that kind of a feeling into your home is a reminder of those special times you've had and brings a lot of peace."

These moments of connection to nature and land are what drives the work of the Coastal Land Trust, Vreeland said. The organization, which covers 31 counties in eastern North Carolina, has saved 84,572.15 acres and counting, according to its website.

One of the Coastal Land Trust's most recent success stories is right here in the Cape Fear region. In May 2021 the organization purchased Hutaff Island, located east of Hampstead in southern Pender County, one of the last privately owned undeveloped barrier islands in North Carolina. The 2.5-mile-long beach and associated 1,000 acres of salt marsh and island hammocks comprise one of the best examples of a natural, dynamic barrier island system in North Carolina. The island serves as the first line of defense against storms for local communities and provides critical habitat for threatened species such as sea turtles and beach-nesting birds as well as rare plants. Hutaff Island will be protected in perpetuity by the Coastal Land Trust and managed in partnership with Audubon North Carolina to ensure the sustainability of its iconic landscape, rich natural habitats, plant communities and wildlife. It will continue to be open for the public to visit by boat.

Hutaff Island was at the top of the Coastal Land Trust's Top 40 list of priority conservation projects, a tool the organization adopted to help focus its efforts to save and restore the most imperiled lands in the coastal plain. Potential projects are ranked by factors including ecological significance, biodiversity, landscape position, size, public use and threatened status. The Coastal Land Trust has already completed 15 projects from its Top 40 list, with two more nearing completion.

More generally, Vreeland said the Coastal Land Trust has outlined the following upcoming goals: continue to acquire and protect new high-priority properties or pieces of land along the North Carolina Coast, continue and grow good stewardship of property already protected and increase engagement with the community around the organization's mission. He said the Nature by Design event will help the Coastal Land Trust work toward its general mission.

"The fundraiser is not attached to a specific piece of land," Vreeland said. "We're certainly open to more of these opportunities to celebrate the land and meet new folks who are interested in our work and want to get involved. We're very proud of what we've done, but we have a lot more work to do. We have a busy couple of years in front of us, and we're very excited about that."

If you want a nearby adventure to a protected place that the Coastal Land Trust is a steward of, visit the Stanley Rehder Carnivorous Plant Garden, a wetlands area filled with carnivorous specimens, pitcher plants and our region's native Venus Flytrap. The garden is owned by The Oleander Company, leased to the City of Wilmington, and protected by a conservation easement held by the Coastal Land Trust. The garden was named in honor of Stanley Rehder in 2012. A Wilmington native, he was known as the "Flytrap Man" and worked tirelessly for the protection of carnivorous plants. Located behind Alderman Elementary School, it's an accessible way to experience an example of how the Coastal Land Trust safeguards the gifts of nature throughout our community, our coastline and beyond. coastallandtrust.org