Connecting Continents and Cities
29 Mar 2014
From Wilmington to the world, Corning, Inc.'s optical fiber plant is the epicenter of telecommunications development
By JENNIFER GLATT Photo KELLY STARBUCK and HORACE LONG, SALT STUDIO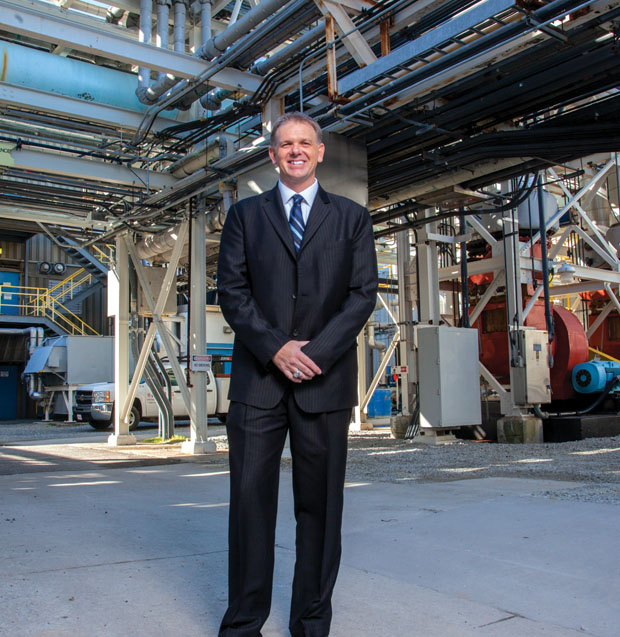 To be deemed "disruptive" is not usually complimentary, but Corning Incorporated couldn't be more pleased. It's a label well earned, and bodes well for the future of the Fortune 500 Company both corporately and locally here in Wilmington.
Pushing the Limits
In 2013, The Massachusetts Institute of Technology named Corning to its list of 50 Disruptive Innovators for its creation of Corning WillowTM Glass. (Writers for the MIT Tech Review identified disruptive companies as those producing breakthrough products or technologies that change the path of an industry. Other groundbreaking companies on the list include Apple, Amazon, and Google). According to the Corning website (corning.com), "the thinness, strength and flexibility of the glass has the potential to enable displays to be 'wrapped' around a device or structure." You read that correctly. Flexible glass.
"I know when people think of Corning, they think of Corning Ware," says Craig Ball with a laugh. Corning's North America Fiber Regional Manager and Wilmington Plant Manager acknowledges that the company helped bring technology into American kitchens by introducing PYREX in 1915 and Corning Ware in 1959. However, Corning has had a hand in transformative technology since its early days, when it helped Thomas Edison by producing the first glass light bulbs in 1879, and a "ribbon machine" in 1926 to create the glass "envelope," enabling mass production of light bulbs.
Consistently ranked as one of the world's "most innovative industrial material companies" by the Patent Board, it's no surprise that Corning is often poised in the right place at the right time to solve vexing issues at the crossroads of science and technology.
"It is an honor to be recognized as 'innovative' and 'disruptive' because it is truly what we do at Corning," said Dr. David L. Morse, Executive Vice President and Chief Technology Officer, Corning Incorporated. "For more than 160 years, we have pushed the limits of what glass can do."
And oh, the things it can do. Thanks to a significant scientific breakthrough in 1970, Corning has been the frontrunner in developing leading edge telecommunications technology, all due to glass and its myriad capabilities. And it's happening right here in the Port City.
Revolutionizing the Telecommunications Industry
1970 was a landmark year for three Corning scientists, who discovered how to generate a pulse of light down a glass fiber without attenuation (loss of power). Just like that, fiber optics was born.
Corning opened the world's first optical fiber manufacturing facility in Wilmington in 1979. Today, it is the world's largest optical fiber manufacturing plant, though the company has other optical fiber plants in Concord, N.C. and Shanghai, China, which allows Corning to service the fiber market globally.
"Any new fiber technology that's happening around the world, the 'latest and greatest,' is being developed right in Wilmington," confirms Monica Monin, Corning's Manager of Marketing Communications. Boasting over one million square feet of manufacturing space and total onsite acreage of approximately 66 acres, the Wilmington optical fiber plant is a formidable structure that sits alongside N. College Road.
The Wilmington plant is part of the telecommunications division, which focuses on connectivity solutions and data transmission innovation. Other Corning divisions include environmental technologies, life sciences, display technologies, and specialty materials. "Corning has a very diverse portfolio, says Joe Dunning, Supervisor, Media Relations, "but generally with glass and/or ceramics as the common thread."
"Optical fiber is about the size of a human hair," says Ball, who has been with Corning for 18 years, first starting as an engineer at the Wilmington plant. In fact, he says, he's been involved in "pretty much every engineering area and designed and developed a lot of the equipment and process here at the plant." He has also been involved in development, working on products and processes, as well. Ball began his tenure as plant manager in 2012, also assuming responsibility for the Concord, N.C. sister plant.
Ultrapure glass is made through a synthetic process, which is unlike making glass out of sand. "The glass has to be ultrapure to carry the light down the core of the fiber," Ball explains. Essentially, a light source sends light down the fiber, where it goes into a detector and transitions it back to an electrical signal that can be used for communications.
Optical fiber forms the backbone of the Internet—its integrity and composition determines speed, clarity and bandwidth. A few fun facts:
» Corning's optical fiber is 30 times more transparent than the purest water, and only about one percent less transmissive of light than air on a clear day.
»A single optical fiber can carry as much information as a four-inch cable full of copper wires, which is what was previously used for electronic communication.
»One copper cable can carry about 24 telephone conversations, whereas one optical fiber can carry 24,000.
» Fiber optic cable carries 10 trillion bits of information per second over a kilometer through one fiber (enough to fill 250 DVDs every second). To transmit this same amount of information via electrical means, you would need almost 400,000 standard twisted copper wire pairs—almost 880 tons of copper.
» End to end, the amount of optical fiber deployed around the world would equal three round trips around the sun.
» Corning's optical fiber is strength tested to 100,000 pounds per sq. inch. That translates to 216 elephants standing on 1 km of fiber without it breaking.
Corning employs about 30,000 employees worldwide, with the Wilmington plant employing approximately 1,000 people. Ball details that Corning has about 2,000 scientists on staff and that the company practices "stages of innovation," whereby off-site early-stage researchers pass on discoveries to development engineers. The Wilmington-based development engineers then take these ideas and discoveries from the scientists and turn them into products and processes that we can transfer into manufacturing to get to the customers, Ball explains. He adds that Corning is the only remaining U.S.-owned manufacturer of optical fiber. It counts giants AT&T and Verizon as customers.
"With many of the products that we develop and invent, we are not only developing or inventing the product, we are developing or inventing the manufacturing process to go along with it," Dunning adds. The Wilmington plant is unique in that it has the capabilities to maintain and manufacture the entire product portfolio for the optical fiber division, says Ball, from cable that can be placed on the ocean floor, connecting continents, to metro cable, connecting cities and beyond.
Local Connections
Corning is leading the way in connectivity, to be sure. But they're not just using innovation and technology to change the world; they're changing Wilmington, as well.
Several new technologies have been instituted throughout the plant since the late 1970s, notes Ball, including state-of the art systems for environmental control. He proudly highlights the fact that N.C. Department of Environment and Natural Resources (DENR) named the Wilmington plant an Environmental Steward. "We take very seriously not only the safety of our employees but also that of our community. We spend a lot of effort and a lot of money on our environmental control; we've invested a lot of capital and expertise in this area," he explains.
The plant fuels the local economy, according to Ball, who notes that numerous employees possess advanced engineering and high technical degrees, which translates to significant salaries, taxes, and spending that happens in the community from Corning employees.
"We do a lot of recruiting for engineering, programs with UNCW for MBA programs, and have a partnership with Cape Fear Community College to support an apprenticeship program for a lot of our technical trades," he says. To deepen their local involvement, numerous Corning employees serve on local leadership initiatives such as Wilmington Business Development and the Chamber of Commerce.
"Part of our culture is to support citizenship," says Dunning. "We have many employees who volunteer in schools, at non-profit organizations, and who donate resources, time and money to the local community."
Through the Corning Foundation, the company's philanthropic arm, it provides grants to help fund local community and cultural programs including the Wilmington Symphony Orchestra, Cape Fear Museum, Cape Fear Literacy Council, Domestic Violence Shelter, Elderhaus Inc., Greater Wilmington Chamber Foundation, United Way of the Cape Fear Area, YMCA of Wilmington, YWCA of the Lower Cape Fear, and others.
Looking ahead to future innovators and innovations, Corning, in partnership with Wilmington Business Development, created an award for STEM (Science, Technology, Engineering, Math) teaching. This yearly award recognizes middle and high school teachers in the community that are focused on STEM to develop future engineers and technologists.
"STEM is so important to Corning, to the high-tech sector and actually the country," Dunning notes. "The core competencies of the emerging jobs in the market tend to deal with STEM, so to maintain a well-educated, competent workforce, STEM curriculum is critical for students to learn. One of the things we like to do as a company is hire local people to work in our facilities. To do that, the workforce has to be familiar with these technical competencies."
As Corning exemplifies, technical competencies can become a company's competitive advantage. This suits Ball just fine. "Our intent is to be around another 160 years."